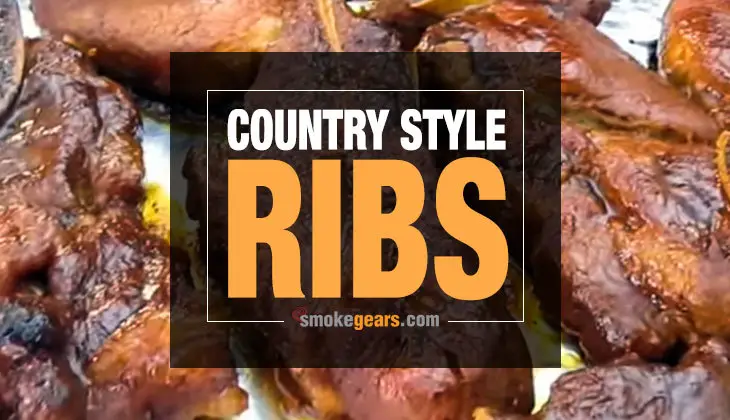 Make Delicious Country Style Ribs Step by Step
Any night of the week deserves a great serving of delicious finger-licking food. Recipe for country style ribs is an easy, convenient meal for family and friends.
It is an excellent choice for baking to perfection with your favorite barbecue sauce and spicy rub. Moreover, you can pair it with any side dishes you want. 
Dinner is yet to serve, so let's get cracking!
More...
What are Country Style Ribs?
A surprising revelation – these aren't even ribs. Country-style ribs are pork/beef chops from the shoulder. It is cut from the blade end of the loin that is close to the pork shoulder.
However, these types of ribs are meatier compared to regular ribs. Also, they have no rib bones, but they contain parts of the shoulder blade.
Moreover, they have a beautiful marbling layer of fat, which makes sure the meat stays moist in the slow cooking process. If the fat is rendered, you will find juicy and tender meat.
What Goes with Ribs?
Whether grilled, smoked, or baked, ribs demand total attention while eating. However, ribs can often be sweet, tangy, and full of delicious rich fat, so you need something to balance that out.
Some certain side dishes reset your taste buds so that you can tackle more pile of ribs. 
What Sauces and Rubs to Use?
BBQ sauces and barbecue rubs vary from region to region. Your meat can be tangy, spicy, or even fruity, depending on your mixture.
Usually, dry rubs are lathered on to ribs prior to cooking. Then the sauce is either applied during cooking or after fully cooked.
Dry Rubs:
For more earthy flavor, you can add fresh, dried herbs.
Sauces:
How Long to Cook Country Style Ribs?
To achieve delicious moist and tender meat, you can cook the ribs in the oven.
It can get tricky while slow cooking. As it is time-consuming, you need to make sure you are doing the cooking part accurately. Otherwise, if you miss a step, you will have to redo the whole process, which is more time-consuming.
During slow cooking, the fat renders smoothly and keeps the meat moist throughout the cooking process. Fatty liquid also adds more flavor to your meat.
When you uncover the meat, the heat directly hits the meat. This process reduces the liquid and browns the meat nicely to jam more flavor as well as give a beautiful presentation to your meat.
How to Cook Country Style Ribs: Step by Step
There are many methods for elevating the flavor in your meat before or even after cooking.
For instance, you can smoke the meat beforehand, just grill or bake the ribs, or better yet do all three in one cooking. It's your choice.
After you are done deciding, let's get to the steps to make it happen.
To be noted, if you intend to cook it all the way in the oven, then follow the instructions mentioned above in "how long to cook country style ribs" section for precision.
Additional Tips and Notes
Time to Dine with Ribs:
Once you start making Country Style Ribs, you cannot stop. For every other night or a weekend gathering, ribs will turn out to be the way you want with all its tangy, creamy tastiness and tender and juicy meatiness.
So, call over your friends and family and show them your newly learned pro dish. Good luck.