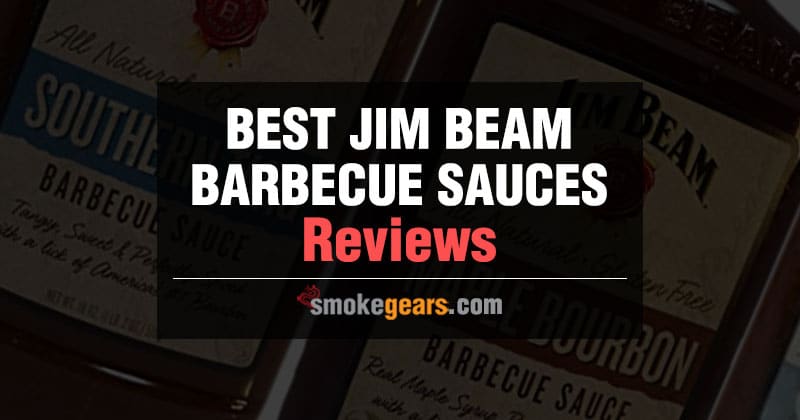 Best Jim Beam Barbecue Sauce
Jim Beam is a famous company in the world for its best quality whiskey. The Kentucky based company's history and legacy continue from 1795, and since then Jim Beam has been making the finest bourbon whiskey for centuries. 
Through their various products, Jim Beam represents the true American spirit. Their signature whiskey is the best-selling brand all over the world. For seven generations Beam family is in the liquor business. 
From 2004, Jim Beam started manufacturing and selling Jim Beam BBQ sauces, mustard, marinades, hot sauce, steak sauces, wing sauce, glazes, and pancake syrup.
More...
It needless to say, like their fine whiskey, the company has been making the finest barbecue sauces in the market. 
You can never go wrong with any sauce that has bourbon flavor infused in it. Each Jim Beam barbecue sauce adds the rich and delicate taste of bourbon to your grilled meats or seafood.
Various Jim Beam Barbecue Sauces
In this section, three popular barbecue sauces have been reviewed. Those sauces are –
1. Jim Beam Smoky Barrel Barbecue Sauce
This is literally one of the best sauces I ever tried in my life. You can try this sauce pretty much with anything. If you apply this with grilled or smoked chicken, God Lord, it would taste like heavens! 
Jim Beam Smoky Barrel sauce also adds extra flavor on steaks. It tastes great with pasta as well. The ingredients of this sauce make it America's number one bourbon barbecue sauce.
This sauce contains charcoal & chipotle, with the touch of molasses. It is consistency is medium.
Highlighted features: Gluten-free, and smoky flavored sauce.
2. Jim Beam Southern Tang Barbecue Sauce
Avery exclusive Southern-style sauce from Jim Beam. It's both sweet and spicy. Jim Beam sauces don't contain high fructose corn syrup or a ton of preservatives. This sauce is gluten free too. Its thickness level is medium. 
This sauce has a strong vinegar flavor but yet it tastes sweet. However, the sodium level of this sauce is a little higher.
You can use this sauce with any Southern-style barbecue. It goes very well with chicken and oven baked items as well. 
Highlighted Features: Gluten-free sauce.
3. Jim Beam Maple Bourbon Barbecue Sauce
As it has "Maple" in the name, it is obvious that it is a sweet flavored sauce. Flavor of bourbon and maple makes this sauce a great combination for chicken. You can use it to make pizza. You can infuse it into your roasted or fried turkeys, wings, hams, pork etc. 
The sauce is mainly made with real maple syrup, brown sugar, and various spices. It also contains tomato concentrate, pineapple, lemon juice concentrate, garlic, soybeans, and Jim Beam bourbon, among other ingredients. 
All natural sauce is also gluten-free and has nonalcoholic bourbon. You can store it in the refrigerator. 
Highlighted Features: Maple, Bourbon flavor.
Homemade Jim Beam BBQ Sauce Recipe
We all know that homemade sauces are fresh and taste better. How cool it would be if you could make Jim Beam barbecue sauce at home? This recipe will guide you through to make original bourbon flavored barbecue sauce at home easily. 
The ingredients needed for this bbq sauce recipe are:
How to Prepare the English Mustard
For this recipe, you will require English mustard. You can get dry powder from the supermarket or local grocery store and then make the paste by adding water. 
Make sure to stir it well so that there are no lumps left. Next, you will have to refrigerate it for 30 minutes to rest. 
Instructions of making the Sauce:
Now that English mustard is ready, you can get started with making the sauce. At first, get a big saucepan in order to prepare the sauce. 
Pour the ketchup in the pan and then gradually thicken the ketchup with the Jim Beam while stirring all the time. 
In this step, since the ketchup is diluted, now add the remaining ingredients, and bring to the boil. Stir gently.
Now lower the heat and boil for about 20 minutes to achieve your required consistency of the sauce. Through this process, you will also be able to vaporize the bitter taste of alcohol (a bitter taste).
This homemade Jim Beam barbecue sauce recipe is fresh and more natural than anything you can find in the supermarket.
Tips: you need a thermometer to control cooking temperature for perfect grilling.
Final Words:
You can grill or smoke the ribs, chicken or make burgers with any sauce. But choosing the right sauce is very important as it can make or break your dishes. 
Select your desired sauce from its numbers of variation, and be a pro in cooking while mastering the craft. Jim Beam is a trusted band which makes great sauces. 
Before, your next cook-out, you should really consider to try out their collection of barbecue sauces, if you haven't already. I guarantee you, you won't be disappointed. I personally prefer homemade sauce, but Jim Beam sauce gets the job done with authenticity.