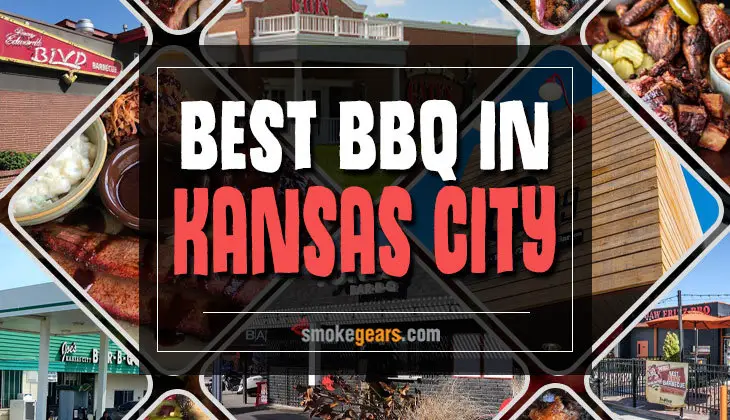 Best BBQ Restaurants in Kansas City MO: 15 Best Barbecue Joints in KC You Won't Want to Miss
Kansas City at first doesn't really seem like the best place for barbecue. It's a big, modern, bustling city rather than a cute little town down in Texas in a region more known for its overuse of ranch dressing.
But, believe it or not, in Kansas City, barbecue is not only very popular, but has its own regional style that has been honed through generations of tradition with just a pinch of food traditions from other regions of the country and other cultures, and these 15 best BBQ in Kansas City are the epitome of proper good ole Kansas City barbecue.
More...
There are more than one hundred barbecue joints within the city limits that can satisfy whatever cravings you have. Just about any meat, you could ask for, at least one of these will have it on offer.
Plus, their distinctive sweet and spicy barbecue sauce is not only the best thing you could possibly ever taste, but it has probably a million different variations that no one has ever heard of.
Basically, whatever you want, KC's got it.
15 Best BBQ Restaurants in Kansas City
Fiorella's Jack Stack Barbecue
Address: Freight House, 101 West 22nd Street, Kansas City, MO 64108
Website: jackstackbbq.com
Founded by Russell Fiorella in 1957, and still family-owned to this day, Fiorella's Jack Stack Barbecue is one of the most well-established names in the Kansas City barbeque scene, and it's easy to see why. They and their employees are some of the best Pitmasters in the USA.
With five locations all across Kansas City each offering a unique dining experience from each other and their pluperfect sauces, you can hardly ever go wrong if you come here for some kick-ass barbecue.
All of the locations that these guys have are amazing, but in our opinion, nothing beats the Freight House location on West 22nd.
It's got twenty-five-foot ceilings and mood lighting that create an atmosphere that just screams classic Americana at its finest. Combine that with classic American comfort food that has been made by one of the best names in the business and you have an unforgettable dining experience.
Their menu is also nothing short of sublime, especially their prime and baby back ribs. Their burnt ends are also an absolute must-try, and don't even get us started about their sauce, that stuff is the barbeque equivalent of holy water. Heck, you don't even have to like barbecue to instantly fall in love with the stuff these guys serve.
The staff and service are world-class, and their catering company are also one of the best KC has to offer, serving their mouthwatering barbeque at all kinds of events, and if you are unable to make it to Kansas City, their nationwide shipping via Doordash allows you to enjoy the same amazing barbeque in the comfort of your own home.
So if you want more than a bite to eat and want an experience with every bite, Fiorella's Jack Stack Barbeque has you covered.
Arthur Bryant's Barbeque
Address: 1727 Brooklyn Ave, Kansas City, MO 64127
Website: arthurbryantsbbq.com
You would think that with a legendary pedigree like being founded way back in 1908 by THE Bryants and them being mentored by THE Henry Perry himself that these guys would make a killer brisket. And these guys do not disappoint.
Located on the corner of 18th and Brooklyn and having been there since its founding, you would also assume that they are very proud of this pedigree.
And they sure are proud of it.
To this day they still mix and store their sauce flavors: Original, Sweet Heat, and Rich & Spicy in big five-gallon jars, which can be seen in the front window of this joint.
But it's not just the sauces that taste amazing. Their menu is not only super-duper tasty, but also very streamlined.
There are six barbeque sandwiches to choose from with all kinds of different meats being used, all of them tasting absolutely amazing. There are also plenty of ribs and creative sides to choose from as well, and they're options specifically reserved for the kids. They even have a little something for vegans too, as they'll let you take home a loaf of their famous white bread.
The outdoor patio is one of the best places to dine in Kansas City, and that's probably one of the reasons why catering here is very popular. Arthur Bryant's catering services are one of the best BBQ places in Kansas City, able to serve just about any gathering, no matter how big it may be. They also have meat trays specifically intended for big gatherings and parties.
So if you are like us and want to get a taste of what only barbecue royalty like the Bryants could cook back in the day, Arthur Bryant's Barbeque is the place for you.
Gates Bar-B-Q
Address: 1325 Emanuel Cleaver II Blvd. Kansas City, MO 64110
Other locations: Leawood, KCK, Midtown, the Jazz District, and Independence.
Website: Gatesbbq.com
Founded in 1946, Gates Bar-B-Q is also a barbecue joint with plenty of pedigree to its name. So it shouldn't come as a surprise that they and Arthur Bryant's Barbeque are bitter rivals.
Another reason for this rivalry is that their methods of making some of the best barbeque KC has to offer are completely different.
While Arthur Bryant's has only one location and everything is made by hand, Gates has five different locations to choose from, and they mass produce their sauces. This would normally be a massive red flag for a lesser barbeque joint, but with a pedigree as strong as theirs, they have the sauce formula pretty ironed out.
Like Arthur Bryant's Barbeque, Gates absolutely nails their menu along with their sauces. There are nine entrees and seven sandwiches to choose from, and you can pick any of these and walk out satisfied.
But where Gates outshines their rival are their exquisite Gates Fries, which outdo Arthur Bryant's fries by a long shot.
But sadly, Gates doesn't exactly have a catering department set up yet. But we sure do think if they did cater that they would give Arthur Bryant's a run for their money.
All in all, Gates is a barbeque joint by the people, for the people. Just about anyone can walk in, order something that appeals to them, and walk out a little happier than they were before.
Q39 Kansas City BBQ Restaurant
Address: 11051 Antioch Rd, Overland Park, KS 66210
Original location: Westport in Kansas City, Missouri.
Website: Q39kc.com
If Arthur Bryant's Barbeque is an adult, Q39 is a newborn in comparison.
These guys have only been around for seven years since being founded by Rob Magee in 2014.
But you definitely shouldn't count them out because they are new, as their qualifications are just as good as the established players in the best KC BBQ restaurants scene.
For starters, Rob Magee has competed in the barbeque circuit for over a decade, winning hundreds of awards for his exquisite barbeque.
Their two locations both fit the definition of a modern restaurant, but their outdoor patios have a more rustic vibe which can be very refreshing in a bustling city. And if you don't like the restaurants, their pick-up service Q2GO allows you to take a competition-winning platter home for you to enjoy.
And don't get us started on the menu, as it outdoes those oldheads regularly. Their so-called "Best Wings On The Planet" really do live up to the title, and their distinctive chipotle barbeque sauce is some of the best in the business.
Their entrees and kids' options are cooked in exactly the same way Magee did in his competitions, so your whole family can expect to be giving Mr. Magee plenty of 180s. And on top of that, they have plenty of tasty desserts to choose from to close out your meal
And if for whatever reason you have a big group with you, their catering services can come to the rescue. A formal event or informal gathering, we can assure you that you will be blown away at what Q39 can do for you.
Joe's Kansas City Barbeque
Joe's is an interesting joint, as their original location that they have had since they moved from Oklahoma to Kansas City in 1997 is literally right in the middle of an active gas station.
Yes, a top-tier barbeque joint in the middle of a gas station. What happens to make some of the tastiest barbecues known to man.
Not only that, but their menu is probably the most midwestern thing since ranch dressing.
Unlike most restaurants where they divide the menu into sides and entrees, these guys divide their menu into Meats and Other Stuff. Seriously.
But whatever you call their competition-winning barbeque, it won't change the fact that it's some of the most exquisite Barbeque in Kansas City. Their pulled meat sandwiches are some of the best BBQ restaurants in Kansas City, and their sides can easily give even Gates a run for their money.
Their online ordering service is incredibly easy to use and understand, giving you detailed instructions on how to prepare your meal once it has come to your door.
And their catering is simply out of this world. They have their own event center near their location in Olathe called The 180 Room, a more formal and elegant dining area designed to play host to all kinds of events, from corporate dinners to wedding receptions.
So if you want the very very best in catering and a unique and quirky location, Joe's is the place to go.
Char Bar BBQ
Address: 4050 Pennsylvania Ave #150, Kansas City, MO 64111
Website: charbarkc.com
If you are looking for the ultimate modern barbeque experience, Char Bar is the place to be.
Located on Pennsylvania Avenue, they not only make some killer briskets and sausages, but they also have a full bar with a happy hour and everything, and on top of that, they have the Beer Garden, essentially a playground for adults with fun games like Bocce Ball and Cornhole for when you get done with your amazing food.
But let's get back to the barbeque, and it's here where they are quite unique compared to most conventional barbeque joints. Their entrees are essentially a combination of burgers and barbeque sandwiches, which is a travesty to barbeque purists.
But we don't care. They just taste too damn good! Their Triple Crown sandwich is one of our favorites. Pulled meat with smoked ham and bacon with some mayo on top may sound like a horrible combination, but it works! They also have some great vegan and gluten-free options for those with food sensitivities who want to appreciate some good barbeque as well.
Not only that, but all of this glorious deliciousness can be ordered online to-go, although, with the fun that can be had in the Beer Garden, you probably won't want to do that.
They don't have catering either, but who cares. They have Cornhole!
Woodyard Bar-B-Que
Address: 3001 Merriam Lane, Kansas City, KS 66106
Website: woodyardbbq.com
Having been featured on Guy Fieri's Diners, Drive-Ins and Dives, you would hope that these guys make good barbeque. And they surely do not disappoint.
Their baby back ribs are in the words of the man himself are "a knockout," and their burnt end and smoked chicken sandwiches are some of the tastiest sandwiches you can find in Kansas City.
The atmosphere here is also amazing, with musicians being called in to play classic songs to entertain you and your friends while you enjoy some kickass barbeque.
And, if you don't like the atmosphere here, their catering is first-class with plenty of party platters to choose from for your big gathering, and ordering online is quick and easy, with takeout being some of the best in Kansas City.
So if you want some good food in a cute little joint without a ridiculous amount of people inside, Woodyard Barbeque is your best bet.
Slap's BBQ
Address: 553 Central Ave, Kansas City, MO 66101
Website: slapsbbqkc.com
Founded by two brothers with a passion for barbeque and years of experience in the competition circuit, these guys are a little crazy.
For starters, they open ridiculously early in the morning and only cook a limited amount of platters every day.
And on top of that, they always sell out. Quick. So if you are planning to visit after 2 in the afternoon, just don't waste your time.
But if you get in in time, you're in for a treat, as their sandwiches and ribs are some of the best in town, and even if you can't make it in time, you can be a little cheeky and get them to cater their whole stock just for you.
Hawg Jaw Que & Brew
Address: 900 Swift St, North Kansas City, MO 64116
Website: hawgjaw.com
Like Char Bar, Hawg Jaw Que & Brew are a bar and a barbeque joint all in one. They both have plenty of options for both their barbeque and their craft beer selection.
But it's here where the similarities end. Hawg Jaw is less of a crossover and serves more traditional barbeque delicacies. But they are willing to play around a little bit with the old formulas.
For $17 you can get the Hawg Trough Sampler which allows you to sample all of the meats they offer, with some sides for good measure. From here they will allow you to choose what you want based on what meats you liked.
Unfortunately, they don't allow you to order online, but their catering is a masterclass in amazing service. Everything you need to serve your guests with some good food, they will take care of for you.
So if you want a barbeque joint with stellar service and a little bit of everything, Hawg Jaw may just be the place for you.
Danny Edwards BLVD Barbecue
In 2007, Danny Edwards moved into a sleek new building situated on Southwest Boulevard, but it retains the same slow-cooked meats and low-key vibe that have kept it a local favorite for more than 35 years, hence the joint's name.
They are most well known for their sandwiches, which make use of all kinds of meats that have been smoked to perfection. Their sweet and tangy barbeque sauce is also some of the best in KC.
Their location is also very welcoming, as it gives that classic Americana vibe we love our barbeque joints so much for, and ordering online is easy and allows you to make big group orders as well. But for orders with 10 or more people, you're gonna have to cater.
LC's Bar-B-Q
Address: 5800 Blue Pkwy, Kansas City, MO 64129
Website: lcsbarbq.com
LC's is a smaller restaurant with just a handful of tables crammed into the dining area, but don't allow the unassuming space to fool you.
These guys' burnt ends are hands down the best in the whole city—sauce drenched and chewy with a delightful salty, smoky bark on the outside.
They make the ideal warm-up for a tasty combo sandwich with some tender beef and some salty smoked ham. Their rib tips are also some of the best-tasting entrees in the whole of barbecuing.
Unfortunately, like Gates, they don't cater, and on top of that they don't even have online ordering, but frankly, we don't give a damn because they make awesome barbeque.
Jones Bar-B-Q
Address: 6706 Kaw Drive, Kansas City, KS 66111
Website: jonesbbqkc.com
Founded by four sisters thirty years ago in order to pass on their father's legacy, Jones Bar-B-Q is one of those hidden gems in the KC barbeque scene. Why?
First of all, they only can take a select amount of orders per day, as they are still very small. This is why they have neither a catering service nor a way to order online. The only way to get food from them is to come before all of the platters are taken.
Second of all, the food is barbecue perfection. Their slabs and rib tips are some of the most in-demand delicacies in Kansas City, and their sauce is one of the most flavorful on the scene. They also have all kinds of unique sides that will never fail to entertain your tastebuds with something that is just a tidbit different from what you would normally get from a normal barbeque joint.
And finally, they are located in a fairly rustic area of Kansas City on Kaw Drive, giving you and your family an atmosphere similar to that you would get from a cookout.
Big T's Bar-B-Que
Address: 9409 Blue Ridge Blvd, Kansas City, MO 64138
- 6201 Blue Pkwy Kansas City, MO
Website: bigtsbarbq.letseat.at
Although Big T's is still quite small as a restaurant even with their two locations, they are definitely one of the most customer-focused joints on this list.
As a result of this dedication to the customer, they are another hidden gem among the sea of barbeque joints in Kansas City. Their brisket sandwich is probably the best in the KC barbeque scene. And sure, they may not give you the ability to order online, and they may not cater, but again, who cares? They're a hidden gem, and frankly, we hope they stay that way.
Scott's Kitchen and Catering
Address: 11920 N. Ambassador Dr. Kansas City, MO 64153
Website: Scotts-kitchen.com
Founded in 2017 by Scott Umscheid, a five-time first place finisher in the competitive barbeque circuit and one of the key founders of Applebee's, this restaurant has some of the most amazing chicken you will have probably ever tasted in your life. After all, Umscheid won these titles in the chicken category.
But don't laugh these guys off as a one-trick pony, as you could probably randomly pick something from their menu and walk out satisfied with your choice. Their sandwiches are some of the tastiest in the Kansas City area, and their burnt ends have probably the loveliest bark around them of any joint in KC.
And the best part is that, despite being so new, you can order online from them right now and get takeout from them and enjoy a competition-winning platter in the comfort of your own home. They also cater unlike most joints as new as them with special platters specifically designed to keep your gathering fed, no matter how big or small it may be.
Plowboys Barbeque
Address: 1111 Main St, Kansas City, MO 64105
Website: plowboysbbq.com
Founded by Todd Johns and Randy Hinck, two incredibly adept pitmasters with over seven barbeque championship wins to their name, Plowboys Barbeque has probably the strongest competition pedigree of all of the barbeque joints on this list.
Not only that, but they continue to compete on the competitive barbeque circuit to this day, so you can count on them to be always coming up with new ways of making tasty barbeque for you and your family, as all of it is essentially a homologated version of their competition-winning platters.
But don't believe that the platters they'll be serving you have been dumbed down in any way; their menu is one of the best in the Kansas City barbeque scene. Their pulled chicken seasoned with their competition-winning Yardbird rub is some of the most sublime-tasting chicken you will find in town. 
And don't even get us started on their burnt ends. They're awesome.
The kid's menu is also great as well, featuring baby back ribs and some tasty chicken strips for your young barbeque connoisseurs. And you wanna know the best part? Everything on the menu has its gluten-free clone, so just about anyone can enjoy some kickass competition-winning barbeque.
Their catering team is also top-notch with over a decade of experience serving their barbeque at all kinds of events and festivals in the Kansas City area. Not only that, but both their catering and their online ordering processes are probably the easiest in all of Kansas City. All you have to do is fill out a form on their website, and they will get back to you in 24 hours, and all is well.
So, if you want the strongest and only the strongest competition pedigree in your meal, Plowboys is the place to be.