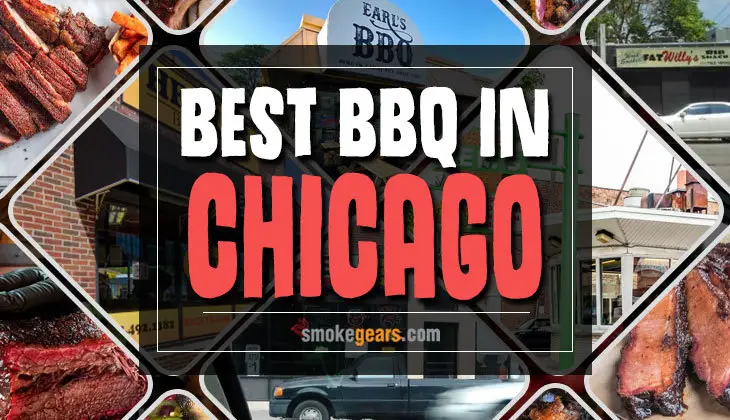 Best BBQ Restaurants in Chicago Illinois – Top 25 Barbecue Joints to Order
By just closing your eyes, a mental juicy meat image which makes you salivate already forms. Asking where to get such a feeling in Chicago?
It may not top on the "Best BBQ cities in the world" list, but Chicago's BBQ style is worth a try. From wet, smoky, saucy, fall-off-the-bone, Chicago barbecue definitely has your barbecue style. With a blend of Texas, Memphis, St Louis, and Carolina barbecue styles, you sure will feel at home even whilst far. So, wondering where you will deep you meat-craving teeth whilst in Chicago?
Here is a detailed list of the best BBQ in Chicago. From the ancient Twin Anchors Restaurant to the new spots in the streets, roll your sleeves a little higher and deep your teeth. Also, the list features some barbecues hot spots that will save you a few dimes worth.
More...
25 Best BBQ Places in Chicago Illinois
Smoque BBQ
Address: 3800 North Pulaski Chicago, IL 60641
Website: smoqueBBQ.com
After his trip to Texas, Texas BBQ editor yearn for a brisket comparison in other states. The Smoque BBQ brisket became his new favorite.
Established by five cooking-passionate guys who believe balancing the sauce pungency, rich and natural meat is the secret to BBQ heaven, the dulcet meats of Smoque BBQ were invented. Since 2006, the Smoque BBQ has had endless masses streaming from all corners to enjoy their hardwood smoke-flavored barbecue.
Its rub spiciness has been recognized in the best Chicago BBQ restaurants multiple times.
From sliced brisket sandwiches, perfectly rubbed meats, to half or full slab ribs, the Smoque BBQ is ready to serve you. To seal up your full stomach are delicious peach pecan bread pudding cobbler and deserts.
Macaroni and cheese, meat sandwiches among others are offered on the kid's menu.
Green Street Smoked Meats
Address: 112 N Green St Chicago, IL, 60607
Website: greenstreetmeats.com
Memphis-style, Vinegar, and spicy Green street BBQ sauce may unravel your new hideout in Chicago. From its appetizing sandwiches to the half slab served a variety of meats, the barbecue will have you dirty your hands. To top up your plate is Cole slaw, macaroni, and broccoli salad among other sides.
You definitely won't miss your drink as the restaurants offer a variety of cocktails, drinks.
Lillie's BBQ
Address: 417 N Ashland Ave Chicago, IL 60622
Website: lilliesq.com
Thanks to Grandma Lillie and the southern tradition, Charlie, Mckenna will prove to you why their barbecue is the best BBQ in Chicago suburbs. Memphis spicy cayenne, north Alabama black pepper, are among flavors you will enjoy as you gobble the saucy ribs.
The vinegar from the east and the tangy mustard from the south has brought home the two Memphis in May victory award among others.
To enjoy their Apple and lime juices flavors, order their half-pound barbecues, brioche bun sandwiches, or the Brunswick stew. Their barbecue dishes include pulled meat, hot links, and pimento cheese sausages. Sauces range from smoky, Keto-friendly, customer's favorites to Carolina style.
For chip lovers, grab a packet of hot pepper vinegar, buttermilk & sweet onion, Pimento cheese, or one of the kettle cheese variety packs. A banana pudding dessert will do you a great favor, don't miss it.
Bub City
Garnered with the live country music, pick up the meaty rib and chew thoughtfully at Bub city.
Large wood and brick bar with a western theme are what contributes to the warmness and originality of the Bub city. Starting with the most famous fried pickles, atomic cheesy fries, and wedge slab, give up all the pretense of eating and mess your hands. Still, on the famous list are General Joe's buffalo bites, chopped salads, brisket nachos, giddy-up fries, and chicken tender brisket.
Other items on the menu are quality mouth-watering meats, burgers and sandwiches, tasty sides, and desserts.
Don't forget to reach for a glass of their signature cocktails, canned drinks, drafts, or the basic seltzer.
Lem's BBQ House
Known for its finger-licking rib tips and hot links, the Lem's barbecue was born from a dream of two brothers. Bruce and Myles lemons. In 1954, Myles, the formal chef began pulling masses with his magical spices and unbeatable flavor.
Ribs versions include a bucket of tips, small or large rib tips, slab, center cut, small end, and hot links. For a half or a gallon BBQ sauce, fried chicken, or the hot link combos, the Lem's brothers are sure to serve the best. For Shrimp lovers, the Lem's have your back.
Just with two locations, the Lem's barbecue house is ready to make it your new barbecue favorite hideout.
"BBQ as God meant it to be. And you can't beat the vintage drive-in decor (if that matters, which it doesn't). Lem's can beat anything the Carolinas care to offer, or Georgia, or KC. And TX isn't even on the map." A happy customer praises.
Honky Tonk BBQ
Another Gut Fieri's spot!
How thrilling is it to chomp those ribs while your favorite music plays? Cooking their fresh meats only over a wood fire, the heady aroma of pulled meat and smoked brisket is over welcoming. Unlike other barbecue restaurants, Honky Tonk ribs are free of the taste of fuel which may be such a turn-off.
For starters, nibble a bacon candy, cornbread muffins, Texas brisket chilli, fried green tomatoes, and Texas brisket chilli with Mac and cheese. Their meats are finely cooked with the right amount of heat. Sampler platter, beef platter, and beef platter Delux, are the plates you will drag from the platter menu.
Southern green sides and dinky dunkers sandwiches are dishes you should top on your tray. For deserts, grab their banana pudding or the peach cobbler. Thank me later!
Honey 1 BBQ
Address: 746 E 43rd St, Chicago, IL 60653, United States
Website: honey1BBQ.com
Honey 1 barbecue is ready to serve you their hickory-smoked BBQ classics and BYOB in their casual, counter-serving storefront with wood tables.
Starting on their menu is the tastiest and meatiest ribs cooked uniquely. "We don't boil and steam them, so they fall off the bone. We smoke them low and slow, so you'll know they are meat when you take a bite", Honey BBQ explains.
Meltingly tender shoulders, slowly cooked saucy and juicy sausages, rib tips, and link combos will leave you salivating for more. Fish, fowl and cow diners, sandwiches, could also be on your plate, you decide. Drinks are a must in the best BBQ places in Chicago. Quench your thirst with a sweetened drink.
Unless you say hot sauce in the side, you will get to enjoy Honey's 1 sauce which is tangy, sassy and perfect for the Q mild sauce
Smoke Daddy
Address: 1804 W Division St Chicago, IL 60622
Website: thesmokedaddy.com
Don't you think it should not miss in the best bbq restaurants Chicago?
Since the summer of 1994, from the sound of music to the best ribs and pulled meats, food has never tasted so good.
However, that's not what makes the smoke daddy have the best barbecue in Chicago. With their top-quality barbeque and drinks, the spot has awed the mouths of many. The New York Times, national geographic, Chicago magazine and Zagat survey won't hold back the desire to talk of this hideout.
Jimmy lee Robinson, willie "Big Eyes" Smith, Billy boy Arnold, Kim Wilson, and Jerry Portnoy are some musicians that will add flavor to your tray.
Smoked meat which includes pulled meat or chicken, sliced brisket, or a combo will fully sate your meat cravings. Still, on their menu is limited KC style burnt ends, The daddy-o which consists of sliced brisket, smoked provolone, and onion rings.
A veggie burger, Cajun fish sandwich, salads, sides, snacks, and sweets are other dishes you might enjoy.
For brunches, you can order the hand-cut fries, sweet potato fries, smoked pit beans, coleslaw, collard greens, cornbread, or mac-n- cheese. Cocktails, boilermakers, and drinks are tailored to complement your barbecue meal.
With their two locations, Smoke Daddy will ensure you eat with relish.
Chicago Q
Address: 1160 N Dearborn St, Chicago, IL 60610, United States
Website: chicagoqrestaurant.com
It may not resemble most barbecues, but Chicago's q extra polished exterior will give you the original rich barbecue feel with a blend of the modern BBQ experience. With once Oprah's Winfrey personal chef on the pits, the meat comes out heaven-looking.
Art smith, confident about his pit skills can't seize the compulsion to show off his prowess. Located in Goldcoast, the warm looking barbecues will drag you in. Built from white picket fence, sparkling lights, and cozy lounges, the view is so welcoming. But something else is jaw-dropping, the toothsome smoked meats.
Smith divine hot links, savory baby back ribs will give you an ultimate Chicago experience. Talk of the heavenly brisket and juicy chicken, Chicago q got you.
To drain down the aftertaste, grab the alluring milkshake among other drinks.
Twin Anchors Restaurant and Tavern
Address: 1655 North Sedgwick Street, Chicago, Il 60614
Website: twinanchorsribs.com
Located in an ancient 1881 building, the barbecue is one of the old spots in Chicago. Since its establishment in 1932, the Twins Anchors restaurant has risen to fame from its tender baby back barbecued ribs. Frank Sinatra, comedian pat henry, Jilly Rizzo, composer don costa, and mickey Houston are some of the guests who have made a stop in the restaurant.
Debbie Murry, Tina Nishida, Betty Ward, and Barb McCoy. The four ladies who will serve your meal with a smile.
Over the numerous decades, the twin's restaurant has been featured in various publications. The London times, fortune magazine, the New York Times, and the Idaho statement are some which have shared their Twin anchors experience.
The restaurant has also been featured in the CBS'S list of the best barbecue in Chicago.
On top of the delicious slab of ribs, the Tuzi family offers you a cold drink, and an unforgettable Chicago experience. Every night, they steam up your meal with a 300-person party. The experience maybe too much to take in but please no dancing, the Tuzi family positively requests.
Get to taste their acclaimed homemade chilli, mini barbecue sandwiches, BBQ chicken wings, chicken tenders, zesty baked beans, and their tasty creation pepper-jack creamed spinach.
Twins toddy, winter spritz, maple old-fashioned, rob Roy, classic Manhattan are some options in the cocktail bar. Other dishes include New York strip steak, grilled shrimp, sandwiches, and salads.
For under 8 years, small fry slab, kid's anchor burger, chicken tenders, and kid's grilled cheese are what the twin's offers.
Fat Willy's Rib Shack
Address: 2416 W. Schubert Ave. Chicago, IL 60647
Website: fatwillys.com
Pulled chicken or pulled meat, baby backs, spare ribs, ribs tips, and hot links will take you to a breeze, warm meat slices adventure. For desserts order between the coconut cream pie and peanut butter chocolate pie.
For Friday's lunch, the Willy's offers a half BBQ sandwich with fries and you get to choose your preferred sides. The fat Willy's list of sandwiches, salads, starters, bowl and salads, and diners will have you chewing enthusiastically. And yes, with their long list choices, your favorite is definitely available.
Red drink, lemon, blackberry, and creamy garlic parmesan vinaigrette dressings are available.
Blackwood BBQ
Address: 28 South Clinton Street Chicago, IL 60661
Website: blackwoodBBQ.com
Creating their dishes from scratch, taking hours to provide you with the best mac-n- cheese, the Blackwood works hard to give you the best barbecues to soothe your soul. From pasture-raised brisket, fresh natural chicken, to no antibiotics or hormones meat, the Blackwood experience is fresh and authentic.
Not only the premium meat is a big thumbs up, enjoy great fruity salads, tacos, succulent sandwiches, and platters.
Housemade sides and drinks are offered which suit well with your BBQ meal.
Earl's BBQ
Address: 4835 N Austin Ave Chicago, IL 60630
Website: earlsBBQchicago.com
Located in Jefferson park, the family owns a barbecue, the Scrumptious meals making it hard for you to choose.
Served with sliced Texas toast and your preferred sauce choice, order the pulled meat, and beef brisket. Rubbed with Earl's original rub are baby back ribs smoked rib tips, and BBQ chicken. Half pan coleslaw, BBQ baked beans, house salad, a dozen donuts, and mac & cheese sides are offered.
On the kid's menu are kid's burger and fries, kid's hot dog, and kid's tenders. Vanilla, strawberry, coconut, cherry, banana, and chocolate shakes are among many more on the shake's list. The best BBQ in Chicago suburbs will definitely have coffee, have your cup.
The Full Slab
Address: 8340 S Stony Island Ave Chicago, IL 60617
Website: thefullslabchicago.com
Entangled to their low and slow cooking style, the full slab ensures you get to taste the southern style with a little modern twist.
Since he joined the barbecue game in 2006 in the Grayslake suburban, Sam Gilbert, the southern, has always yearned to get back home. In 2018, in the neighborhood of Mary nook, the full slab barbecue was born.
Being a project engineer, Sam will sure prove to you the connection between engineering and cooking. As to him, he sees no difference. Instead of an aquarium smoker, Sam uses ole hickory an indirect gas-powered smoker. With wood in a separate chamber, he is able to regulate both the heat and smoke. The meat has an almost crunchy outside covering the tender smoke-kissed meat.
Instead of tasteless frozen fries, the combos are made saucier by fresh-cut fries that come in all combos.
For pepper lovers, the sausage is a must-try. They have a crispy covering and the heavy dose of black pepper you madly desire. You sure don't wanna miss a visit to full slab, ask about the best BBQ in Chicago suburbs.
Trice's Original Slab BBQ
Address: 1918 E. 71 Street Chicago, IL 60649
Website: slabBBQ.com
Among the well-known best BBQ restaurants in Chicago, Trice's BBQ never misses a shout out.
We believe that food should not only be consumed, but more importantly, experienced and enjoyed. The trice's originals have crafted the perfect seasonings and flavors to give you the best barbecue you will ever have. The family-owned business was originally opened in the Chatham community in 2003.
Without a spicy sauce, the barbecue is no tastier. The slab's local gourmet sauce is responsible for the lip-licking St Louis ribs and combos. You sure don't wanna miss out on the smoked turkey which is unfortunately in limited quantity. Beef and turkey burgers crafted like no other are a must-try.
Complete your tray with a can pop, energized drink, or water to drain down the barbecue meals on your gut.
Flat and Point
Address: 3524 W Fullerton Ave Chicago, Il 60647
Website: flatandpoint.com
Resembling an old-fashioned barbecue spot, the Logan-located hideout knows its way around the kitchen.
With the aim to combine his open fire cooking passions and with locally produced products, seasonality, and approachable chef focused dishes, flat point barbecue came out.
Borrowing from the traditional cooking techniques, Chef Brian ensures most of his dishes pass through the custom -made 500 galloon smoker. And maybe, a smoker, antiquated kitchen skills are all needed to top on the best BBQ restaurants in Chicago.
The competent chef strives to ensure that almost every dish served is homemade. His dishes are distinguishably ranging from the smoked Gnocchi topped with fresh truffles. From the home-crafted charcuterie to a century dry-aged top sirloin topped with fresh veggies, Brian never compromises the quality or flavor.
The most known as "Alpine Smokehouse" will serve you the freshest seasonal brisket or rib special that you will nod to. The wood-fired vegetables are too much to miss. For more flavoring Smokey dishes, try the smattered plates of pasta.
County BBQ
Address: 1352 West Taylor St. Chicago, IL 60607
Website: county-BBQ.com
Two chefs are enough to explain why it can't miss out on 'the best BBQ places in Chicago'. As it is a collaboration between two chefs, Michael Kornik of DMK and Erick Williams of virtue in Hyde Park, one thing is a guarantee, tasty and delectable barbecue.
Despite it being under new management which features chef: Carlos Ramirez, the county BBQ originality still remains intact. Salads range from smokehouse romaine, tomato, crispy tortilla strips to kale Caesar manchego cheese, and almond.
The hickory smokers will give you their best Chicago rib tips, Texas brisket, and St. Louis style spare ribs. On the sides menu, blackened cauliflower, puppies with lemon tabasco aioli are beckoning you to have a bite of them.
The barbecue also offers special daily dishes. They include rib tips on Tuesdays, fried chicken on Fridays, and smoked wings on Thursdays while beer, bourbon, and burger belong to the next two consecutive days.
Mothers Cluckers Kitchen
Address: 5200 North Elston Ave, Chicago, IL 60630
Website: mothercluckerskitchen.com
No TVs. As they believe your eyes will be glued on the rib-full plate whilst you listen to their cool music. Double your appetite, with the saucy starters of fried onion straws, deep-fried shrooms, pulled meat quesadilla, and huge sandwiches.
Mac & cheese, baked beans, corn cobettes are among the finely handcrafted sides made from family recipes.
A carrot cake, pecan pie among other desserts are what describe a nice meal seal up. Including one side your little one can have a corndog, mac & cheese, 3 chicken fingers, and double pieces of chicken. Beverages and juices are available that blend in well with your barbecue meal.
Unlike the Palatine branch, do tag along with your favorite drink or 6-pack at Chicago location. They will add some ice to it. How cool does that sound?
Pearl's Southern Comfort
Address: 5352 N Broadway St Chicago, IL 60640
Website: pearlschicago.com
Among the ingredients which make it the best restaurants in Chicago are the unique bayou flavors.
Located on the soothing Chicago's edge water neighborhood, the Pearl's will not only serve you great barbecue meals but also bayou flavors are a guarantee. Owner Danny Beck believes it is not the bold bayou, creole, or the patiently cooked meat slices that make the southern fare exclusive.
Naming the spot after his great grandmother, He believes it is a sense of belonging, loved ones, and nostalgia. And just like most other barbecues, pearl's offers salads, appetizers, sandwiches, and sides. Even if, the salads won't lure you in the Carolina pulled smoke tossed in the homemade sauce will sure do. Other barbecue meals include Kansas City style ribs, smoked till juicy half chicken, and barnyard combo platter.
From its location, seafood is a guarantee. Louisiana jambalaya, blackened catfish, peeper jelly meat chop, and shrimp & grits entrees all come with a half order of BBQ shrimp.
Hecky's BBQ
Address: 1902 Green Bay Rd Evanston, IL 60201, US
Website: heckys.com
In October 1983, Hecky's barbecue opened and within no time became famous from their barbecued meals which include ribs, rib tips, chicken as well as the sauce. As their motto goes "It's the sauce", their sauce has had a say in their barbecue meals. Their recipes are originally from his New Orleans 'creole' grandmother who passed them to his mother than to him they landed.
Hecky Powell and his wife, Cheryl, would never seize giving back to the community considering the social service backgrounds they rose from. From its hard work to serve customers' desires, the Hecky's have grown from a carryout restaurant to catering, wholesale, and retail branches.
Apart from the Hecky's choice ribs, other of their signature barbecues meals are the mutt, rib tips, and baby back ribs. Still, on the saucy dishes are sweet potato pie and of course, don't miss out on their creole barbecue sauce. If barbecue lovers gossip about it, be sure it's among the best BBQ in Chicago suburbs.
Firewater BBQ
Address: 524 W State St, Geneva, Illinois 60134
Website: firewaterBBQ.com
With a visit to a firewater barbecue, get ready for a taste of heaven.
You sure won't believe Patrick and Kate O'leary's barbecue began from their cow. Maybe a clumsy cow kicked a kerosene lamp which ignited the nearby wood chips. Funny I know, but who knew a cow would surface the superb firewater dishes.
However, it is through this experience in 1871, that the firewater barbecue began brewing. It is not until 1991, when the wood story resurfaces and firewater barbecue is born.
After recreating recipes in Daniel Sullivan's and Dennis Regan's vision, it dawned to him it was time to bring back to life the best brews and barbecue in the world.
Starting from their hand-rub slowly smoked fall off the bone and hand-rubbed meats, the firewater guarantees you the best meat slices among the best BBQ restaurants in Chicago suburbs. Their meats are served as a sandwich or served open-faced with white bread. To add more taste to your plate is smoked hot link sausage, thick-cut smoked bacon, house cut rib tip, and jumbo wings.
You sure don't wanna leave without having a taste of their signature suggestions. Grillmaster burger, triple porker, Texas taco, and Rd 3 which comprises pulled chicken with cheddar cheese will awe you.
Sully's sweet tooth homemade desserts, signature sides will leave your tray looking saucy and mouth-watering.
For kids aging 10 and below, mini sandwich, mini brisket sandwich, chicken nuggets, and mini corn dogs are enough to make him grin at every chew.
Mission BBQ
Address: Downers Grove, IL 1570 Butterfield Road Downers Grove, IL 60515
Website: mission-BBQ.com
When it opened in 2011, the mission barbecue has blessed the hearts and stomachs of many. Being one of the best BBQ in Chicago suburbs that many can't resist, mission hotspot will warm your mouth and heart.
With its numerous locations, comes a variety of barbecue meals. However, you sure don't wanna miss out on their meat market. Rip those meat slices off the bone from a plate full of brisket, pulled meat, turkey, pulled chicken, and sausages. Taking the signature award is a half yard bird chicken and moist and mild salmon.
Get to enjoy their St: Louis style ribs and their tender bay-b-back ribs. No meal is complete without a thankful drink on the side. Ice cold-bottled soda, fountain soda, kettle brewed iced tea and summertime lemonade will complement quite well with your barbeque choices.
A kid's classic mac, done the mission way, kid-sized chicken, or turkey slider will have your kid nodding on his plate till the last bite. You can also order from the gluten-free menu.
Cracking the secret that it's the sauce that brings the heaven feeling to the meat, the missions have dug deep and handcrafted various sauces that will suit your preferences. The molasses rich and brown sugar Memphis Bele, sweet fire pit smoky mountain, honey-flavored with a tangy finish Texas twang sauce will add indescribable sweetness to your meal.
Southern Cut Barbecue
Address: 198 East Delaware Place, Chicago, IL 60611
Website: southerncutBBQ.com
The bar offers one of the most intimate feel you will ever experience in Chicago. This elegant country restaurant does not only smoke up the amazing barbecue meals you could ever have but also ensures you enjoy the beat of country music.
Whilst you tap your feet to the ground to the beat from their comfortable seats enough, pick up on your plate and fill yourself undisturbed. Have your breakfast, lunch, or dinner from this amazing long bars.
Their southern tradition embracing menu offers championship baby back ribs, and the local's favorite prime steak sandwich and Faroe Island salmon. Salads, appetizers, sides and even burgers will all you give that incomparable Southern cut culture.
Leon's BBQ
Address: 4550 S. Archer Ave Chicago, IL 60632
Website: theoriginalleonsBBQ.com
Whether is seafood, ribs, or hotlinks the Leon's duo locations will bring you home. Drinks offered are cola, Diet, orange, apple &lemon, and bottled water. For the party, trays choose from their various ribs and rib tips sizes, fried chicken and salads which comprises potato, macaroni and coleslaw.
For your kid, let him choose between chicken tenders and chicken legs. Combos constitute wings, rib tips, hot links, and chicken.
Uncle J's BBQ
Address: 502 E 47th St, Chicago, IL 60615, United States
Website: facebook.com/unclejsBBQ
Lip-smacking hot links and rib tips of any size, barbecue chicken, turkey, and combination plates are what speak for Uncle's j barbecue. French fries, coleslaw soda, and also water are other items on their menu.
I appreciate no further, the dilemma you are in now. However, isn't it a little fun? With the 'hard to choose' choices, it is mind crashing to decide. Do you love the smell of wood on ribs or the rough dry rub on those baby back ribs? There you go. Importantly, the best BBQ in Chicago is where you get to enjoy your every time favorite meal with a smile tagging alone.
With your preferences, you sure may land yourself a decision. Go ahead, undress those meaty ribs as you will never again.