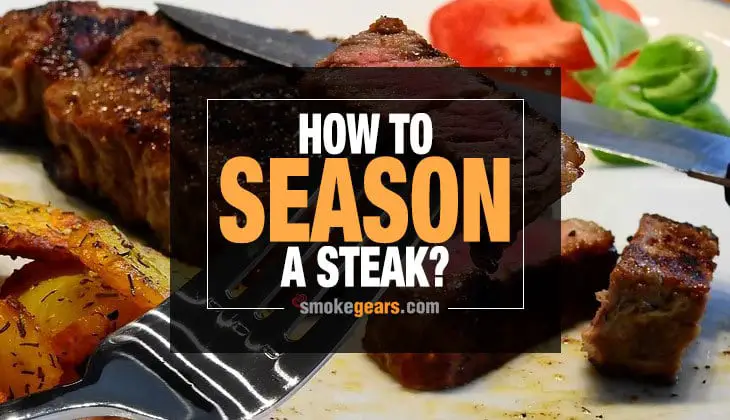 How to Season a Steak? The Best Techniques for Seasoning
People always find the task of seasoning steak is quite difficult even before trying it. However, when you attempt to do seasoning at home, then you will realize that it is not a daunting task at all.
In this article, we have decided to introduce some of the best techniques of how to season a steak appropriately, and by following these steps, you can do it very quickly at your home.
A great sign of perfectly seasoned beefsteak is that it is flavored with several spices and a crusty interior. But, if you think that it requires a lot to get a mouth-watering steak, then you are indeed wrong.
More...
The Best Techniques to Seasoning a Steak
However, by following some pretty simple steps with a few ingredients, we assure you that you can enjoy the best steak meal dinner at home.
There are different ways to approach the best seasoning. Therefore, we have discussed some of them below that will help you know different methods of seasoning steak.
1. Basic Steak Seasoning
Basic seasoning is one of the most lenient methods that everyone can do. Beginners usually prefer this technique because it is easy and allows cooking a very delicious steak meal with very few ingredients. So, let us begin with the first seasoning method.
Step 1: Select the Steak
The very first step of this method is choosing the best steak for cooking. There are several things you need to consider before buying it from the market, as it might ruin the taste if you failed to purchase the fresh one.
There are three things you should look into the meat. One of them is the marbling of white fat over the steak. Another one is the color that should be near to vibrant pink and light cherry, and finally, the surface of the meat should be thoroughly moist.
Step 2: Preparing the Steak
The next step is developing your beef, once you are done selecting it. To begin with preparing, you need to bring the steak into the room temperature. You can use a dry cloth or paper to dry your steak, and soon it will adjust with the heat.
However, it might take around 30 to 60 minutes for the heat adjustment, but there are several benefits when you properly tender steak. For example, it will take less time to cook as well as you will get a juicy steak by bidding it well.
Furthermore, you might think that keeping the beef outside for about an hour can generate bacteria on it, but it does not mean that your meat will get spoiled because eventually, grilling it on high temperature will kill all of them.
Step 3: Seasoning the Steak with Salt
When your steak reaches room temperature, then it is time to season it with salt. You have to put ¾- 1 tablespoon of salt per pound and apply it properly on both sides.
However, it is always challenging to decide how much salt will give the appropriate taste, but still, there are some things you can consider, which are mainly followed by master chefs.
Some of the chefs prefer salting beef when they keep it for reaching room temperature. In that case, it can moisture your steak, and at the same time, it will also tenderize. Besides, it makes the steak softer by breaking down the protein over time.
Furthermore, many people salt the steak before grilling it, but it gives an disappointing taste. In this procedure, right after you put the meat in the griller, it gets baked very quickly, which takes out the juicier portion. Therefore, salt the steak as early as possible.
Step 4: Oiling the Steak
If you are done with previous steps, then the very next thing is brushing your meat with the appropriate amount of oil. However, make sure that your steak is at room temperature and salted adequately because these are the very first thing you should consider.
Now take a brush for oiling your steak and try to apply at least one teaspoon of oil in each pound of steak. We may use any oil, such as olive oil, groundnut oil, neutral oil, or canola oil. Furthermore, if you want the crisp flavor particularly, then we recommend using olive oil over the surface of your steak.
Step 5: Apply Pepper on the Steak
Applying pepper on steak is a personal choice. However, we also have some suggestions regarding it. There are a few things you will encounter while peppering the steak.
If you prefer putting it before grilling, then it will get slightly burned flavor of pepper. Besides, if you do not like the burnt flavor, then you can apply it after grilling. It will also give a different taste. You might try both and taste them out.
Regardless, we suggest you grinding the pepper by yourself because it gives an entirely different taste from the pre-grinned pepper.
2. Montreal Steak Seasoning
Are you looking for the most classing steak seasoning method? If so, you are looking in the right place. It is considered one of the most famous techniques, which gives the strong seasoning flavor but never makes it extravagant.
So, let us begin with the required ingredients.
Ingredients:
Seasoning Process:
These are the seasoning ingredients you need if you want to try out this method.
3. Turmeric Based Steak Seasoning
If you love South-Asian cuisine, then this method is another exclusive one that can give a great taste of different seasons. Besides, you can store this seasoning for a quite long time without any preservatives.
So, for people who have the taste palate for exotic South-Asian delicacies, here is a list of necessary ingredients.
Ingredients:
Process:
4. Coffee Based Steak Seasoning
Adding a small amount of coffee can make a massive difference over the seasoning pattern as well as it comes up with an excellent flavor. Along with other spices and seeds, you need to include coffee and cocoa for this different taste.
For people with a sharp taste palate, this is an excellent choice.
Ingredients:
Process:
You can use this type of seasoning for a different taste by adding it in the steak in the proper amount. However, you can store the remaining portion in a container for a long time very easily.
5. Outback Steak Seasoning
It is another way of seasoning your steak that gives a delicious taste on that. You do not need any extra spices and seeds for this particular method.
Ingredients:
Process:
It is pretty simple to apply. All you require is to mix all the ingredients and rub them on both sides of your steak.
Besides, if you are interested in storing this seasoning, then collect the appropriate amount of these items together and keep it in an airtight container so that it does not get moisture.
However, you can exclude the salt from this seasoning and follow the necessary procedure of salting so that the amount remains perfect. 
Cooking the Steak after Seasoning
Done with seasoning? If so, then it is time to prepare the steak properly and maintaining it because after working so long, it is inevitable that you do not want to waste your steak. There are several ways to cook steak; thus, some of them are below.
• Frying in the Pan
Frying over pan is the quickest method to put the steak in your stomach. You need to take the seasoned steak out of your refrigerator and put it into the pan and fry it. However, it is not the healthiest process to do because it is always better to eat freshly fried steak.
• Grilling the Steak
Grilling can give you the best taste if you can do it properly. Besides, you may prefer using charcoal rather than gas because it gives you a great smoky flavor. And also, keep the fuel and the food in different sections.
• Broiling the Steak in the Oven
You can also cook your steak by broiling it in the oven. But it might be a quite risky method as in high temperatures, it can get burned. However, by maintaining the heat properly, you can cook the steak well.
Things to Consider When Seasoning a Steak
After reading the entire process and ways of seasoning, we are pretty sure that you will not find it difficult anymore.
However, there are still a few things that you need to be careful about because after doing so much for eating a delicious steak, you will not prefer ruining it.
So, let us take a glance at what are those things that you should do or not do.
Final Thoughts:
By the time you read this article and go through the processes, we are quite sure that you will not have any further confusion regarding how to season a steak.
However, there are several recommendations for cooking the best mouth-watering steak very quickly. Even if you consider seasoning your steak with the simplest method, it will indeed be a delicious one.
Regardless, if you want to try out some different spices and seeds, then you can consider trying out Montreal, Turmeric, or Outback method. Besides, you can also consider the coffee-based seasoning that gives quite a different taste apart from others.
Therefore, by now, you can quickly season your steak in different ways at your home and enjoy a delicious steak meal with your family.