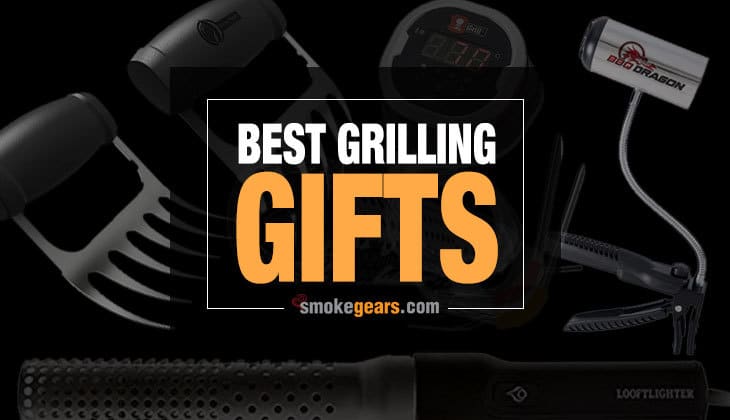 Best Grilling Gifts in 2021 for BBQ Lovers and Their Family
We all have friends or family members who love to grill. And yet, for those of us who don't know much about grilling, it becomes difficult to choose what we shall gift them.
With so many choices laid out in front of you at stores, it becomes difficult to choose something that they would love and at the same time, doesn't put a dent on your wallet. So, to make this more convenient for you, we cataloged some of the best grilling gifts and BBQ gift ideas.
More...
Best BBQ Gift Ideas:
The Looftlighter is one of the most efficient and environment-friendly gadgets that can be used for igniting the grill. It does not require any additional need of flame or gas or even any lighter fluids to light it up.
It has a simple on/off button. You can ignite a pile of coal, by letting the lighter touch the coal and a super-heated air of about 1256 degrees Fahrenheit lights it up in less than 60 seconds.
During this process, you need to hold on to the button and then release it once the sparks are visible.
Since you are not using any lighter fluid for lighting up the grill, you, in turn, can get rid of any chemical taste from your food. The lighter also has a safety casing, which cools down in an instant as soon as it is switched off. 
One of the fun-loving features about the Looftlighter is that it has a bottle opener attached to it so you can crack open a beer as you grill. Also, it is lightweight, so you can easily carry it with you anywhere you may go.
The dragon blower is a grill lighter fan that can be attached to the side of the grill to keep the flame going. It helps in getting the barbecue started in a matter of minutes. The main body of the blower is manufactured out of stainless steel, thus making it durable. 
It has a slender and flexible neck, which can be adjustable at any angle that you may prefer. The dragon blower has a speed setting switch at the base of the clamp by which you can control the airflow of the fan. One of the convenient features of this gadget is that it is battery powered.
It can be charged using both rechargeable batteries or by using four AA batteries. However, if you wish to power it using rechargeable batteries, you can easily do so by using a micro USB cable. It is cordless and lightweight, making it portable.
You can use it at several places such as fire pit, ceramic cooker, on a charcoal grill, and even for kamado-style cooker. This particular equipment is also well suited for lighting up charcoal along with BBQ Dragon Chimney of Insanity.
People who are serious about their barbecue prefer using meat claws, the original meat shredders. They are like super sharp forks for your hands and are ideal shredders for pulled pork, chicken, or any other food you want to tear up.
These durable claws are designed to get the job done as they have six prongs on each claw, and at the same time, limiting your contact with the meat so you can keep your hands clean. 
Bear claws can also act as servers and are handy for lifting roasts, turkeys, or adding stability while you are carving and slicing. 
The claws can take temperatures up to 475oF while the handles stay cool. Its ergonomic shape contours to your grip and fits securely in your hand. 
Moreover, the minimal design indicates that there is no room for any meaty debris to get stuck. This feature makes it easier for you to clean by hand or in the dishwasher.
The Weber iGrill Thermometer is suitable for your smart device and can take the guesswork out of grilling. It is quick and easy to get started. 
All you have to do is download the free Weber iGrill app, turn on the thermometer, and then pair iGrill2 with your smart device.
This iGrill2 thermometer features a digital temperature display and lets you connect up to four probes to monitor different food simultaneously. 
To set up your grill session, select your food, and pick the desired doneness. Also, you can set your preferred target temperature.
It's easy to track the core temperature of your food as it grills. Furthermore, you can observe the temperature in real-time directly on your smart device. Once your food is ready, the iGrill2 will notify you. Get ready to serve up perfection!
The pellet smoker is a straightforward design with a stainless-steel mesh maze that you can load with Hickory sawdust or any other sawdust of your choice. You can light it up at one or two ends, and it will slowly burn through the maze.
It will also apply cold smoke, so when you are smoking cheese or something similar, you are not increasing the temperature of your smoking chamber.
The body of the smoker is made out of stainless steel, which makes it long-lasting and prevents it from rusting. Despite the stainless-steel body construction, it is incredibly lightweight, and you can easily carry smoker from one place to another.
With this smoker, you can get a complete full-body smoke for about 12 hours. However, something you should keep in mind while smoking is that the smoke can vary based on the type of sawdust you are using in the pellet smoker. You can also cold smoke nuts, salmon, or even meat by using this product.
This apron is best for dirty jobs like cleaning or oiling leather. It feels comfortable even after several hours of cleaning. Whether you stand or move around, it doesn't sag and twist or get caught up in the ties.
The surface of the apron is stiff but not oily to the touch, like an oilskin. It features heavyweight cotton, which makes it breathable and superior to any leather apron that is appropriate for heavy-duty work.
The apron also has rivets and metal grommets with a buckle release present on it. 
It keeps all the dirty oil, cleaner, and the general gunk off your clothes. The cross straps keep the bib in place, and you can also adjust it in a manner that is comfortable for you. More so, this apron has several generous easy to reach pockets. It is easy to get off and back on after a break when needed.
The Grillbot is easy to use and features a wholly automated, innovative design for every griller. At the touch of a button, the power from the batteries gets supplied to the three engines.
The grill cleaner is powered by a lithium-ion battery that is rechargeable and long-lasting. There is also an AC adapter that comes along with it.
The cleaner has a built-in LCD alarm and a timer that allows you to set a cleaning cycle of your choice. It can be a 10, 20, or 30-minute cycle depending on how dense the grease has accumulated on your grill.
This system has three brushes that rotate to remove gunk from your grill. 
It moves around the grill as it cleans and then changes direction as soon as it hits the edges. The brushes are available in brass, stainless steel, and nylon. They are also detachable and can be cleaned in a dishwasher. This gift is perfect for a griller who loves gizmos and loves tinkering with little toys like this.
Are you tired of making burger patties that end up looking weird? Then the Cuisinart Stuffed Burger press is the one for you. With this in your kitchen, you can make stuffed burgers, regular burgers, and also sliders of your favorite flavors quickly and perfectly.
The burger press has six parts, with a base cup, and a release plate, which goes into the bottom of the base cup. Furthermore, the press cap attaches to the press top, which you can then fit into the base.
If you wish to make restaurant-style sliders, then there is a smaller press cup available that gives you the exact size and shape of a slider.
An excellent feature is the non-stick coating that doesn't allow the burger to stick to the press top during operation. Or you could always spray the base with some oil beforehand. This way, you can make as many sliders or burgers as you want in one go.
Furthermore, the parts of the press can be easily detached, which is convenient while washing it. You can effortlessly wash them in a dishwasher. This device is an excellent way for you to get creative with the flavors that you include in the burgers you make.
If you are a person who is conscious about saving the environment and prefers to use re-purposed or recycled goods, then you will love using the Up-cycled Hockey Stick BBQ Tools for grilling in the summer.
Here, the damaged or broken hockey sticks are used for making BBQ accessories rather than being tossed out into the garbage.
The grip is made out of low-density carbon fiber threads that are woven together, and a layer of plastic resin is then put on it to make them firm and durable. Moreover, lightweight carbon fiber on the handle of the stick makes it very comfortable.
Each set of the tool kit comes with a spatula, a pair of tongs, and a fork. If you wish to tenderize your meat before you start grilling, then you don't have to look further as the spatula has a serrated edge. It can also be used for cutting the meat after you complete your preparation.
The tool set is made out of stainless steel, which prevents it from rusting. And the handle is long, slender, and flexible. This reduces the chances of you burning your hands while grilling.
Tired of individually flipping asparagus and other vegetables while grilling? The grill clips will help you cook vegetables faster, and you don't have to deal with individual flipping.
The clips will hold the veggies together when you put them up on the grill. You can load them up with the thin and slender ones on the inside and the ones with a thicker cross-section on the outer side of the clip.
The grill clips are effortless to use for different kinds of vegetables such as green onions, asparagus, zucchini sticks, or any other long vegetables of your choice.
Each set comes with four clips. They are lightweight and are very economical. The body of the clip is made out of stainless steel so that it does not rust. If you are washing them by hand, then you must stay away from using any abrasive scrubbers on them.
Instead, you may use mild soap and then later rinse them off and set them up for drying. Or you can safely place them in a dishwasher.
11. Quirky Refuel Propane Gauge
The propane gauge sits under your grill. This unit is magnetic and has a cord going down to a scale that weighs your propane tank. 
Furthermore, the scale tells you how much fuel you have left in the tank. It will give you warnings if your fuel is getting low. 
You can adjust it for different propane tanks and for different weights, depending on how many pounds your tank is. 
The maximum weight that the scale is appropriate for is 20 gallons. There is a free app available by which you can check if your propane tank is low. 
It can also notify you either by email or by text if the weight of the tank is too light or if the battery is low. The device requires four AA batteries, which can last for up to 6 to 8 months. The base is magnetic so that it can stick easily to the grill.
The installation of the gauge is effortless. This unit has LED lights on one side so you can visually see how it is doing. So, if it is outside on the grill and it blinks red lights, then it indicates that the level of propane is at its end. With this gadget, you can never run out of fuel during a grill.
Closing Thoughts:
Now that you have a better idea of some of the best grilling gifts available, we hope you have a much easier time choosing off this list.
These items are not only reasonable but also are most popular, especially during the festive seasons. They are the best in terms of quality and can be given to a griller of any kind. We hope that this has helped you.