1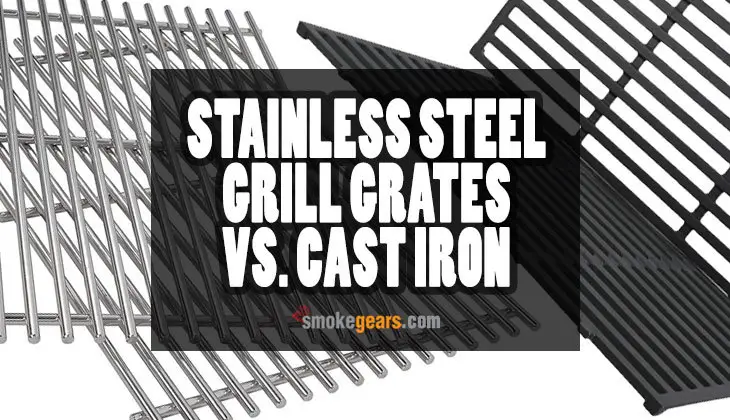 Stainless Steel Grill Grates vs. Cast Iron – Which One is Better?
Who doesn't love a good grilled meal?
They are easy to cook and amazingly delicious. When it comes to the cooking part though, you need a grill, and there is often a debate between the top contenders, the stainless steel grill grates and the cast iron grill grates.
They both have their flaws and benefits, and there is no clear answer on which is better. These two bring their unique set of conveniences and drawbacks, and you are to pick which one suits you more. I'll lay down the facts here as impartially as I can.
More...
Cast Iron
Cast iron is composed of about four percent carbon, and the rest is pure iron. It is quite easy to cut up and shape, so that makes it a suitable material to make grills out of. Cast iron is also quite brittle. This makes it difficult to bend, but it snaps easily.
In regard to being used as grill material, it has the following properties:
Advantages of the Cast Iron Grill Grates
Here are some of the advantages of the cast iron grill.
Disadvantages of the Cast Iron Grill
Here are some of the disadvantages of the cast iron grill. 
Stainless Steel
Stainless steel is a bit expensive, but it has its own set of benefits. It is composed of iron, a bit of carbon and chromium. This unique blend makes it extremely resistant to corrosion. Corrosion is something that all metals fear, so having this edge over other metals makes this a great option to consider.
It has the following general properties:
Advantages of a Stainless Steel Grill Grates
Here are some of the advantages of having a stainless steel grill.
Disadvantages of the Stainless Steel Grill
Here are some of the advantages of having a stainless steel grill.
Which One to Get
Honestly, that's entirely on you. However, I can provide some guidelines. Iron is better for thinner cuts of fish and meat. That's because they do a better job of slowly cooking the food. Turn the heat down and let the grill cool off a little. Then you place the thin cuts of food to cook slowly.
Steel heats up in a flash. This can easily burn anything that is thinner or smaller. So if you are cooking thicker pieces, try the steel one as it'll burn through and cook the inner part of the meat really fast. It is possible to cook smaller cuts of food on steel grills, but that is risky, and you need to be careful.
Iron grills also leave a better impression on the food, as in the sear marks. So if you're looking for aesthetics, pick the cast iron grill. They make the food come out looking great. Steel also leaves sears, but they don't look as magnificent.
Conclusion:
The rest is your decision. At first, I want you to figure out what you want. Neither one is inferior to the other. They are just suited to different environments. Identify the environment that is yours and then make your choice. Happy hunting.