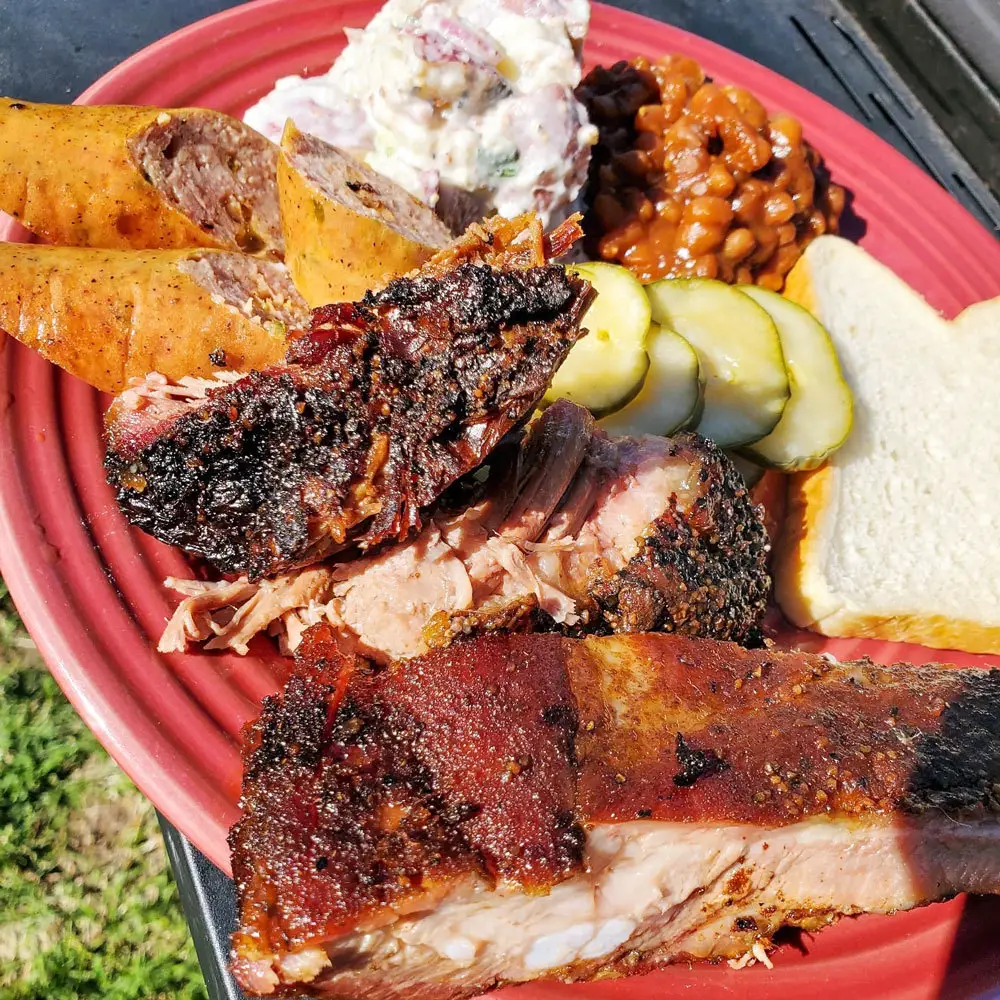 20 Best Places for Barbecue in Oklahoma City
There are something special about Oklahoma BBQ. That is not very surprising considering that it's located in the South. However, its barbecue is not the same as Texas or Tennessee BBQ. Instead, Oklahoma City has developed a unique BBQ style. 
So, if you want to taste some of the most, savory and saucy BBQ, try out one of these 20 best BBQ restaurants in Oklahoma City. From high-end BBQ spots to diners' spots, Oklahoma City has everything for everyone! Just grab your friends or family, and enjoy the best BBQ in the city in one of these joints!
More...
20 Best Places for Barbecue in Oklahoma City
Back Door BBQ
Address: 315 NW 23rd Street, Oklahoma City, OK 73103
Website: backdoorbarbecue.com
Owned by Chef Kathryn Mathis, Back Door BBQ was started in 2014. Before Kathryn opened this joint, she had lived in the Texas Hill country for about 15 years. During that period, she worked in fine dining BBQ joints and run a catering company in Austin. 
Therefore, if you want to enjoy some of the best Texas Hill country-style BBQ in Oklahoma, this is the place to be! They serve traditional barbecue meats and amazing new twists on classic BBQ.
In addition to serving up BBQ staples, this joint smoke up more exotic meats such as duck and lamb. Also, they have some of the best spare ribs in the entire state.
If you've any upcoming event, you'll be glad to know that Back Door BBQ offers catering services. So, give them a call for a memorable party filled with mouthwatering sides and smoked meats. They have various catering options, allowing you to choose the ideal package for your wedding, party, meeting, or picnic!
Earl's Rib Palace
Address: 6816 N Western Avenue, Oklahoma City, OK 73116
Website: earlsribpalace.com
With 6 different locations across Oklahoma City, Earl's Rib Palace is often ranked among the best places for BBQ joints in Oklahoma. The original location in the heart of Oklahoma was started in 1996. Since then, this joint has played a significant role in the Oklahoma barbecue scene.
They serve up hickory-smoked barbecue specialties as well as baked potatoes and burgers. You can either enjoy your meal inside or on their pet-friendly outdoor patio. Their menu also offers gluten-free items. Moreover, they have a kids menu that includes one side, ice cream float, and a beverage. Other items offered by the kids' menu are; cheeseburger, hamburger, grilled cheese, sandwich, chicken strips, and kid's rib dinner.
So, regardless of what you are craving for, Earl's Rib Palace will satisfy your appetite! Just check out any of their locations for some mouthwatering BBQ in Oklahoma. If you're not in the mood to go out, you can make your order online, and they'll deliver!
For special events, this joint offers catering services for a group of more than 10 people. These packages include; hot & mild BBQ sauce, napkins, plasticware, plates, buns or bread, and relish tray.
Swadley's BBQ
Address: 8317 S Western Avenue, Oklahoma City, OK 73139
Website: swadleys.com
Established more than 80 years ago, Swadley's BBQ is a family-run restaurant with multiple locations across Oklahoma. Just one bite, and you'll see why this restaurant has maintained to be in the business for that long! Over the years, this joint has won many local awards, thanks to its juicy, tasty BBQ!
This joint specializes in serving up Southern BBQ meals. The best thing about their smoked meats is that they're prepared from fresh meats every day.
While their recipes have undergone slight changes over the years, they're still committed to one thing: Quality! And this keeps guests coming back to this joint over and over again.
Besides serving up barbecue, Swadley's also offers catering services to various events. Whether it is a wedding, corporate retreat, or birthday, they've got the ideal dishes to suit your occasion. They're even ranked among the largest caterers in the state as they can serve up to twenty thousand people!
Thus, if you are looking for a crowd-pleasing lunch, family dinner, or a quick meal in Oklahoma, check out Swadley's BBQ. You can also make your order online!
Bedlam BBQ
Address: 610 NE 50th Street, Oklahoma City, OK 73105
Website: bedlambarbq.com
Located in Northeast Oklahoma City, Bedlam BBQ was first opened in 2003. And the joint has been serving up mouthwatering smoked meats to the surrounding areas since then.
But, what makes their barbecue so special? That would be the way they prepare their smoked meats that involve the old-tradition of dry-rub and curing applications. Being a family run and operated business, this joint prepares their family recipes according to the original standards passed across generations.
As for the name, Bedlam is associated with the local university rivalry between OSU and OU. Thus ensuring that any visitor heading to this joint for the first time experiences the rich local culture. That, plus the local flavors will make sure that you get a memorable dining experience at this BBQ joint!
Another interesting thing about this restaurant is that it has an incredible outdoor patio that features a stone fireplace. You can either enjoy your tasty smoked meats and sides there or in their old West-themed dining rooms. They also offer catering as well as online ordering services.
Leo's BBQ
Address: 3631 N Kelly Avenue, Oklahoma City, OK 73111
Website: leosbbqokc.com
Smoked bologna is a local favorite in Oklahoma City. And if you're for the best barbecue in Oklahoma, just head to Leo's BBQ. This joint has been serving up authentic BBQ to locals and visitors alike since 1976. Besides, they offer other hickory-smoked meats as well as home-style side dishes.
Before Charles Smith opened this restaurant, the spot was an old gas station. Leo's BBQ later formed a partnership with Schwab Meat. And they have served up tasty smoked meats to hungry masses in Oklahoma since then.
This joint has also gathered nationwide recognition after appearing on the Diners, Drive-ins & Dives program in the Food Network. Once you walk into this joint, you'll be welcomed by their friendly and committed staff, ready to serve you up the joint's mouthwatering BBQ.
So, make sure you stop by this restaurant for dine-in and enjoy some of the best BBQ in Oklahoma. That will leave you craving to taste some of the other popular options on their menu. If you can't make it to dine-in at this joint, they offer delivery, takeout as well as catering services.
Jo-Bawb's BBQ
Address: 7921 Northside Drive, Oklahoma City, OK 73132
Website: jo-bawbsbbq.com
Jo-Bawb's BBQ was started by Lon & JoAnne Mitchell in 2007 as a completion barbecue team. They took classes from some of the best pitmasters in the country and perfected the art in BBQ competitions.
Since 2009, this BBQ joint has participated in more than 120 BBQ competitions in more than 14 states. Because of their perfectly smoked meats, they've won various awards in those competitions. Some of these awards include Reserve Grand Champion and Grand Champion awards.
Besides, Jo-Bawb's was ranked among the 20 best BBQ teams of the KC BBQ Society. This was a very significant achievement considering than more than 2,000 teams took part in that competition.
Apart from completion, this joint opened another location in Wyoming. This location has gathered nationwide recognition and it was even featured on MSN among the best 50 BBQ joints in the country.
Jo-Bawb's also partnered with Dusti Martin and Quinn. They're currently running a food trailer that's serving up smoked meats to Oklahoma and neighboring areas. You'll also love that this joint is pet-friendly since it has outdoor tables. Moreover, they offer catering services to parties and events.
Texas Roadhouse
Started by Kent Taylor, Texas Roadhouse is a chain of BBQ restaurants with more than 180 locations in 34 states. The first Texas Roadhouse was opened in Clarkesville, Indiana in 1993. Their Oklahoma location at 6200 SW 3RD Street is ranked among the best BBQ spots on OKC. Moreover, there are 2 more other Texas Roadhouse locations in Oklahoma as well.
The restaurant features neon signs, hand-painted murals, jukeboxes as well as a southwestern décor. Unlike most popular BBQ restaurants in OKC, Texas Roadhouse is not family-owned. Instead, Kent Taylor sold some of the company shares to the public. However, Taylor still owns 60% of shares. In addition to being the founder, he is also the chairman in control of the company's operations.
Their menu offers chicken, steak, sides as well as made-from-scratch rolls. Whenever you are in Oklahoma City feel free to check this joint for some exceptional BBQ dining experience and service. But if you can't make it to the restaurant, you can easily order your favorite smoked meats online! 
Bill Kamp's Meat Market 
Since its establishment in 1910, Bill Kamp's Meat Market has been serving up the highest quality smoked meals to Oklahomans. One of the best food items is the baby back ribs which sell put pretty fast. But that's not the only good smoked meats they offer.
This joint is a family-owned and run business. It's currently being run by the 3rd generation of Kamp's family. The original location of the joint was at 25th N Classen. They later moved to the current location at 7310 N Western Avenue.
Even though the location changed, the joint still serves some of the finest smoked meats in Oklahoma City. You can also enjoy their various homemade specialty dishes like ham & cheese spreads, soups, deli salads, and more. One unique thing about this joint is that you'll not find any of these specialty dishes at any other spot. This is because they sell various products that are specifically made in Oklahoma.
So, if you want a good traditional butcher in Oklahoma City, be sure to check out Bill Kamp's Meat Market.
George's Happy Hog BBQ
Address: 712 Culbertson Drive, Oklahoma City, OK 73105
Owned by Dee Bowlin and George Thompson, George's Happy Hog BBQ was started in 2004. Since then, the joint has been serving up various juicy meats smoked over pecan wood. It's located between NE 16 & NE 17, 2 blocks east of Lincoln.
The restaurant started as a small store that offered carry-out services only at Martin Luther King and NE 10. But in April 2004, the joint moved to its current location. This BBQ joint has won various awards including the Juneteenth Cookoff Award in 2005.
Regarding the décor, this casual dining joint features yellow, red & green plaid tablecloths. While the walls are decorated with pictures of cows, chicken, and pigs.
Another great thing about this joint is that their meals are very affordable. Not to mention that they accept checks, cash as well as major credit cards. They also serve various options that are ideal for a group or family including 2- and 3-meat combo.
Blu's BBQ & Burgers
Address: 612 N Robinson Avenue, Oklahoma City, OK 73102
Website: blusbbq.publishpath.com
If you're looking for the best BBQ in Oklahoma that offers an ideal family dining experience in Oklahoma, Blu's BBQ is the place to be. This joint has a family-friendly atmosphere that keeps customers coming back for more.
Blu's BBQ was first opened in 2012 and it's located in Downtown Oklahoma City, just across the OKC Bombing Memorial. This family-owned and run BBQ joint specializes in offering fast, high-quality services. Not to mention their mouthwatering smoked meats as well as charbroiled burgers made with quality beef. 
Once you get to this joint, be ready to have some fun times and great food. Whether it's a special occasion, business lunch, date night out, or even a pre-game meal, you'll love this BBQ spot. Their atmosphere is just perfect for any occasion!
Even better, their smoked meats are prepared daily, while their other food items are prepared fresh to order. There is not you'll hate this state once you taste the smoked meats served at Blu's BBQ & Burgers! Moreover, if you an upcoming event, this joint will be glad to offer you their catering services.
Jack's BBQ
Address: 4418 NW 39th Street, Oklahoma City, OK 73112
Website: jacksbbqok.com
Jack's BBQ was first opened in 1963, and they've been using the same recipe to cook their BBQ since then. This legendary BBQ joint is located on Route 66 and it has some of the best BBQ in OKC.
It's even considered to serve up the 'top three BBQ Ribs in Oklahoma City". Not to mention that was even featured on the 'Is This a Great State or What' program. So, if you want some seriously tasty home-cooked barbecue in OKC, check out Jack's BBQ!
This family-run and owned business smoke all their meats on-premises. Moreover, they've various home-made American cuisine including smoked turkey and BBQ chicken. These home-made BBQ dishes are very affordable. Even better, their daily specials cost less than $7.
Furthermore, if you're planning an event in Oklahoma City, Jack's BBQ will cater for you. They offer catering services to groups of 25 to 2,000 people. This joint is indeed the place to go to for some legendary barbecue! 
Billy Sims BBQ
Address: 2224 NW 23rd Street, Oklahoma City, OK 73107
Website: billysimsbbq.com
Owned by Billy Sims and Jeff Jackson, this BBQ joint was established in 2004. The original location was in Tulsa, Ok, in the Farm shipping center. Since then the restaurant has expanded and now has multiple locations including in Oklahoma City.
Billy is an accomplished athlete having various awards including winning the Heisman Trophy in 1978. Jackson, on the other hand, was working in sports marketing before he met Billy in 1999. And that's when they launched the Billy Sims Barbecue brand.
Today, the Billy Sims franchise runs more than twenty locations in Oklahoma. There are more locations in other states like Missouri, and Michigan among others. In 2014, Billy Sims BBQ was ranked among the top restaurants in the country by the USA Today publication.
This joint is very family-friendly and it even has a kids' Items served on the kids menu include; grilled cheese, mac n' cheese, slide, and ribs. Thus, if you've kids, don't leave them behind when you're heading to Billy Sims BBQ for some smoked meats.
Since its establishment, Billy Sims BBQ has become a reputable joint for catering services. Hire them if you've got an upcoming birthday party, wedding, corporate luncheon, or even reunions. They'll give you an ideal package for your occasion and budget. These catering packages start at fifteen people. However, they also have other options to suits a group of fewer than 15 people.
RibCrib BBQ and Grill
Address: 401 West Interstate 240 Service Road, Oklahoma City, OK 73139
Website: ribcrib.com
Opened in 1992, RibCrib BBQ is a restaurant based in Oklahoma. The first RibCrib location was in Tulsa and it was started by Bret Chandler and Cory. This joint featured a shack, a smoker, and a BBQ recipe. Later, Cory left and Bret renovated the old house where he would offer 2 sides and 5 meat options. 
Bret continued to advance the recipe by participating in BBQ competitions as well as learning from other pitmasters. Some years later, the BBQ joint had expanded to multiple locations. Today, RibCrib has over 60 locations in 8 states.
This BBQ restaurant specializes in serving up mouthwatering hickory-smoked meats, with slow-smoked ribs being their signature recipe. However, their menu also features sandwiches and traditional side dishes. As for the setting, this BBQ joint has a casual, comfortable atmosphere. If you can't make it to a RibCrib location, you can order your favorite smoked meat online!
Over the years, RibCrib has gained national recognition as it has been featured in various publications. For instance, in 2005, it was listed among the 'top 50 growth chains' by the Restaurant Business Magazine.
Shorty Small's
Address: 2037 South Meridian Avenue, Oklahoma City, OK 73108
Website: shortysmalls.com
Shorty Small's is a fast-growing BBQ restaurant chain that is based in OKC. The first Shorty Small's was opened in a historical building along Rodney Parham Rd in Little Rock in 1980. This joint later expanded and currently has multiple locations including in OKC. Besides Oklahoma City and Little Rock, other locations are in; Branson, Conway, and Edmond.
The joint in Oklahoma City at South Meridian Avenue was opened in 2011. This western-themed restaurant offers standard American fare, barbecue, southern dishes, and kids' meals. It's located on one of the largest hotel corridors in Oklahoma City.
Moreover, the restaurant has big-screen TVs, sentimental décor throughout, and classic stone walls. The main dining rooms also feature a double-sided fireplace. Shorty Smalls serves up diners of all age groups and sizes a delicious meal at an affordable price.
They offer a wide selection of drinks and desserts to wash down your dinner or lunch. Whenever you're town, don't leave without checking out this BBQ joint. It's just a few minutes south of the old Meridian and Reno building! You can also join the restaurant Owner's club, and get 50 percent off your meal purchases!
Clark Crew BBQ
Address: 3510 Northwest Expressway, Oklahoma City, OK 73112
Website: clarkcrewbbq.com
Founded by Travis Clark, Clark Crew BBQ is an upscale BBQ restaurant that serves up award-winning BBQ. The Oklahoma location was opened in 2019 after Travis Clark partnered with BBQ Holdings, Inc.
This BBQ joint has won more than seven hundred 'top-10 awards'. Moreover, it has won the World Championships award, Oklahoma and National BBQ Team of the Year.
And that's not all! During the 31st yearly Jack Daniel's Invitation Barbecue Competition, Clark Crew was crowned as the Grand Champion. Not to mention that this completion is among the most prestigious barbecue competitions around the globe.
You can enjoy your favorite smoked meat at their patio, dining room, or take your order to go. If you're not in the mood to head to the joint, you can order your tasty meal online. Moreover, to wash down your meal, this BBQ restaurant offers a great selection of crew cocktails.
Big Boy's Barbecue Express
Address: 7018 West Britton Road, Oklahoma City, OK 73132
Located in a small building at the SE corner of Britton and Rockwell, Big Boy's BBQ express includes a 7-11 convenience store. The Chef at Big Boy's prepare tasty barbecue ribs, and catfish. They also serve up sandwiches and various mouthwatering side dishes. 
If you're just passing through Oklahoma City, Big Boy's BBQ is the best place to take your meal on the go. This is because the joint has a hole-in-the-hole that offers takeaway. The joint also has a small dining space in front of the counter where you can enjoy your BBQ.
You should also give their outstanding smoked ribs, onion burger, fish, and brisket a try. The place is full of an aroma that indicates the authenticity of their preparation process. Besides, the spot is in a safe environment and the owners are very friendly. 
However, this BBQ spot only takes cash. Luckily, there is an ATM nearby, so you don't have to worry about that.
Dale's BBQ House
Address: 11801 S Western Avenue #B, Oklahoma City, OK 73170
Since its opening in 2000, Dale's BBQ House has been serving up some of the best BBQ in Oklahoma City. This locally run and owned restaurant was founded by Dale Sexton. When Dale first opened this joint, he was selling barbecue in Pratts in Buchanan grocery stores. Today, the joint has expanded to two locations; the original one in Moore, and another one in southwest OKC.
The second location, which is in Oklahoma City, was opened in 2003. Besides, this family-friendly, mom & pop restaurant has won various awards for its delicious barbecue. For instance, in 2006, it was voted as the best barbecue in Oklahoma. So, once you get to this spot, rest assured that you're enjoying an award-winning BBQ! And their flavorful and juicy meats are smoked to perfection.
When it comes to side dishes, they've more than 10 options that you can choose from. But, make sure you get a chance to taste their green beans and man n' cheese. They also have great lunch specials as well as a kids' menu.
Don't hesitate to stop by this casual BBQ restaurant with top-notch hospitality and a friendly atmosphere for dinner or lunch. This makes it an ideal dining spot with your friends or family.
Spencer's Smokehouse and BBQ
Address: 9900 NE 23rd Street, Oklahoma City, OK 73141
Website: spencersbbqokc.com
Established in 1988, Spencer's Smokehouse is a family-owned and run BBQ joint in Oklahoma City. Over the years, this joint has perfected their homemade BBQ sauces & seasonings. You'll also love the ideal atmosphere of this BBQ joint. 
The best thing about Spencer's Smokehouse is how affordable their tasty meals are. Especially if you've got a large family with many kids, thanks to their kids' menu. Some of the kids' menu offerings include; corn dog, hot dog, polish sausage, pulled meat, chicken leg, ham, and ribs.
Another unique thing about this BBQ joint is that it has 2 banquet rooms. One can accommodate up to thirty people, while the other one can accommodate about 180 people. So, for your upcoming big party, feel free to reserve one of these banquet rooms.
Besides, you can also hire them to cater to your event within Oklahoma City and the neighboring areas. Their staff has the expertise and skill to ensure that every guest is completely satisfied, and at a reasonable price. They can cater to about 35 to 1,000 guests.
Rudy's Country Store & Bar-B-Q
Address: 3437 West Memorial Road Drive, Oklahoma City, Ok 73134
Website: rudysbbq.com
The first Rudy's Country Store & BBQ was started in Leon Springs, Texas in 1989 by Rudolph Aue. In 1989 that Rudolph included BBQ to the menu, combining the new restaurant and grocery. Thus, giving it that 'country store' atmosphere.
Since its opening, the joint has expanded to more than 40 locations across the country. It's located in Oklahoma, New Mexico, Colorado, Arizona, and Texas.
There are 2 Rudy's locations in Oklahoma State, one in Norman, and the other one in Oklahoma City. The Oklahoma City location is at West Memorial Road Drive.
This joint feature a self-service sit down style with indoor picnic tables covered with checkered tablecloths. While the retail store occupying a small space at the corner. Their signature BBQ consists of meats that are 100% smoked of oak wood, instead of Texas Mesquite wood. 
They also offer special spices that are made in-house. You can easily make your order online at Rudy's 'Country Store'!
King's Custom Smoked Meats Restaurant 
Address: 2410 North Portland Avenue, Oklahoma City, OK 73107 
Even though King's Custom Smoked meats is a small casual BBQ joint, you'll love their friendly staff and tasty BBQ meats. The restaurant was established in 1995 after the owner partnered with Jack Eugene Potts. Since then, the joint has maintained its great flavor and tradition up to date. Some of their services include; takeout, curbside pickup as well as sit down dining.
The restaurant has perfected the craft of smoking fine meats and their menu includes many other delicious food items. Some of their specialty dishes include; slow-smoked ribs, tender smoked brisket, and real pit BBQ. Once you taste one of these dishes, you may never go to another place for BBQ while you're in Oklahoma City!
If you've kids, don't leave them behind when you're heading to King's Custom Smoked Meats. They'll plenty of options from the joint's kids menu. This menu offers food items like kid's chicken tenders, kid's rib plate, Kid's grilled cheese, and even kid's Prince (ss) sandwich.
There you've it, the best places for BBQ in Oklahoma City. So, whenever you're visiting Oklahoma City, don't leave without trying barbecue served at one of these joints. Besides, they don't just serve the best BBQ in Oklahoma City, but in the entire state!