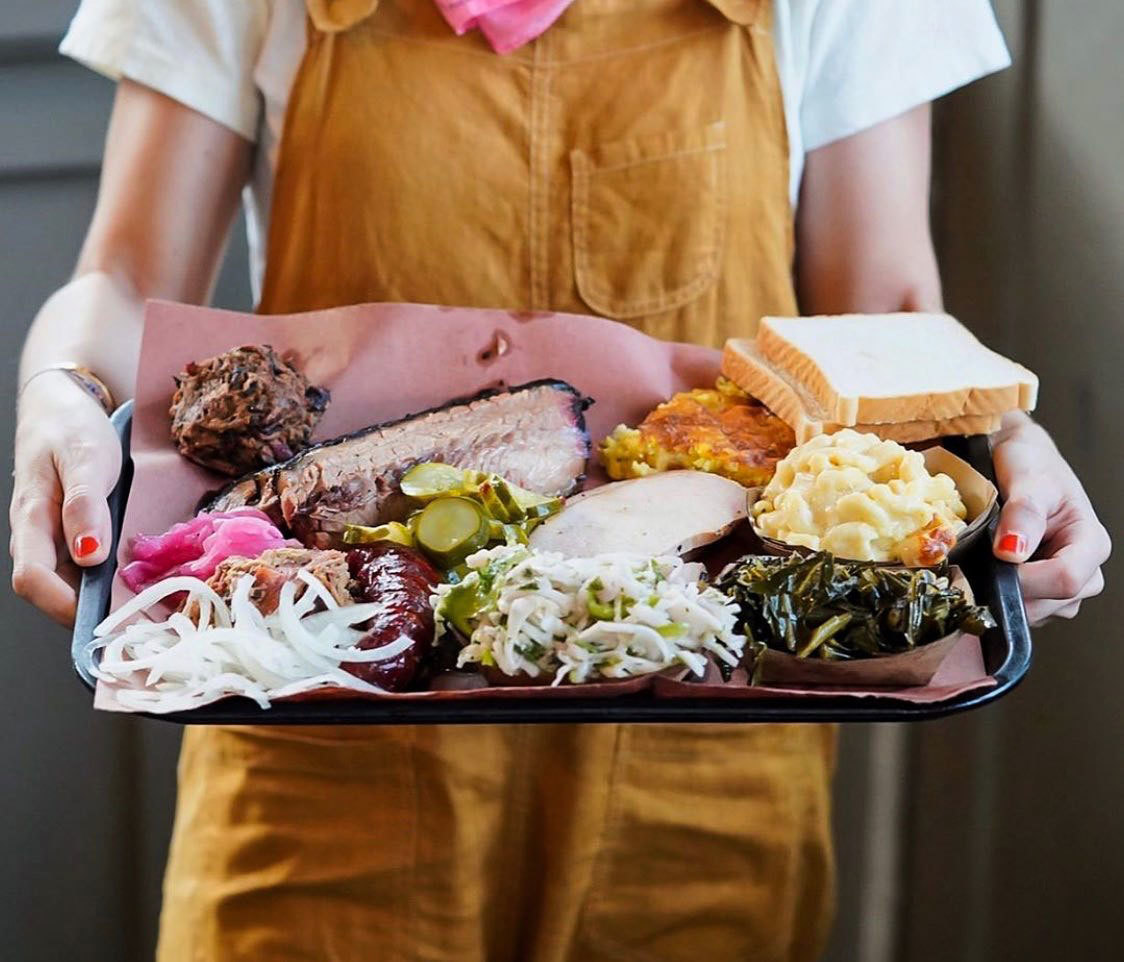 Best BBQ Joints in Charleston SC
Low and slow smoked meats is a phrase emphasized by most BBQ restaurants. From Memphis to Kansas and now North Carolina City. Get to meet legendary barbecue meals from well-known Pitmasters. At Charleston, the trend continues.
But, the tasty thing about Charleston's BBQ is the love for the southern mustard dishes. Not only do they better the row sauces but also invent new divine ones. All this is achieved without changing the ancient authentic process. For the best BBQ restaurants in Charleston SC, be ready for delectable dishes and warm smiles on them.
More...
Best BBQ Joints in Charleston, South Carolina
Here is a list of the 15 best BBQ places in Charleston. The food is great, the same is the atmosphere and waiter service.
Lewis Barbecue
Address: 464 N Nassau St, Charleston, SC 29403, United States
Website: lewisbarbecue.com
It is not only food that has made this place be the best BBQ joint in Charleston. The first notable thing at the Lewis Barbecue is the large custom-crafted smokers. John Lewis made them by himself. Once you enter, at the counter is John Lewis slicing the tastiest central Texas barbecue.
His tasty dishes are as a result of his unerring dedication. More hard work was from welding his smokers to waking up at 4. He does his meat well to ensure barbecue enthusiasts keep flocking to his spot. John moved to Austin at the age of 18 to begin his culinary career. At the same age, his parents gifted him a New Braunfels smoker for his birthday.
After trials of the unshakeable Austin's tradition, he got creative with his smoker and meats. In August 2010, he partnered with his friend Aaron Franklin to open a barbecue. It is this time that he pioneered the flavor profile that aided put Austin barbecue on the map.
He also partnered with LeAnn Mueller on opening a barbecue that proved how great his skills were. The barbecue managed to appear on the "Texas Monthly Top 50 List" and voted the best BBQ in Austin.
In March 2015, Charleston city welcomed John and Texas barbecue. A year after in June, the Lewis barbecue was born. For delicious meats, fresh salads, and great sides, knock at John's hideout. Get to enjoy Mexican foods at the spot starting this summer.
Rodney's Scott's BBQ
Address: 1011 King St, Charleston, SC 29403, United States
Website: rodneyscottsBBQ.com
At any Charleston BBQ restaurant, family friendliness is a must offer.
"There are no strangers at Rodney Scott's Whole Hog BBQ. Everyone has a seat at our table. Our customers are family. Our crew is a family. We are all family, spreading food, spreading love, and having fun. The glass is always half full here." -Rodney Scott
Scott welcomes you to dine with them. Starting his barbecue carrier at the age of 11, he has never thought of backing out. The hot spot was born out of the friendship between Rodney Scott and Nick Pihakis. Their mutual respect for patience and techniques yielded the great barbecue they wanted. Understanding the craft's roots and the changes it makes in flavor profiles to barbecue over live coal direct heat is what drives them.
Their work is smoky, challenging, and contenting. But, turning the craft to a business is a way to make sure the survival of a crucial part of history. This also results in a traditional cooking method that yields a great flavor to meats. The joint is not only dedicating in serving you their delectable meats. Also passing the whole hog BBQ tradition to the new generations is their aim.
Get your dining experience started with a bag of light and crunchy pig skins tossed in Rodney's rib rub. There are other great dishes to follow after. They include the whole hog BBQ plate, a classic Criddle burger, and their premium sandwich.
The kid's menu is available so don't leave your little one behind.
Bessinger's BBQ
Address: 1602 Savannah Hwy, Charleston, SC 29407, United States
Website: bessingersBBQ.com
Since the 1930s, the Bessinger's are the first barbecue family in South Carolina for their legendary mustard-based barbecue sauce. By retaining the business in the family Thomas and his two sons have brought the best barbecue to you. At the spot, you will enjoy a friendly, and relaxed atmosphere. You sure will feel at home. It is the best barbecue restaurant in Charleston to remind you of your roots.
Now, this is what I was expecting when I saw this place. Real BBQ!!!
Ribs fell off the bone, wings were amazing!!! The potato salad was perfect and the collard greens were so beautifully spiced, I couldn't get enough of them!!! The spicy mustard sauce was the BEST!!! Will be back here again when I'm in town!!!"—Tiffani C.
Onions ring fixins, the big Joe classics, and juicy dripping BBQ plates will have you too grinning. And while you try their endless dishes, make sure to include their premium sauce. It is the gold standard for all barbecue sauces.
From pork to ribs, chicken, burgers, and seafood, the Bessinger's bites are tastier.
Home Team BBQ
Address: 126 Williman St, Charleston, SC 29403, United States
Website: hometeamBBQ.com
With an award-winning food menu and a relaxed menu, the home team BBQ guarantees you a good time at the joint. Low and slow smoked meats and fresh dishes all for you. The ever-evolving bar offerings will make your stay more amazing. In any Charleston BBQ restaurant, great drinks go with various options of cool drinks.
The downtown 35 bar strip is a perfect spot to sip innovative craft cocktails. A beer as you watch football on their massive sized screens is acceptable. The donning of the joint is with reclaimed materials from two barns in Athens and Georgia. It is a visited spot at lunch by the locals and a great dinner for families.
While you enjoy your bites, be part of great happenings. Great music of national and regional talent from the container stage is irresistible. For fresher air, enjoy your meals on their pet-friendly courtyard with table seating. Let your kids have some fun on the chalkboard in the shade of a large old oak tree.
Swig and Swine
Address: 1217 Savannah Highway, Charleston, SC 29407
Website: swigandswineBBQ.com
Born and raised in Mantua, New Jersey, Anthony DiBernardo has always had a passion for cooking. He joined the culinary world at the age of 14 where he incorporated barbecue menu items. In 2013, he partnered with the Queen Hospitality group and bore the swig and swine BBQ. He then became the sole proprietor of the barbecue in 2019.
To lock that iconic smoked flavor and all the natural juices are what the joint strives on. The pitmaster believes in hard work and long cooking hours. To smoke to perfection, the joint use high-quality hickory, oak, and other hardwoods.
Divine rib plates, saucy wing plates will have you licking your fingers after. BBQ sandwiches, complementing sides and fruity salads will lure you back to the joint. The drinks menu comprises quality cocktails, whiskeys, and beers. Beverages and soft drinks are also available. More varieties in the best barbecue in Charleston SC.
Smoky Oak Taproom
Address: 1234 Camp Rd, Charleston, SC 29412, United States
Website: smokyoak.com
Nothing is beautiful than breathing in the smell of the sweetest barbecue aroma. The wood smokers all across James Island will lure you into this spot. Also, to the irresistible dishes, the barbecue quenches your thirst with quality beers. The 40+ beer taps are what makes the spot the best BBQ restaurant in SC. 
Not only will you find your favorite but also enjoy every sip of it. As a barbecue nerd, the spot will serve you the testiest slices. They cook their Pulled pork, chicken, beef brisket, and pork sausage slow and long. This ensures the service of what tender and flavored meal.
All meats are smoked low and slow over red oak and hickory. This results in tender and smoky slices that will please you. A dozen sweet sides. From tangy collards to hand-cut fries and endless burger choices. Lip-smacking wings will have you nodding at your plate till the last bite. Visit the smoky oak taproom restaurant and enjoy it. More big eating-options than you can shake a hickory stick at are available.
Dukes BBQ
Duke's barbecue is one of the best BBQ restaurants in Charleston South Carolina. At dukes, you will not find beef brisket, smoked chicken or wings, or any of that foreign BBQ. In all Dukes BBQ restaurants, you will be served the classic SC BBQ. It is made from the mustard-based BBQ tradition.
Enjoy their all you can eat buffet. It contains chopped pork, fried chicken, pork rinds among other things. Before you head for the drinks, enjoy the banana pudding dessert. It won't disappoint.
The spot is known for crafting the "Orangeburg sweet" or "rust gravy" mustard-based sauce.
"One of the BEST Barbeque buffet/Comfort food experiences of my life. The staff was wonderful and polite. And it seemed very important to the staff that my visit was good. Very modest price for the quality of food available.
"From Pulled Pork, Fried Chicken and best Potato Salad. Cole Slaw in the south, down to the fried Chicken Gizzards, Fried Okra, and fresh-made Banana Pudding. YES, I suffered from trying ALL the great food in a TRULY down-home dining experience.
This was a remarkable find that could be featured on ANY Television food show. It features unique hidden dining experiences. And the Price was the BEST part! This is a HIGHLY RECOMMEND Barbeque Buffet food experience!" a google review reads.
Melvin's BBQ
Address: 538 Folly Rd, Charleston, SC 29412, United States
Website: melvinsBBQ.com
Many BBQ lovers acknowledge differences in regional flavor sauces. Yet, Joseph Bessinger strives to popularize a mustard-based barbecue.
Since 1939, Melvin's BBQ has been the best BBQ restaurant in SC for the original family mustard's based BBQ. The spot has proved its cooking skills through their award-winning dishes.
The 10-year-old son of Bessinger, Melvin, was ready to learn how to craft the golden secret barbecue sauce his father had invented. Melvin's son then came into the business with great inventions. He added Texas-style brisket and burnt ends to the menu. Besides that, he also changed from using gas-pitted pits to the original wood style. It was just the perfect chance to make it the best BBQ place in Charleston.
It was voted the best burger in Charleston by Charleston living magazine in July /August 2019. For the best BBQ restaurant in Charleston in 2020, the hideout still scooped this award.
Great recipes from dry rubs, briskets rubs, and sauces have also contributed to the restaurant's success. Well, pit-smoked turkey, prime brisket, and chopped BBQ pork are some choices you may try. Lip-smacking spare ribs, signature salads and sides, and also fresh hamburgers are available. On the kid's menu is junior Joe Park, chicken tenders, grilled cheese among other choices. Homemade fresh lemonade, soft drinks, and milkshakes are available to drain the aftertaste.
Sticky Fingers Rib House-BBQ Downtown Charleston
Address: 235 Meeting St, Charleston, SC 29401, United States
Website: stickyfingers.com
While opening the first sticky fingers rib house restaurant in 1992, these high schoolers were not clueless but barely knew what they were doing. It has been years and they have managed to open several branches throughout the southeast. Who knew they would be among the best BBQ joint in Charleston?
Despite the evolvement, much pride is to what has not changed. The spot still crafts the authentic Memphis style barbecue done by slow cooking on-site over aged hickory woods. Accompanying your order is a great legendary customer service to make you feel home.
However, ribs running out is inevitable. This is because it is difficult to estimate how many ribs to cook a day. If you miss out on the ribs, you can try their hickory-smoked wings, brisket nachos, or the pound of smoked turkey. Other dishes to add on your tray are greens, burgers, sides, and desserts. A kid's menu is also available.
Smokey Bones Bar and Fire-grill
Address: 7250 Rivers Ave, North Charleston, SC 29406, United States
Website: smokeybones.com
At Smokey Bones, good food, good drinks, and good times are what they believe in. For good food, they invest in an open flame, colorful recipes, and patience on their pits.
Drinks maybe me sweet but great bartenders make them sweeter. Although liquor doesn't hurt, you may try the ice-cold beer after your meal. Head to Smokey bones and join the fans of sports, loud music, and surprises.
A kid's menu and great specials are available.
Music Man's Bar-B-Que
Address: 112 E State Rd S-8-245, Moncks Corner, SC 29461, United States
Website: musicmansBBQ.com
Great music and delicious bites never clash. And with this best BBQ in Charleston SC whole hogs the way it was intended. Also for the best catfish stew in the low, they got the secret. As the name suggests, you should expect cool music to go with your bites. The hot spot is the home of the finest barbecue in the south, slow-cooked country, visit the Music man's bar.
Despite limited indoor seating, the joint will have you sate your appetite.
From rock and roll buffet to rack ribs, get to enjoy every bite at the comfort of the chairs or your home. Green beans sides, chocolate Oreo pudding for desserts are some of the great options. Tea, coke products and lemonade are drinks options available.
Daily specials are available from Monday to Saturday only.
Poogan's Smokehouse
Address: 188 E Bay St, Charleston, SC 29401, United States
Website: pooganssmokehouse.com
As it is with other Charleston BBQ restaurants, the Poogan's cooking process is on top. It is grounded in the passion for slow-smoked southern BBQ and scratch kitchen process. This spot carries the tradition of barbecue passed down through the generations. The homemade meals you are served are made with love and care. 
They take time, patience, and soul to bring you the tender juiciest meats on your tray.
Cast-iron cornbread, the four Porksmen sandwich, and the charred broccoli side are options to try. For desserts, hummingbird pecan pie and watermelon key lime pie will do great for dessert.
Their private dining will cater for your special events.
Queology Barbecue
Address: 6 N Market St, Charleston, SC 29401, United States
Website: queology.com
Queology is the study of meat cooked low and slow until it falls off the bone and melts in your mouth. The pitmasters Russ and Matt use a secret combination of herbs and spices to season pork and chicken. With divine meals, they have become regulars on the barbecue competition-winning awards.
Their pulled pork, chicken wings, and all-American sides have aided in the award-winning. Whether it is Kansas City-style sauce, Memphis sweetness, the joint got you. Stil for the local Orangeburg mustard you the spot will serve you the best. With a bar stocked with ice-cold beer, it's perfect for watching a game, enjoying lunch, and relaxing.
Enjoy the cool breeze while sitting on the outdoor patio overlooking the city market. Warm smiles accompanying your order will leave the place full and satisfied. A warm welcome and a feel at home feel are necessary at any best barbecue restaurant SC.
Southern Roots Smokehouse
Address: 2544 Savannah Hwy, Charleston, SC 29414, United States
Website: southernrootssmokehouse.com
If you adore southern roots, then this spot is your perfect dining place. The brisket is amazing not to name the pulled pork ad smoked turkey still. With TV screens and enough seating, the joint offers you great meals and a relaxed atmosphere.
For starters, you can order the loaded pork rinds or their sampler. Other great dishes offered are baby backbites, hickory-smoked meats, and smoked wings. For light eats, you can order your choice of salads with pork, chicken, turkey, or brisket. Brunch dishes and drinks are still offered. On the drinks, sections are cocktails and soft drinks.
You can also reserve their patio which includes a pool table and your bar for a private party. With classic service in every best barbecue restaurant in Charleston, BBQ is better.
Martins BBQ Joint
Address: 1622 Highland Ave, Charleston, SC 29412, United States
Website: martinsBBQjoint.com
The joint is located on James Island, right outside of Charleston proper. Its perfect location allows you to have a natural setting for families and visitors.
The spot will not serve your barbecue only. You can enjoy the tastiest smoked wings, briskets, and the freshest sides you can ever have. Sides and pies are made in the joint to ensure you get the freshest and sauciest bites every time you visit.
For brisket lovers, this may be your new favorite spot. Get the brisket burger or the southern "Paddy" melt. Great combos, appetizing sandwiches, and fresh salads are all available. It should not be your best BBQ joint in Charleston, it may also be your favorite meeting point.
So, what's your idea of the best BBQ restaurant in Charleston? Should it be dog friendly, patio seating, or great food and drinks is enough? With so many close to home options, there is no hurry. Take a short walk and join your fellow barbecue enthusiasts at your new favorite place. No eating manners needed, crash more bones as you can.