1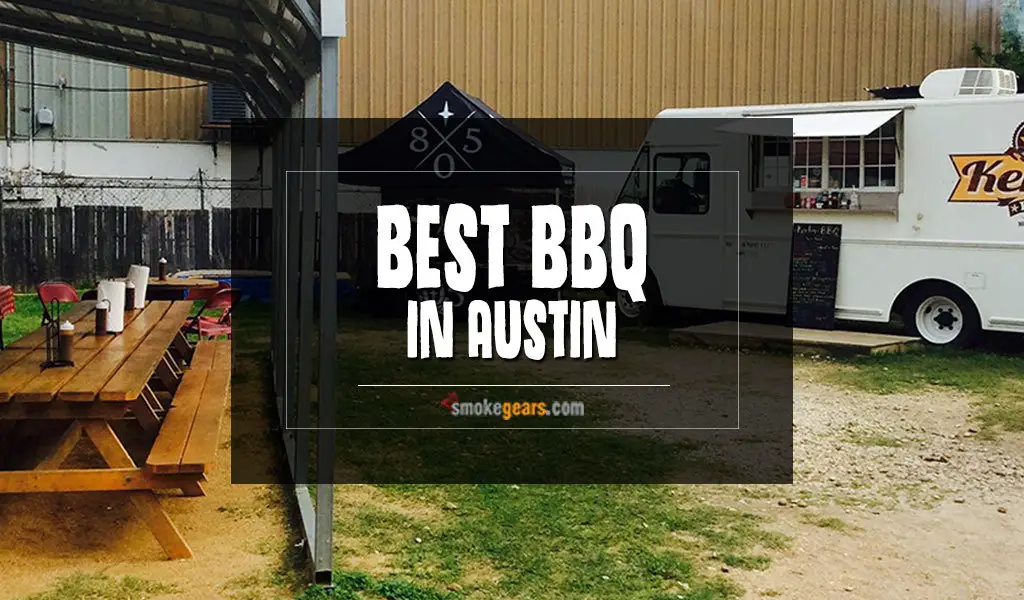 15 Best BBQ in Austin TX – Local Barbecue Joints
Have you ever visited Austin, Texas? If you've, you'll agree with me that Austin has some of the best BBQ joints in the entire country. Over the years, the city has experienced tremendous growth in barbecue spots. Therefore, you will find many new BBQ food trailers and restaurants coming up every day!
But, if you're a foodie visiting Austin for the 1st time, you deserve nothing but the best barbecue in town! And you can only find these in the best BBQ restaurants in Austin TX. These top-notch joints serve mouthwatering smoked meat and cuisine.
So, next time you are in Austin, check out any of these joints and taste the best BBQ you've ever tasted in your life!
More...
Top 15 Best BBQ Restaurants in Austin TX
Franklin Barbecue
Address: 900 E 11th St, Austin, TX 78702, United States
Visit Website: franklinbbq.com
With its modern and vintage décor, Franklin BBQ sets an Austin atmosphere and offers a wonderful and delicious dining experience. This barbecue joint was started back in 2009 by Aaron and Stacy Franklin. Their interest in barbecues started with backyard cookouts that they would frequently throw. Aaron is one of the best Pitmasters in the USA and he even won the James Beard Foundation Best chef award in 2015.
The fact that this restaurant received the award for the best BBQ joint in Austin Texas shows how good it is. Besides, this joint won Bon Appetit's best BBQ place in Austin. Since its establishment, the joint has developed to become one of the best BBQ joints in Austin. And it has even received acknowledgment from popular people like President Obama, Jimmy Kimmel, and Anthony Bourdain.
Today, you'll find crowds standing in line so that they can taste the joint's mouth-watering brisket. Besides brisket, you can also enjoy other delicious meals like ribs, sausage, pulled meat, and turkey. The restaurant's menu also includes veracious drinks, beer and wine, sides, sandwiches, and pies. 
So next time you're in Austin, try out one of their delicious BBQ by going to the address above. Or make an order online through their official website!
Black's Barbecue
Address: 3110 Guadalupe St, Austin, TX 78705
Visit Website: blacksbbq.com
Since its establishment in1932, Black's barbecue has been feeding Lockhart, where the original joint is located, for more than 3 generations. Their branch in Austin is situated on 3110 Guadalupe Street. This Austin restaurant serves those who can't make it to Lockhart.
Regardless of the branch in Austin being new, their menu has not changed a bit. And their BBQ is still cooked fresh on their old pits in Lockhart. Then delivered to their Austin joint fresh and hot every day! Some of their best orders include; sausages, beef ribs, and brisket.
The joint has inspired admiration and awards for its special succulent meats. Still don't understand how this joint has made it on our list? Check them out and taste their tender ribs, grease-laden sausages, juicy charred brisket, and other delicious smoked proteins! And you'll understand why the joint has inspired a huge following of carnivorous enthusiasts.
Lamberts Downtown Barbecue
Address: 401 W 2nd St, Austin, TX
Visit Website: lambertsaustin.com
Looking for a fancier barbecue? Then head to Lamberts Downtown, which was started by Tom Moorman, Lou Lambert, Will Bridges, and Larry McGuire back in 2006. This joint is situated in the historic and carefully restored Schneider Brothers Building.
At this joint, you will be served with slow-smoked barbecue and modern Texas cooking including local beers, new world wines, and classic cocktails. The restaurant also has an upstairs bar & lounge that constantly plays live music. You can also hold your party or event in this space.
You'll also be glad to know that this joint has ample parking space as you can park your car in the 2nd Street District Parking. Additionally, you can park it in the garage parking at the AMLI building and City Hall.
So, for any corporate event, birthday party, or rehearsal dinner in Austin, Lamberts Barbecue is the best joint for you. The joint has the perfect atmosphere for any casual or formal gathering.
La Barbecue
Address: 2027 E Cesar Chavez Street
Visit Website: labarbecue.com
After moving around for quite some time, LeAnn Mueller's La Barbecue finally decided to go indoors to an air-conditioned space on East Cesar Chavez Street after partnering up with Quickie Pickie. But, this does not mean it has shifted from making its beautiful ribs, sausages, and briskets. This is what has been making people wait in lines since its opening its 2011.
Because of its amazing brisket, you'll find a huge line at this joint waiting to be served with the best barbecue in town. However, to avoid waiting in line, pre-order your meat, sides, and sandwiches 3 days in advance. If the line is unavoidable, you can avoid the sun by getting inside the Quickie Pickie home and enjoy a beer as you wait.
What makes La Barbecue stand out from the rest? This joint specializes in Central Texas-style BBQ, smearing meats with savory and salty rubs. Although some people turn to La Barbecue when Franklin BBQ runs out, this joint doesn't deserve to be compared to any joint as it's unique in a way.
Terry Black's BBQ
Address: 1003 Barton Springs Rd, Austin, TX 78704
Visit Website: terryblacksbbq.com
All the barbecue joints we have looked at so far are great. But, in some of them, you have to wait in line, sometimes even for hours, until you're served with your favorite meal. What if you don't have the patience to wait? Just head out to Terry Black's BBQ, a joint with an ample mix of outdoor and indoor seating. Something you will not find in most BBQ joints in Austin.
This restaurant is also managed by the same family that runs the Lockhart's Black's BBQ. And it's a great option if your sibling or friend does not like waiting in lines.
The joint was started by Mark Black, a great-grandson of Edgar Black who founded the Black's BBQ in 1932. Mark and some of his immediate family members opened their first Terry's Black BBQ in Austin in 2014. This was after a family dispute that saw a split in the Black's family in 2013.
If you're visiting the joint for the 1st time, you'll certainly be impressed by their beef rib. Although regulars prefer the usual sausage and brisket. Also, if you like walking your meal off afterward, you'll be happy to know that this joint is located near a hike & bike trail.
Stiles Switch BBQ and Brew
Address: 6610 N Lamar Blvd, Austin, TX 78757
Visit Website: stilesswitchbbq.com
Located in the shopping center of Violet Crown, Stiles Switch is simply the best barbecue joint in North Austin. So, if you want the best meat and beef ribs without heading east or south of downtown, this is the place to go to! The original Stiles Switch BBQ joint was opened by Lance Kirkpatrick and Shane Stiles in 2011. 
You may have to wait in line a little bit during prime dinner and weekend lunch hours. However, their line moves very fast, so you'll not wait for long. The walls of this indoor spot are decorated with old-school photos and signs. Also, exposed rafters hanging over the communal tables, thus creating a beautiful scene that includes a dive bar, honky-tonk and barbecue.
So, if you want the perfect combination of quality barbecue and craft beer in Texas, this is the joint! And enjoy the friendly and good barbecue spirit of Stiles Switch BBQ.
Leroy and Lewis BBQ
Address: 121 Pickle Rd, Austin, TX 78704
Visit Website: leroyandlewisbbq.com
What comes to your mind when you think about Texas barbecue? If you're anything like me, you probably think about brisket. But, that's not the case with Evan Leroy, the pitmaster of Leroy and Lewis BBQ.
Instead of the commonly smoked meat classics, Leroy focuses on the uncommon: beef cheek, mac n' cheese, barbacoa, and duck breast among others.
Since its opening in 2017, Leroy & Lewis BBQ has been gathering praise for its personal and ambitious take on smoked meats. Because of the uniqueness of this joint's approach, their menu does not have any classics.
If you're a barbecue enthusiast and you'd like to try out something new, do yourself a favor and try out this food trailer joint! And you'll keep coming for more!
Micklethwait Craft Meats
Address: 1309 Rosewood Ave, Austin, TX 78702
Visit Website: craftmeatsaustin.com
This barbecue joint was initially started by Tom Micklethwait as a small vintage trailer in 2012. At that time, he never thought that it would later turn into one of the best barbecue joints 8 years later.
Today, this BBQ joint has gathered a mass following from local residents and visitors in Texas looking for savory smoked meats. However, similar to most barbecue trucks with good meals, their meals run out very fast. So, ensure that you get there early to avoid mission out.
One thing that has led to the growth of this joint is its proximity to Franklin BBQ. So, if you find a long waiting line in Franklin BBQ, just move down the street and go to Micklethwait instead.
Some of the orders that I suggest you try out in this barbecue joint are; Frito pie, sausage, and beef ribs. Most traditional BBQ joints in Texas focus on briskets. But Micklethwait is well-known for its smoked sausages. However, this doesn't mean that you'll not find briskets here!
Brown's Bar-B-Cue
When it comes to the top BBQ joints in Austin with the best briskets, there is no way Brown's Bar-B-Cue can miss on my list. About a year ago, this joint was located at a weaker link. But nowadays, the bright red trailer is found on South Lamar near Corner Bar, which is a better location than the previous one.
Pit Master Daniel Brown, who is the owner of this joint, uses local meat and beef to prepare the best barbecue in town. It only comprises of some picnic tables and a BBQ trailer. But as simple as it is, this joint welcomes people to dine comfortably. Not to forget that the staff is very friendly. 
In addition to being one of the best BBQ in Austin TX, Brown's BQ is probably the most affordable BBQ joint in Austin. If you're on a budget, head to Brown's BBQ and get a simple yet high-quality BBQ for yourself at an affordable rate!
Valentina's Tex Mex BBQ
Address: 11500 Manchaca Rd, Austin, TX 78748
Visit Website: valentinastexmexbbq.com
Most people don't expect to find a good barbecue when they head out for Tex Mex and vice versa. But surprisingly, Pitmaster Miguel Vidal of Valentina's Tex Mex BBQ joint mixes both of them into 1 mega meal!
Established in 2013 by Miguel Vidal, this joint has continued to grow day by day. Currently, Valentina's Tex Mex BBQ comprises of 2 food trailers as well as 4 BBQ pits parked in South Austin. Vidal is also planning to turn the joint into a brick & mortar operation.
It's also good to not that Valentina's menu is divided into 2; 'MEX' and 'TEX'. This simple asks customers whether you want tortillas or bread to hold the meat. Similar to most restaurants in Austin, Valentina's also has breakfast burritos, which might include refried beans, tomato Serrano and chorizo.
Their meat matches the standards of what you will find in any other big BBQ joint in town. But, what makes this joint unique from the rest? This would be the fact that you can get BBQ for breakfast and in taco form at this joint!
Once you taste their brisket taco, egg, and bacon, you might find yourself going south to Manchaca every morning as they're always opened by 7.30am.
Interstellar BBQ
Address: 12233 Ranch Rd 620 N Ste. 105, Austin, TX 78750
Visit Website: theinterstellarbbq.com
Opened in 2010, Noble Sandwich Company had become very popular in Austin for its beef pastrami and smoked duck pastrami. And did I tell you that Noble Sandwich was co-owned by chefs Brandon Martinez and John Bates?
In 2014, Brandon and John decided to open another restaurant in a more central location within the city. But in 2019, they decided to close the original location, re-open and re-brand it. And that's how Interstellar BBQ came into being!
Although the new location is near Cedar Park, which is far northwest of Austin and not central, it's worth driving up there to taste their barbecue. This restaurant serves all the classic Texas BBQ staples including beef ribs, briskets rotating specials such as pastrami beef ribs, and jalapeno popper sausages. 
One thing that has made this joint so popular is the fact that it's still operated by the team from Noble Sandwich Co. And it's not a surprise that you'll find Barbecue enthusiasts from various places coming to this joint! So, when you go there, expect to find area chefs and local foodies dining there!
Rudy's Country Store and Bar-B-Q
Address: 183, 11570 Research Blvd. Austin TX 78759
Visit Website: rudysbbq.com
If you've all the time in the world while in Austin, then you can wait in line for hours at a food trailer for that award-winning brisket. But if you're looking for a fast-food option, you don't have to go through all that hassle. And in that case, Rudy's Country Store & BBQ is the place to go to! Since it's located near a gas station, you can quickly drive in and take your freshly slice BBQ in less than 5 minutes!
This massive BBQ restaurant has 3 locomotive-size smokers powered by oak pallets and it can accommodate hundreds of people. The joint was started 25 years ago by Rudolph 'Rudy' Aue. And it has grown to become one of the best BBQ chains in the country. There are many Rudy's BBQ joints in other states across the country including Arizona, Oklahoma, Texas, Colorado, and New Mexico.
Despite being in various locations, the consistency of their food is amazing. You'll also be amazed by how broad their menu is considering that it's a BBQ joint. So, whenever you're passing through Austin, drive through any Ruby's BBQ and enjoy their superb lineup of smoked meats. This includes chopped beef, pulled meat, prime rib, beef brisket, sausage, and turkey breast among other items.
J. Leonardi's Barbeque
Address: 1124 East 11th Street, Austin, TX 78702
Visit Website: barbecuerestaurantaustin.com
Now let's talk about a simple BBQ joint that focuses on ensuring that BBQ is done right! I' talking about J Leonardi's BBQ, which is rapidly turning into one of the best BBQ trailers in Austin. This is mainly because of the joint's strong reputation in providing the most delicious smoked BBQ in town.
J. Leonardi's food trailer is located on the Eastside and it serves Texas BBQ by the pound, BBQ sandwiches as well as sides. It's the only BBQ joint in Austin that offers baby back spare ribs which are so good! So, if you find yourself craving for those, check this joint out.
There are many picnic tables in front of J. Leonardi's food trailer. Meaning you can either sit there and enjoy your favorite bbq or make your order and go. And did I tell you what you can order here? Well, they have brisket Frito Pie, Jalapeno corn, housemade sausage, and spare ribs.
You can try out this joint from 11 am – 6 pm from Tuesday to Saturday. And from 11 am to 3 pm on Sunday, assuming there is some bbq left at that time, which is very rare.
Uncle Billy's Brewery and Smokehouse
Address: 1530 Barton Springs Rd, Austin, TX 78704, United States
Visit Website: unclebillys.com
If you're a pet-lover, you're probably wondering, "Aren't there any pet-friendly BBQ joint in Austin or what?" Don't worry as Uncle Billy's Brewery might just be what you're looking for!
This has a large 'pet-friendly' patio that usually hosts live bands, especially on Thursday. Thus creating a sweet atmosphere and making it a great gathering spot. Also, the menu contains innovative spins on classics and unique craft beers that are brewed on the premises.
The joint was opened in 2007 and it's situated on Barton Springs Rd, near Zilker Park. Once you taste Uncle Billy's award-winning beer and slow-smoked barbecue, you'll definitely become a regular.
Whether you want to entertain clients or catch a game, Uncle Billy's has a large shaded outdoor patio that will keep you sorted!
Kerlin BBQ
Address: 2207 E Cesar Chavez St, Austin, TX 78702
Visit Website: kerlinbbq.com
This bbq joint is located within walking distance from top barbecues like La Barbecue, Micklethwait, and Fraklin. Yet it has still managed to stay in business thanks to its outstanding kolaches. Even better, you don't have to wait in line for long as compared to the other restaurants.
This BBQ comprises of a white food truck that is surrounded by the chain-linked. In addition, you'll occasionally find live music being played here. This first Kerlin BBQ truck was opened by Bill Kerlin in 2013. This was then followed by the kolache trailer that was first opened in 2017.
One unique thing about this BBQ is that the joint doesn't use traditional oak to smoke meat. Instead, they use pecan wood.
With its sensational ribs and brisket, Kerlin certainly deserves a spot on our best BBQ list. Especially since it has even received a lot of significant national press. So, if you're hunting for the best BBQ in Austin, give this joint a chance. 
Note: Kerlin BBQ is currently closed because of the COVID-19 pandemic.
Most people judge the quality of a BBQ joint based on the length of the line. However, that may not always be the case. And you can stand in line for hours and still not get the best brisket in Austin. To avoid finding yourself in such a situation, consider going to one of the BBQ spots that I have listed above. And you'll not regret it as they are by far the best BBQ restaurants in Austin! Feel free to check them out!