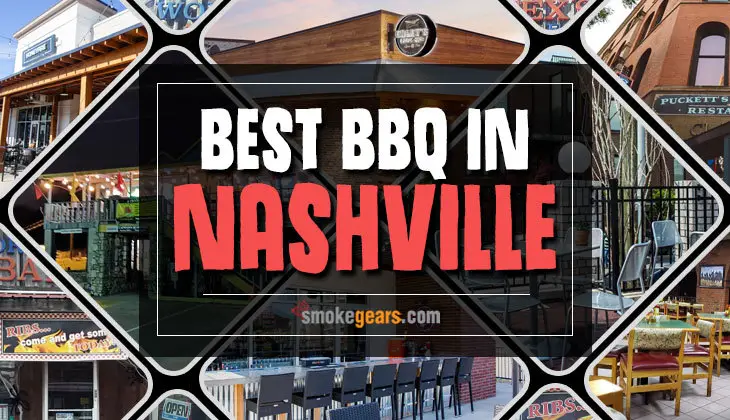 15 Best BBQ in Nashville TN – Experts Share Favorite Barbecue Spots to Eat
Unlike Texas and Memphis, Nashville does not have a history of being a barbecue town. Therefore, they don't have a signature BBQ style like Memphis-style meat or Texas-style brisket.
Does that mean you will not find a great BBQ joint that offers smoked meats in Nashville? Surprisingly, the city has many good BBQ joints. Indeed, the city is rapidly rising through the ranks of the cities with the best BBQ spots in the country.
I have even decided to take you through some of the best BBQ joints that you should try out in Nashville! And enjoy the most delicious and tantalizing low and slow-cooked meat in the country!
More...
Top 15 Best BBQ Restaurants in Nashville TN
Edley's Bar-B-Que
Address: 4500 Murphy Rd. Nashville, TN 37209
Website: edleysbbq.com
Founded by Catherine & Will Newman, Edley's is a chain of BBQ spots with 1 branch in Kentucky and 3 branches in Nashville including Sylvan Park, 12th South, and East Nashville.
Their branch at Sylvan Park has some outdoor seating as well as parking. This restaurant also has an amazing dining room that is easy to move around since it has a separate bar and small tables that are packed together. 
I was also impressed by how this restaurant operates. Just find a table, line up to place your order and get a number tag that you can put on the table. Then, once your meal is read, the waiters will bring it to you. Amazing, right?
However, although this place is very popular, you cannot make any reservations.
The menu has sandwiches and assorted tacos. You might want to try out their shrimp sandwich which is a brioche bun with well-cooked fried shrimps. Alternatively, you can order tacos that have delicious pulled meat and a BBQ sauce.
If the sheer popularity of the Sylvan Park Edley's BBQ among the locals does not convince you, try out the other 2 branches. And I'm certain you'll keep coming back for their Tuck special brisket sandwich!
The Gambling Stick Barbecue
Address: 501 Gallatin Ave, Nashville, TN 37206
Website: thegamblingstick.com
Unlike Edley's, which has popular joints in 3 different neighborhoods in Nashville, the Gambling stick is just a small trailer parked at Gallatin Avenue. Yet it offers some of the most delicious smoked meat in Nashville!
Owned by Matt Russo, who is also the Pitmaster, the Gambling Stick includes a canvas tent on the parking tent. Thus covering you as you enjoy your favorite meal. If you've gone to East Nashville to taste the mouthwatering BBQ offered at this joint, what are you waiting for?
Russo, a former employee of Porter Road, is a trained chef at the Culinary Institute of America. The joint sources all of its meats from the next-door neighbors to produce their exceptional dishes.
This BBQ joint opens from 11 am to 8 pm starting from Tuesday to Saturday. Rather than using hickory as their main cooking method, the Gambling stick prefers using cherry wood.
Their dishes are so great that people even impressed by their simple side dishes like spicy baked beans. So, next time you're in East Nashville, this is the joint to watch out for!
Martin's Bar-B-Que Joint
Address: 410 4th Avenue South, Nashville, TN 37201
Website: martinsbbqjoint.com
After Pitmaster Pat Martin opened his 1st joint in Nolensville in 2006, he rapidly gathered a loyal following. Thus enabling him to expand the joint from the original location. Currently, there are 4 Martin's BBQ joints in Nashville, including the newest one in Downtown Nashville.
The massive building has a full-service restaurant on the ground floor. While the 2nd floor has a large beer garden with picnic tables, 2 bars, a private dining area, and a live music stage.
Once you visit the joint, you can order the joint's wings, beef brisket, or dry and wet ribs. And you may never have to look for another best BBQ restaurants in Nashville TN again! However, the classic's Martin's order is hog pulled meat BBQ, and trust me, it's hard to beat!
You'll also be thrilled to know that you can order Martin's meaty menu through online order or phone for takeout. Also, you can order for delivery within Nashville through Doordash.
Each location of Martin's BBQ has customized pits within the restaurant when a whole swine is cooked almost every day. Just be aware that the whole hog rarely lasts through dinnertime. So, be sure to order it when it's available!
Peg Leg Porker BBQ
Address: 903 Gleaves St. Nashville, TN 37203
Website: peglegporker.com
First opened by Carey Bingle in 2013, Peg Leg Porker has continued to smoke up mouthwatering meats. And this has turned it into a bona fide BBQ star with some of its bestsellers being classic BBQ nachos, Memphis Sushi, cheese platter with saltines, and a sausage.
How did Carey Bringle come up with the name of this joint in the 1st place? At the age of 17 years, Carey was diagnosed with a critical bone cancer known as Osteogenic Sarcoma. This cancer took away his right leg and changed his life completely.
However, it's not this story that has made the joint so popular; it's the food offered here! And Eater National even listed it among the 16 hottest barbecue spots in the country in 2013.
Currently, the joint has expanded to a 2nd story that provides more dining and drinking space.
And did I tell you that you don't have to take your meal at the joint? Well, you can order for takeout, delivery as well as nationwide shipping through Godbelly. So, don't let distance stop you from tasting the best BBQ in Nashville!
Bar-B-Cutie
Address: 501 Donelson Pike, Nashville, TN 37214
Website: bar-b-cutie.com
BBQs have not been a 'thing' for Nashville in the past. But, this does not mean that no BBQ joints were opened in the past. And to show the history of BBQs in Nashville, I have Bar-B-Cutie on my list.
Opened in 1940, Bar-B-Cutie was among the 1st drive-in BBQ spots in the city. And it has continued to evolve over the years to become a dependable fast-food stop with multiple locations around the town.
After all those years, there is one thing about this joint that has not changed at all; it still serves terrific meat that everyone finds hard to resist! My favorite Bar-B-Cutie joint is the one located on 9th Avenue in the downtown area. And based on its succulent smokehouse meat, it's not surprising that this joint is one of the local's favorite.
Besides the mouthwatering meat, you can enjoy the Southern-side sides at these joints.
Have an upcoming event or party with many guests? Get catering services from Bar-B-Cutie to ensure that your guests are fully satisfied with the best dishes in town!
Swett's Restaurant
Address: 2725 Clinton Ave, Nashville, TN 37209
Website: swettsrestaurant.com
While we're still on the history of BBQ in Nashville, let's look at yet another joint that is among the first ones in the town: Swett's Restaurant. Although this joint started in 1920 as a tavern, it was not until 1954 that it became the meat-&-three spot.
So, what makes this joint stand out from the other BBQ joints in Nashville? For one, this family-owned restaurant has a large diversity of clients. Also, Swett's recipes are not written anywhere, thus ensuring you have a different experience each time you come here.
If you're coming to the town by air, there is another Swett's BBQ joint at Nashville Airport. This joint welcomes you to the town with tasty and delicious dishes.
In addition to the meat-&-three cafeteria-style, Swett's added BBQ to its offerings in 2012. Once you head out to this restaurant, you'll realize that the BBQ line is located in a separate corner from the meet-&-three.
The BBQ line focuses on providing smoked meats which include chicken, brisket, meat chops, ribs, and pulled meat. Besides, you can enjoy their tasty rib tips.
Jack's Bar-B-Que
Address: 416A Broadway, Nashville, TN 37203
Website: jacksbarbeque.com
The 1st Jack's BBQ started at First & Broadway in 1976 by Jack Cawthon. During this time, Lower Broadway was just starting to turn into the tourist destination it's today. Now, the joint is in 3 locations, with the original joint sitting next to Tootsies.
These locations provide tender & delicious ribs as well as various warm sauces for both Memphis-style and Texas-style BBQ enthusiasts. Jack's in an award-winning joint that's competing quite well with other top BBQ joints in the town. 
Personally, I think Broadway's joint is the best spot for a late-night meal. Here, you'll find almost everything, including meat, ribs, and brisket. The 2 other Jack's locations indicate that they have some good BBQs.
So, whether you want meat & three or a sandwich, then Jack's BBQ is the place to be!
Puckett's Grocery and Restaurant
Address: 500 Church St, Nashville, TN 37219
Website: puckettsgro.com
Unlike most BBQ joints I've listed above, Puckett's Grocery and Restaurant features live music almost every night. The music alone is so good, that you can just go there to listen to it! And with its better food, this joint is hard to leave out of our list.
So, if you're looking for a good entertainment joint with classic southern BBQ and live music in downtown Nashville, this is the place to be! The BBQ options include cherry-smoked wings and swine chops.
Puckett's Grocery and Restarted was started in the 1950s in Leiper's Fork, Tennessee. Currently, the joint has other branches in other areas including Chattanooga, Murfreesboro, Franklin and Columbia.
The joint exclusively smokes its ribs until the meat falls off the bone using the least force with your teeth. Not to forget that their house-made sauce has a unique flavor that makes the ribs bold and sweet.
Just away from Nashville tourist destinations, Puckett's is the ideal joint for anyone looking for a slow barbecue experience while enjoying that live music.
Even if you're not hungry, just check in this spot to have a drink and listen to live music. And you'll agree that the joint has the best live music in town! Smoked briskets, live music Puckett's simply has it all!
Jim 'N Nick's BBQ
Address: 7004 Charlotte Pike, Nashville, TN 37209
Website: jimnnicks.com
Want an authentic, yet good southern barbecue? Then try out the barbecue from Jim 'N Nick's. This BBQ joint was first opened in 1985 in Birmingham. And it has developed since then and it currently has branches across the Southeast, with 5 of them being in Tennessee.
One thing that most people love about this joint is the simplistic approach towards BBQ. Every barbecue depends on 3 things; meat, smoke, and time. And chefs at Jim 'N Nick's understand this very well!
The joint also offers family dinners for families and groups. The best meal offered at this joint is their classic and tasty spare ribs, which has won an award for 10 consecutive years. Besides, you can order their brisket, which is also amazing! Not forgetting that their meal is always fresh, delicious, and slow-cooked.
Butchertown Hall
Address: 1416 Fourth Ave. N, Nashville, TN
Website: butchertownhall.com
The meat-centric menu of Butchertown Hall draws paleo-dieters and meat lovers into Germantown neighborhood. And you'll also get some protein from their sausages, burgers, ribs and street tacos if you go there.
One thing you may not like about this joint is that its modern interior can get a bit loud. Thus limiting intimate conversation. Luckily, the joint has an outdoor patio that creates an amazing scene for holding such kind of conversation, if that's what you're looking for.
This joint has 2 main workhorses, a customized high capacity smoker and an open fire hearth. Thus ensuring that your tasty food is crafted with both contemporary and primitive souls. You can also enjoy their specialty craft brews on the expansive beer garden.
Any time you're in Middle Tennessee and you feel craving for the most flavorful and tender ribs, Butchertown Hall is your joint! 
Even better, this joint is always opened for dinner, lunch, and even weekend brunch!
Whitt's Barbecue
Address: 5310 Memphis-Bristol Hwy, Nashville, TN
Website: whittsbarbecue.com
Whitt's BBQ is a local BBQ chain that was first opened 37 years ago. Yet, they have maintained the old-fashioned process of preparing their barbecue. This is probably why the joint has expanded so much in Middle Tennessee since it has 25 locations in the area today. The joints in Nashville are 15, including the joint at the airport in Terminal C.
But what makes this chain different from the other BBQ joints in Nashville is that it's pet-friendly. If you don't feel like tying your dog outside while you enter the joint to order, you can use the drive-thru window.
Their menu offers hot wings, potatoes, ribs, plates, sandwiches as well as meat by the pound. The joint also serves slow-cooked turkey, chicken, and swine with hickory smoke flavor. And all these meals come at very affordable prices.
Anytime you feel hungry while walking your dog in Nashville, just go to any Whitt's BBQ and enjoy a delicious barbecue!
Papa Turney's Old Fashion BBQ
Address: 3979 Bell Rd, Hermitage, Nashville, TN 37076
Website: papaturneysbbq.com
Located on the outskirts of Nashville, Papa Turney's has the best BBQ architecture in the town. The restaurant features a 2-story wooden BBQ joint, right on top of the water. And their food is uniquely traditional with various hickory-smoked meals like ribs, hog, and brisket.
The joint was started by Mike Turney. Initially, Mike was serving BBQ in a parking lot of a gas station, before expanding into a brick & mortar spot. Recently, Turney has moved to a big new facility at the shores of Nashville Marina, thus offering a beautiful lake view as you enjoy your meal.
You can find almost every type of meat being served in this joint, including turkeys, ribs, and even swine butts. But the thing that keeps more people coming to this joint, both by land & sea, is the slow-cooked rib-eye steaks.
So, after a long day of the Percy Priest Lake, stop by Papa Turney's and get any classic barbeque that you're craving for. But I recommend that you try out their hickory-smoked BBQ since it's what the joint specializes in.
Tex's World Famous Bar-B-Q
Address: 1013 Foster Ave, Nashville, TN 37210
Website: texsworldfamousbbq.com
For more than thirty years now, this joint has been serving some of the best low & slow-cooked meats in Nashville. Being one of the oldest BBQ joints in town, Tex's World BBQ is basically an organization in the Barbecue industry.
It's popularly known for its delicious meats like smoked sausage, BBQ baloney, ribs, beef brisket, turkey breast, and pulled meat. But their specialty is Texas-style BBQ that's pulled and cooked on the premises.
Tex's is not the flashiest joint in town and it's located off Murfreesboro Rd which can be a bit difficult to find.
So, how has this joint thrived in this business for such a long time? Simple, word of mouth!
Customers leave this joint extremely satisfied, spread the word, and even come back with their friends. And you'll probably become a loyal customer too once you visit the joint and taste their Texas-style BBQ!
HoneyFire BBQ
Address: 8127 Sawyer Brown Rd #304, Nashville, TN 37221
Website: honeyfire.com
HoneyFire BBQ is a family-owned BBQ joint in Bellevue that was opened in 2018 by Pitmaster Shane Nasby. The menu of this offers various smoked meat options, including pulled meat and sliced/ chopped brisket with habanero-infused honey and house-made sauces.
Talking of sauces, you might want to know that this joint has 3 types of sauces; Alabama white, spicy and original. But it's the combination of BBQ techniques and the joint's sweet heat flavor that keeps residents coming back for more! 
This fast-casual joint is very family-friendly and has a lot of outdoor seating space. Moreover, the joint has a full bar menu that you can check out if you want some unique local craft brews or signature cocktails.
HoneFire BBQ is always open from 11 am up to 10 pm. So next time you're in Nashville try out the Nashville BBQ restaurants and enjoy their combination of spice and sweet! And did I tell you that you can make your order online? Well, just go to the joint's website and make your order to get their mouthwatering dishes.
Bacon & Caviar Market BBQ
Address: 900 Rosa L Parks Boulevard
Website: baconandcaviar.com
Looking for an affordable, yet delicious BBQ joint to dine in Nashville? A BBQ joint that perfectly matches what you're looking for is this Bacon & Caviar joint.
This joint comprises of 2 restaurants that were opened by caterers Ed Smith and Paul Johnson. One restaurant (B&C Melrose BBQ) is located in Melrose in Kroger shopping center. While the 2nd one (B&C Market BBQ) is situated in Framers Market.
Unlike most BBQ joints, the menu of B&C Melrose BBQ tends to change with seasons since they mostly use locally grown ingredients. The joint also offers catering services that include great buffet-style dinners.
The B&C Market joint is very popular during lunch hours when tourists and downtown workers are lining up for some tasty BBQ. This one of the few joints in Nashville you can find vinegar-based sauces.
One thing that both of these locations have in common is that they provide the same incredible flavors, aromas and quality. Some of their dishes include; beef brisket, smoked turkey breast, smoked salmon, pulled chicken, and swine.
Conclusion:
There you have it; some of the best BBQ places in Nashville TN. So, next time you're craving for some smoked meat, why go to just any BBQ joint? When there are specific joints that are popularly known for providing some of the best barbecues in the whole country.
Even if you're a visitor in Nashville, finding the best BBQ restaurants joint doesn't have to be challenging anymore. Just go to any of these joints and you'll certainly get the most delicious smoked meat Nashville has to offer!