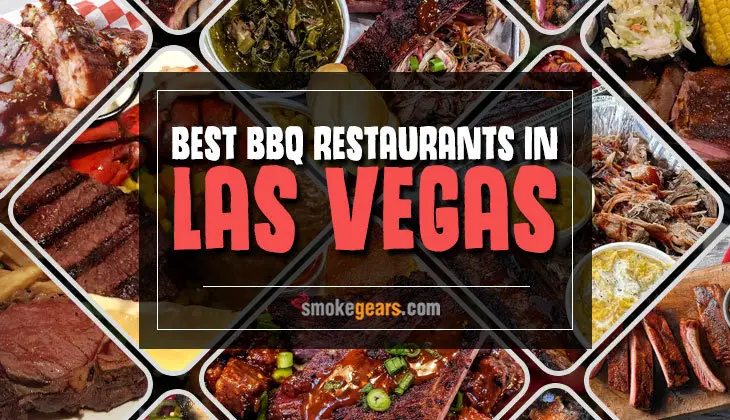 15 Best BBQ Restaurants in Las Vegas, Nevada
Craving for some lip smackin' barbecue in Las Vegas? Is there even a good BBQ in a city located in the middle of a desert? I know Sin City is in the middle of the Mojave Desert. But don't let that fool you, since it's an oasis of various cuisines! From incomparable Italian restaurant to great steakhouses, Las Vegas has it all!
What about BBQ? Well, the city has some seriously good spots serving perfectly smoked meats! From Texas-style brisket to St Louis style ribs, Las Vegas pitmasters smoke any meat you can think of! Now, here are some of the best BBQ restaurants in Las Vegas!
More...
Top 15 Best BBQ joints in Las Vegas, Nevada
Rollin Smoke Barbeque
Address: 3185 Highland Drive, Las Vegas, NV 89109
Website: rollinsmokebarbeque.com
More than 20 years ago, a father and son duo from Arkansas were selling food on the roadside. But they had one mission in mind: to bring authentic southern barbecue to Las Vegas! After selling food on the road for some time, they had saved enough money to start their BBQ dining room.
That's when they set it up near the Strip's north end. After opening this dining room, the joint's reputation spread across the country. And that was just the beginning of the Rollin Smoke BBQ chain.
More than 2 decades later, the joint has expanded and it currently has 2 Las Vegas locations. The 2nd location is at 4115 South Grand Canyon Dr. They serve low and slow-cooked Arkansas style BBQ smoked over hickory wood. Moreover, they serve their smoked meats with soul-warming side dishes.
You can also add their house-made barbecue sauce for more flavor. Remember to save room for their delicious desserts like blueberry cobbler and Southern peach cobbler.
One thing you may not like about this restaurant is its decor, but the place is very clean. So, don't let that stop you from enjoying some delicious food.
Jessie Rae's BBQ
Address: 5611 South Valley View Boulevard, Las Vegas, NV 89118
Website: jessieraesbbq.com
Have you ever heard of Las Vegas-style BBQ? Well, that's the unique style at this BBQ joint located right behind Mandalay Bay. Besides serving traditional Vegas-style BBQ, Jessie Rae's also serves Mexican-American barbecue fusion fare!
This restaurant has some of the most delicious foods in Sin city! It was established by Mike Ross in September 2014 after perfecting his skills in several BBQ competitions. The joint's smoked meats have won a handful of awards, including the best BBQ in Las Vegas award in 2017. For that, most items on their menu catch the attention of any meat lover.
Some of the smoked meats you'll find here include; pulled meat, brisket, ribs, chicken, hot links, and more. While their homemade sauces include; Carolina Vinegar sauce, fallen Angel, Alabama white sauce, and the award-wining God sauce. You can also try their dirty waffle fries and mouthwatering meaty sandwiches.
John Mull's Meats and Road Kill Grill
Address: 3730 Thom Boulevard, Las Vegas, NV 89130
Website: johnmullsmeatcompany.com
John Mull first opened this joint in 1954. Since then, the restaurant has been serving up some amazing BBQ. This Joint has gathered some national recognition. It was even featured on the famous 'Diners, Dives & Drive-ins' program on the Food Network. The spot hasn't changed a lot and diners enjoy their meals in the backyard.
This joint used to slaughter meats. Hunters would bring a wild game like antelope, bear, and deer at this spot and they'd be cut into small pieces. Although they longer slaughter meats, they still accept wild game from hunters with permits.
Most meats at this spot smoked for more than 16 hours. They then use a unique blend of seasonings combined with spices, salt, and sugar. One secret of this restaurant is to use different unique peppers. These peppers are roasted and ground one day before to ensure peak flavor and freshness. The meat is then boiled in marinate and ultimately grilled to perfection. When the meat comes out, it's very juicy and full of flavor, so you don't have to add extra sauce.
At this spot, you can order to go or enjoy your meal at the outdoor patio's picnic tables! A 2nd Road Kill Grill location with modified hours and menu was opened about 6 miles north.
Lucille's Smokehouse BBQ
Address: 11011 W Charleston Boulevard, Las Vegas, NV 89135
Website: lucillesbbq.com
Before coming to Las Vegas, the first Lucille's Smokehouse was located in California. But its roots are linked to the small lunch in Greenville that was owned by Lucille's grandmother. The Las Vegas joint is situated in the Red Rock Resort.
On the outside, this joint has a western look. It's very clean inside and includes everything you'd expect to find in a dine-in BBQ restaurant. They have a full bar in the Flying Lounge, which also features live music every weekend starting from 7 pm.
In an area with several new and intriguing BBQ restaurants, Lucille's serves some of the best BBQ in the area. They have a few family-style choices like hickory-smoked ribs, beef, sausage, and BBQ chicken Las Vegas. Using hickory wood to low and slow cook their meats ensures maximum flavor. The joints side dishes are also amazing! For desserts, they have various options including bread pudding, ice cream pie, chocolate cake, and more.
Their food combined with the best Southern hospitality provides a fantastic dining experience. With these Southern favorites, you'll not feel like you're Vegas anymore once you get to this spot.
Big Ern's BBQ
Address: 707 Fremont Street, Las Vegas, NV 89101
Website: bigernsbbqlv.com
Los Angeles-native, Ernie Loya started selling BBQ at farmer's market in the area. He later moved to the Downtown Container Park location where he would smoke meat daily. The joint keeps its slow-and-low smoked meats simple and tasty.
Big Ernie's has a 2nd Las Vegas Valley location in 2400 North, Rancho Drive in Fiesta Rancho. In addition to smoked meats, they have other items like mac n' cheese, no-mayo potato salad and fried okra. On a fine day, you can enjoy your meal in the sun on their outdoor seating. For smoked meats, they have pulled meat, hot links, and smoked brisket.
Another thing that sets this joint apart is that you can buy meat by the weight to take home. Its opening hours are 11 am to 11 pm Sunday through Thursday. On Friday and Saturday, they are open until 1:00am. Just note that there is no on-site parking with the park.
Benny's Smokin' BBQ and Brews
Address: 128 Fremont Street, Las Vegas, NV 89101
Website: binions.com
Located inside Binion's Las Vegas, Benny's Smokin' is an inviting bar & restaurant that serves up slow-cooked & smoked BBQ. This space was previously occupied by Benny's Bullpen which was rebranded. The dimly-lit space underwent some minor changes, including replacement of the couches with classic restaurant seating.
To smoke their meats, they have an outdoor high-capacity smoker. This smoker produces a mouthwatering aroma that spreads onto the Fremont Street Experience. You can order a rack of their BBQ smoked ribs, brisket, and chicken. Each entrée includes BBQ baked beans, coleslaw, cornbread, and corn on the cob.
In addition to the perfectly smoked meats, Benny's offers an exclusive selection of Chicago Brew Co.'s microbrews to complement your entrée. While you eat, you can watch your favorite show on the large screen TVs placed across the room. You can also enjoy video poker games at their full bar.
If you're not in the mood to dine, these joint offers take out. This also great if you've kids at home since they only allow people above 21 years old to enter this place. You can also become a club member and get discounts. Check this joint out starting from 4 pm to 11 pm every day.
Mesa Grill
Address: 3570 S La Vegas Boulevard, Las Vegas, NV 89109
Website: mesagrill.com
Some people think that the best BBQ restaurants in LV should have sawdust on their floor and rickety tables. If you think so too, be ready for a surprise when you get to Mesa Grill in Caesars Palace.
This spot is unique for 2 reasons. First, it's operated by Chef Bobby Flay, a TV celebrity who adds a gourmet twist to every item. Secondly, it combines classic American BBQ with spices and flavors of Southwest cuisines.
The typical items on their menu include; the unique Mesa burger, Black Angus steak, spice-rubbed New Mexico meat, spicy chicken, and fillet mignon. In addition to the meat offerings, they have various seafood and sides, all having the southwest cuisine flavor.
Make sure you taste the roaster corn soup and Yucatan chicken tacos on their appetizer menu. For dessert, I suggest you try out the deep dish banana pie and peanut brittle.
They also have a private dining space that can accommodate about 40 guests. You'll certainly this joint's amazing decor and the exciting casino vibe atmosphere. That plus the stunning range of Bobby's flavors and texture in his menu keeps diners coming back for more year after year!
Gilley's Saloon
Address: 3300 S Las Vegas Boulevard, Las Vegas, NV 89109
Website: gilleyslasvegas.com
Gilley's is well-known in Las Vegas for several things. This includes; live honky-tonk music, mechanical bull, line dancing lessons, and Wild West-inspired salon. But, their barbecue restaurant is the ideal spot to start! Some of their offerings include; sweet potato fries, fried chicken, and chili-smothered Nachos Grande.
This BBQ joint is located on the Vegas Strip in Treasure Island. The spot proves that a casino on the strip can also serve some good barbecue. If you are very hungry, treat yourself with the 10-gallon platter, which comes with the best ribs Las Vegas, hot links, rotisserie chicken, and pulled meat.
You can also add your favorite BBQ sauce to these tasty meats. With some of the common BBQ sauce options being; smoked onion, Gilley's Jack Daniels, and Carolina mustard sauce.
This spot is also considered to be the best dancehall in Vegas. Its decoration, especially the mechanical bull, was designed to resemble a western saloon.
The restaurant features a show kitchen, live entertainment, custom saddle bar seats and views of the popular Las Vegas Strip. Check them out for lunch or dinner and enjoy a variety of burgers, sandwiches, and entrees.
Rick's Rollin Smoke BBQ and Tavern
Address: 725 Las Vegas Boulevard S Suite 110/220, Las Vegas, NV 89101
Website: rrsbbq.com
Located next to Gold and Silver Pawnshop, the Southern BBQ joint was established after Pawn Star's Rick Harrison and Rollin' Smoked teamed up. The downstairs restaurant serves BBQ for all ages. Upstairs, you'll find a full bar that only grants access to people above the age of 21 years. This spot is well known for its great Americano, tea, or lemonade.
The bar serves sixteen drinks on taps, including many local favorites and signature cocktails. Regarding the BBQ, they serve up mouthwatering brisket, bacon, and beef ribs. Not to forget the tasty ice cream and banana pudding.
Their staff is very friendly, and the fabulous service is linked to the success of this place. The prices are also reasonable, and you'll love the spot's enjoyable atmosphere and divine decor. Moreover, if you've any upcoming event in Vegas, say a wedding, birthday party, or an anniversary, you can hold it at this spot!
Virgil'S Real BBQ
Address: 3545 South, Las Vegas Boulevard, Las Vegas, NV 89109
Website: virgilsbbq.com
Leading food critics have ranked Virgil's Real BBQ among the best 10 BBQ joints in America. The original Virgil's BBQ was established in 1994 in Time Square, NYC. Today, the joint has multiple locations, including this one in Las Vegas situated in LINQ Promenade.
This restaurant focuses on various local styles BBQ including Texas brisket, Carolina pulled meat, and Memphis ribs & chicken. They smoke their mats at low temperatures using indirect heat for about 10 hours. To add flavors to the smoked meats, they use a special combination of fruit-woods and hickory.
Their main menu which serves barbecue specialties is complemented by traditional side dishes like cheese grit, coleslaw, and BBQ beans. They also have southern-style desserts which include pies and banana pudding.
Besides serving up hearty southern meals, this restaurant on Las Vegas Strip offers craft drinks. They offer BBQ delivery Las Vegas, curbside pickup, and dine-in service every day! You can also enjoy your meal at their outdoor patio.
Another great thing with Virgil's BBQ is that they've live music performances. There is ample parking space at the LINQ hotel, and they offer valet parking. Since this restaurant usually gets busy, I recommend you make your reservation online before you head out.
Mabel's BBQ
Owned by Food Network's Celebrity Chef & James Beard Winner, Michael Symon, Mable's BBQ is located inside Palms Casino Resort. This restaurant brings the tradition of American culinary to Las Vegas.
Unlike most BBQ restaurants in Las Vegas, they focus on Cleveland-style BBQ, a meat-centric barbecue. This BBQ style features many Eastern European flavors, both in the rubs and by using pickles & sauerkraut.
The restaurant takes up about 9,000 sq. ft., including the dining space and a large drink patio garden. This allows diners to a friendly and relaxing atmosphere when they can engage in conversations as they enjoy their meal. Mabel's BBQ has 3 smokers and the dining space can accommodate 250 guests. There is also a 45-seat supper club at the restaurant known as Sara's that gives diners a unique dining experience.
Their back patio features games, 100+ bourbons, 150+ drinks, and a custom food truck. With more than 20 TV screens, you can comfortably catch your favorite game at this joint. Not to forget that this casual joint is wheelchair accessible and kid-friendly.
However, this place gets a little busy, so you might want to make a reservation for your friends in advance! Once you get to this spot, you might want to live here forever!
Ellis Island BBQ
Address: 4178 Koval Lane, Las Vegas, NV 89109
Website: ellisislandcasino.com
Ellis Island is popular for brewing its drink, goofy karaoke nights, deep food and gaming discounts, and, of course, some tasty baby back ribs! Its dining space is located right of the casino floor and only grants access to 21+-year-old guests. So, don't bring your kid along when you're heading to this joint.
Instead of spending your money on the slotting machines, I suggest you spend it on this joint's BBQ menu. This is because Ellis Island has one of the best BBQ in LV. They offer half chicken and baby back ribs among other BBQ items at this restaurant. Dishes come accompanied by garlic bread, corn on the cob, baked beans as well as coleslaw.
In addition to serving large BBQ portions and great dishes, their service is amazing and the prices are affordable. This spot does not open until 4 pm and remains open until 11 pm on Saturday and Friday and 10 pm Sunday through Thursday.
Remember to check out their Brewery which serves a wide selection of their drinks and old-fashioned Root drink. The karaoke makes this place a good hanging spot after enjoying your meal. So, stick by after enjoying your BBQ for some fun!
Famous Dave's BBQ Restaurant
Although Famous Dave's is a restaurant chain, it serves up some great BBQ North Las Vegas. It's even considered the leading BBQ restaurant chain in the entire country. In Nevada State alone, this award-winning restaurant has about 6 locations!
In Vegas, there is a Famous Dave restaurant near the corner of West Lake Mead Blvd and North Rain Blvd in the Summerlin neighborhood. The Las Vegas location has been owned by Sonoran Barbeque, LLC, since 2002.
This joint accommodates about 235 seats and covers an area of approximately 7,500 sq. ft. They offer a comprehensive take-out menu, full-service bar, and catering services. Regarding the barbecue, the menu offers Texas beef brisket, hickory-smoked St. Louis ribs, and their award-winning Rich and Sassy BBQ sauce. Other offerings include; burgers, salads, country roasted chicken, and BBQ sandwiches. You will also love the home classic side dishes which are made from scratch!
Famous Dave's has won almost every BBQ award there is, it has gathered praise and acclaim from diners and critics nationwide. Moreover, the joint still takes part in various BBQ awards to date. So, don't shy away from this joint in Vegas for some award-winning BBQ!
Tony Roma's
Address: 200 East Fremont St, Las Vegas, NV 89101
Website: locations.tonyromas.com
With more than 150 locations globally, Tony Roma's is among the most recognizable BBQ spots in the world. Sadly, since this place has been around for so long, most people take it for granted and opt for new places. Yet, it serves some of the best ribs in the world and other smoked meats!
The original Tony Roma's was opened in 1972 in Miami, Florida. Its ribs became so popular that the other locations were established across the country, including this one in downtown Las Vegas. Besides serving ribs, the joint serves other items like tasty seafood, mini desserts, appetizers, fresh salads, and mouthwatering steaks.
To set the aura, this joint has photos of early Las Vegas casinos, the kitchen of the original Tony Roma's in Miami. Not to forget the historical photos showing the construction of Hoover Dam. There is also a full bar that serves some great margaritas. For a casual BBQ dining experience with friends and family in Vegas, this is the place to be!
Project BBQ
Address: 1 Freemont St. Experience, Las Vegas, NV 89101
Website: goldengatecasino.com
Fremont St. in Las Vegas has many casinos, hotels, gift shops and food options. Whenever you're hungry while visiting Las Vegas, make sure you stop by Project BBQ! It's a permanent food truck offering gourmet smoked meats and Southern classic in Las Vegas.
This BBQ joint was established by Rex Bernales, together with partners Steve Hamlin, Rob Baker and Mo Pierce. When starting, Rex Bernales wanted to build a better local BBQ spot. He garnered his culinary experience from the Carolinas and the Pacific Rim. However, he has learned more unique and modern ways of grilling his meats!
This food truck is located on Circa's exterior and features an inbuilt 'backyard' for public gathering. This makes you feel like you're enjoying BBQ in your friend's yard. You can enjoy your smoked meats on the picnic tables or drink cocktails. The live music from the neighboring concert stages and Viva Vision's light shows creates a lively atmosphere.
As for the BBQ, there is no limitations to this spot's flavors and BBQ! They only use superior meat like Certified Angus Beef, chicken, pulled brisket and more. Their extensive menu offers various options to choose from, while the unique spices will give you a memorable experience!
Next time you're craving some great BBQ in Vegas, don't fear. As you can see, there are many world-class BBQ restaurants in Las Vegas that will blow the mind of any BBQ lover. Now that you know where to look, don't hesitate to try out BBQ from any of these restaurants. And don't forget to try out the delicious side dishes too!