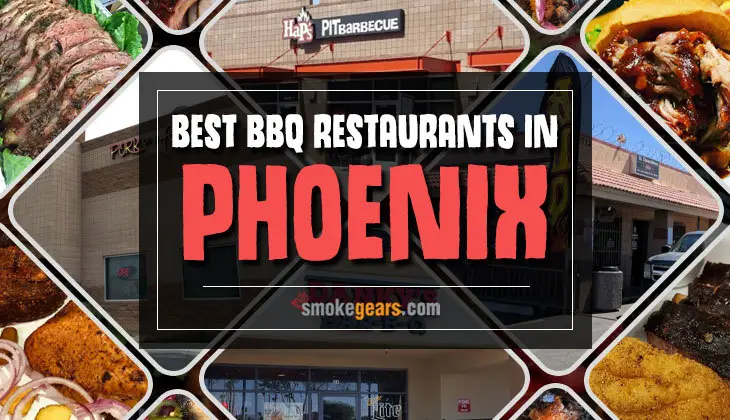 15 Best BBQ Restaurants in Phoenix, Arizona
Every BBQ lover out there knows that the secret to great BBQ is keeping it simple! Just slow-cooked meats smoked over wood, flavorful BBQ sauces, and delicious homemade side dishes. And Phoenix's BBQ scene offers all that and more. Indeed, Phoenix holds many annual festivals dedicated to praising this delicious, smoky meat called barbecue.
For that, you'll find many restaurants in this city serving various BBQ styles, including Texas and Tennessee. Here are some of the best BBQ restaurants in Phoenix!
More...
15 Best BBQ Places in Phoenix, Arizona
Danky's Bar-B-Q
Address: 4727 E Bell Road #31, Phoenix, AZ 85032
Website: dankysbbq.com
Besides serving great meats, this North phoenix BBQ joint has an impressive rate of consistency across its meats. While owner Pat Frederick is a Detroit native, which is not popular for its BBQ, you'll love his offerings at this spot. It's situated at the intersection of Bell Road and 47th Street.
Pat smokes his meat using mesquite wood for up to 24 hours. With some of his favorite meats being brisket, ribs, and pulled meat.
But the thing that makes this joint stand out from the rest is the side dishes! So, make sure you don't miss the belly pit beans. This includes beans that are dipped in dense BBQ sauce with shreds of belly and spice-cabinet tingle. Their beans were even ranked among the best beans in the Valley.
This restaurant also offers some untraditional BBQ options, including deep-fried chicken drumsticks and Andouille sausage. Although the sausages are not made in-house, they are some of the best BBQ in Phoenix area.
You'll also love the restaurant's interior, which features wooden tables covered with checkered tablecloths. Even better, you can see the smokers and kitchen from the dining space. Therefore, the atmosphere is covered by the smell of flavorful smoked meats.
Don't hesitate to try out this restaurant. You can also call them for take-out!
Naked Q BBQ
Address: 2340 W Bell Road, Phoenix, AZ 85023
Website: nakedq.com
In the BBQ world, 'Naked' is a slang that refers to BBQ without sauce. That is how meats are served at this BBQ joint owned by Oren Hartman- sauceless and minimally spiced! The meats are also served in a restrained way to let the smoked meats seep out their flavors.
Hartman adopts the Central Texas Style to smoke his briskets. This means that they're smoked with mild woods, covered with Spartan rubs, and served with no sauces. Also, during the terminal cooking phase, they're wrapped to hold in moisture. Thus resulting in juicy and tender meats. Sliced brisket is served on a butcher paper and it's among the best brisket in the Valley.
To smoke other meats, Hartman uses a more complex technique. You can note this in the joint's pulled meat. The meat is cooked using North Carolinian style and coated with a rub made up of 12 sauces. The best way to enjoy the pulled meat is perhaps to use the joint's vinegar-based BBQ sauce.
Naked BBQ is doing well and it even has a 2nd location in Scottsdale known as NakedQ. Even though their meats come unadorned ('naked'), Hartman offers a full complement of BBQ sauces to match his smoked meats.
JL Smokehouse
Address: 2010 E Broadway Road, Phoenix, AZ 85040
Website: jlsmokehouse.com
Since its establishment in 2015, JL Smokehouse has developed to become one of the best BBQ spots in Phoenix. What was once a sneaky secret in south Phoenix, has 2 locations across Phoenix. This is a clear indication of the authentic excellent smoked meats served by owner James Lewis.
The original location is located in a strip mall in south Phoenix. While the 2nd location is in Sunnyslope. This spot is known to have some of the best Southern BBQ in Arizona. According to James Lewis, the JL initials on the restaurant name mean 'just Love'. Something that can be experienced on his offerings like tender beef brisket, baby back ribs, and pulled meat.
At the back of the south Phoenix joint, there is a thinly grassed yard where Lewis stores cooked meats in the Igloo cooler. There is also some chopped wood on the yard.
Lewis smokes his meats in custom reverse offset smokers made in Arkansas using unconventional methods. He smokes them fast and high and then mellows the fire for a low and slow finish. This is done using a combination of mesquite and milder oak.
Check this joint out for fast, quality, and the best BBQ in Phoenix Arizona served in a friendly atmosphere. Sometimes, they even process your order in less than 4 minutes!
Bobby Q BBQ Restaurant
Address: 8501 N 27th Avenue, Phoenix, AZ 85051
Website: bobbyqbbq.com
Designed for more sophisticated BBQ lovers, Bobby Q offers the perfect meal for BBQ aficionados in the tony Biltmore neighborhood. If you don't live in this neighborhood, you'll be glad to know that this restaurant has multiple locations. So, with 3 locations Valley, wide, you can enjoy their BBQ across the town.
This restaurant was opened by Bob Sikora in 2005. The original location occupies the space that was previously occupied by Bobby McGee's. It's located near Butler Drive and 27ths Avenue.
This building has a rustic setting and features renovated woodwork with antique gas lamps, 10 ft. vintage doors and exposed brick walls. Moreover, the upscale setting includes a weathered replica of antique.
They smoke various meats, including pulled meat and baby back ribs, using a combination of mesquite and almond woods. Their food is amazing and the extensive menu serves up generous portions. If you're looking for lighter fare, they've sandwiches, burgers, and salads like quinoa and kale.
Pork on a Fork BBQ and Catering Deer Valley
Address: 1515 West Deer Valley Road, Phoenix, AZ 85027
Website: porkonafork.com
This BBQ joint started on the Farmer's Market at the Valley where Justin Erickson and Wes Hansen were selling fresh meat products. Those products were coming from a farm in Nebraska owned by Erickson's family. After some time, the joint moved into brick & mortar. Since then, this BBQ restaurant has remained the local favorite.
Currently, the joint has 2 locations in Phoenix.
As you can tell from the name, meat products are this restaurant's strongest offerings. They serve items like smoky, pink ribs, and pulled meat. Meat is smoked over mesquite and pecan wood for about 15 hours. You can either get it in a sandwich or hand-pulled. Alternatively, you can go for their smoked baby back ribs covered with the joint's signature mop sauce.
In addition, this joint serves other items like brisket and chopped chicken. Just be ready to wait in the cafeteria-style line when you get to this spot. But that should not stop you from tasting the best Nebraska-style BBQ in town!
Trapp Haus BBQ
Address: 511 E Roosevelt Street, Phoenix, AZ 85004
Website: trapphausbbq.com
Owned by pitmaster Phil Johnson, this fast-casual BBQ joint at Roosevelt & 5th Streets was opened in 2018. Before opening this restaurant, Phil Johnson was participating in various awards.
He won many awards from Kansas City BBQ Society and took 2nd place at American Royal World BBQ Series in 2016. Also, in 2015, Phil participated in the 'Chopped Grill Masters' by the Food Network.
The establishment serves up BBQ platters, bowls, sandwiches, and meat by the pound. They also have a variety of side dishes and appetizers. While most top metro Phoenix BBQ joints use sauces and spices with restraint, this restaurant mixes flavors as highly as possible.
Meats are smoked using various woods, including applewood and hickory. You can also enjoy liquor, drinks, not to forget the Kentucky bourbon infused with hickory and applewood smoke.
Trapp Haus aims to provide an affordable meal to busy customers or families in downtown Phoenix. Get to this restaurant and order to go or dine in at the indoor dining space or outdoor seating. The restaurant is open Thursday through Sunday from 11 am to 8 pm!
Honey Bears BBQ
Established in 1986, Honey Bear's is a delectable joint that serves up intoxicating aromas and melting flavors to BBQ lovers in Central Phoenix. The joint has a simple menu that has been keeping up locals coming back for more since its opening.
This restaurant was opened by Gary Clark and Mark Smith. They opened the original location on East Van Buren St and opened a 2nd location on North Central Ave in 1998. This joint also offers catering services and they have offered these services to several events in the area.
They focus on serving up slow-smoked Tennessee-style BBQ, including perfectly smoked items like pulled meat. You'll also love their dessert options since they're also on point. The most popular meal at this laidback restaurant is pulled meat, served with mac n' cheese and Cowbro' beans.
This joint has great prices and serves food by the pound or in individual servings. For this reason, this restaurant is a great spot for families or diners that want to have a bit of everything.
Texas BBQ House
Address: 5037 S 24th Street, Phoenix, AZ 85040
Website: texasbbqhouseaz.com
Are you a fan of Texas-style BBQ! If you live in Phoenix, there is no need of committing a long trip to Texas State for some authentic Texas-style BBQ! Instead, just head out to the Texas BBQ House in South Phoenix. Once you taste their flavorful ribs and tender brisket, you'll never look for another Texas-style BBQ joint in town ever again! This award-winning BBQ joint is located on a dust corner on 24ths Street.
Since the joint specializes in Texas-style, they offer portion sizes. This also means that meats are dry-rubbed, slow, and low smoked over oak and then served on a butcher paper. They also provide a BBQ sauce at every table. Although their brisket is lightly seasoned, it is flavorful and tender.
Similar to other great BBQ joints, get to the joint early if you don't miss your favorite dishes! They serve up affordable meals by the rack or half-pound. Thus ensuring that diners do not leave hungry when they come to this spot.
Hek Yeah BBQ
Every BBQ lover who has never tasted home-style BBQ is really missing out. If you would like to enjoy some home-style BBQ in Phoenix, just head to Hek Yeah BBQ joint. I know, their menu may not always available and their operation hours are a bit awkward. But trust me, if you care about BBQ, make sure you check this joint out!
The restaurant was first opened in 2013 by Heather & Kenny Lorenz. This was after Kenny Lorenz lost his job and decided to explore his meat smoking skills. He started by cooking BBQ sandwiches and selling them to local mechanics. One year later, they moved to the North Phoenix location. They've been situated at that location ever since, serving delicious home-style BBQ to the Valley's meat lovers.
This joint slow smoke their meats in a custom smoker using local pecan wood. They also offer side dishes, rubs, and BBQ sauces, all of which are made in-house. For a unique barbecue experience, you can try out their perfectly seasoned and tender pulled meat. You can also go with chicken accented with their flavorful rib or brisket.
Hek Yeah also offers pick-up and delivery. All you need is to make your order online!
The Barbecue Company Grill and Catering
Address: 4636 S 36th Street, Phoenix, AZ 85040
Website: thebbqco.com
The Barbecue Co has been offering bold barbecue flavors to Phoenicians for about 3 decades. Within that period, this BBQ restaurant has received national recognition for wining multiple BBQ awards. In fact, the BBQ co. has won more than 100 awards since its opening in 1987.
Some of the most notable awards include the 'Best of West Nugget Ribs Cook-off in Nevada and the World Expo in Lowa. It was also featured on the 1st Food Network 'Challenge' program. Not to forget the 'Meat Loaf paradise show' and the 'Ribs Paradise Show' on the Travel Channel.
The joint focus on Southwestern-style BBQ, that isn't always traditional. Yet, you'll find many BBQ classics as well. This includes items like brisket, wings, and ribs as well as original creations like grilled meatloaf.
Another good thing about this restaurant is that they use the freshest, high-quality meats, vegetables, and poultry on-site. This ensures that they always serve a fresh, hot, and delicious meal.
The BBWQ Company also offers some of the best catering services in the city and outlying area. So, hire their catering services for their award-winning BBQ and several other regional and international cuisines.
Frasher's Smokehouse
Address: 3222 E Indian School Road, Phoenix, AZ 85018
Website: frasherssmokehouse.com
Since its opening in 1999, Frasher's Smokehouse has been offering barbecue for the masses in Phoenix. This BBQ joint is a meeting point of traditional barbecue styles and methods with a Southwestern twist. Although George Flasher has owned this restaurant for 19 years, he has been preparing BBQ for about 26 years.
This authentic smokehouse uses pecan wood from Arizona to smoke its meats. Some of their smoked meats include; Carolina-style pulled meat, Kansas City burnt ends, and Memphis-style ribs. Meats are smoked each day for dinner and lunch menu. Then they put more on the smokers to cook overnight. To complement their delicious smoky meats, they've house-made BBQ sauces.
There is also a kid's menu that features various options. This includes items like grilled cheese, cheeseburgers, and chicken fingers. Each order comes with a drink and a side at a very affordable price.
Frasher's Smokehouse has also gathered national recognition for its smoky meats. For instance, it was featured on the Food Network's show known as 'East, Sleep BBQ'. You can catch that episode online.
With the variety of smoky, tender meats on the menu, this joint appeals to any BBQ lover. And you'll love it too, regardless of where you come from!
Dickey's Barbecue Pit
Address: 2815 W Peoria Avenue Ste 101, Phoenix, AZ 85029
Website: dickeys.com
Travis Dickey founded the 1st Dickey's BBQ joint in Dallas, Texas in 1941. Since then, the joint has developed to become one of the largest BBQ concepts in the World. Today, it has more than 500 locations in the USA, including multiple locations in Phoenix. Moreover, this fast-casual BBQ concept has expanded globally, with two international locations.
At Dickey's, they smoke meats on-site in a burning pit using hickory wood. In addition to serving up various slow-smoked meats, they offer wholesome side dishes.
Over the years, the restaurant has served authentic BBQ to millions of diners. It has also won many awards like the 'Top 100 Movers & Shakers' by the Fast Casual in 2016. In 2018, the Entrepreneur listed it among the top 500 Franchise. Not to forget that it has appeared on various publications such as Forbes Magazine, Nation's Restaurant News, QSR Magazine, and more.
This BBQ joint can also bring your meal to your home through delivery, carryout, and curbside pickup. Just check them out at any one of their 4 locations in Phoenix!
Hap's Pit Barbecue
Address: 4801 Washington Street #3, Phoenix, AZ 85034
Website: hapsbbq.com
Hap's Pit BBQ is a small strip-mall in east Phoenix at 48th St. and Washington. The joint features a fast-food atmosphere and it has been operating in Phoenix since the early 1990s. This family-owned restaurant started with a modified smoker made from a 1950s truck chassis.
The business then grew to a food trailer and they added a delivery van in 1994. In 2001, they eventually moved to the current location near Washington and 48th Streets.
Some of their favorite offerings include their glorious ribs. You'll also love their sweet BBQ sauce, homemade cobblers, and bacon-flavored beans. This casual joint is also ideal for families, thanks to its kid-friendly menu & atmosphere.
Besides offering tasty smoky meats and dishes, they cater to all types of venues and events around Phoenix. They've got a full menu for catering events and they can supply everything you need to feed your guests. So, whether you've got a wedding, meeting, or party in Phoenix, reach out to them!
Stacy's Off Da Hook BBQ and Soul Food
Address: 1804 W Glendale Avenue, Phoenix, AZ 85021
Website: stacysaz.site
Owned by Stacy Phillips, Stacy's Off Da Hook is a casual American restaurant that serves BBQ, chitterlings, and fried chicken. It will only take you one look at their menu to see your favorite delicious food. This restaurant has, indeed, mastered the grill and the fryer!
The fried chicken is prepared using a secret recipe that was created by Stacy himself. Stacy Phillips is usually at the joint, and you'll probably find him there when you get to this restaurant. You can pair your smoked meat with side dishes like salty green beans, corn muffins, mac n' cheese, and collard greens. They also have breakfast pairings, such as chicken & waffles, and catfish & grits.
Similar to the menu, the dining space is also enjoyable. Just get in, sit down and enjoy the classic R n' B and order your soul food plate. The dining space is also decorated with photos of icons like the Obama family, Rosa Parks and Wilson Pickett.
In 2008, Stacy's won the 'Best BBQ' award from New Times. It's also considered to be the local favorite for seafood, soul food, and Southern-style barbecue. They offer delivery as well as catering services for events and groups!
Hog Wild Pit BBQ
Address: 4046 East Thomas Road, Phoenix, AZ 85018
Website: hogwildpitbbq.com
Hog Wild Pit BBQ is a fast-casual BBQ joint that serves tasty, award-winning BBQ. It's considered to offer some of the best BBQ in Phoenix metro. Some of their offerings include; tender pulled meat, juicy beef brisket, and more.
This joint has various locations in other areas including Lowa, Kansas, and Nebraska. Their location in Phoenix is located near Thomas and 40th Street at 4046 East Thomas Road. It was opened in August 2016. Although this location is their 16th joint countrywide, it was their first in Arizona.
Space can accommodate about 90 people and its general manager is Dean Havas. Owners of this joint are also planning to open other locations in the Phoenix metro area in the future. But for now, head to this counter-serve BBQ joint and enjoy their smoked meats in a low-key atmosphere.
This joint is not just a restaurant, as they provide catering services as well. So, whenever you've got a special event, they'll cater to you! Whether it's a tailgate party, wedding, office event, you name it! This BBQ restaurant has got you covered! They have a catering menu that will satisfy your entire group. Not to mention, they've every equipment needed to cater to your event, including utensils, plates, and napkins.
You cannot travel through Phoenix and not come across a restaurant serving up some great BBQ. Swing through any BBQ restaurant on this list and order your favorite smoked meat! Once you take one bite at any of these spots, you'll feel as if you've tasted the best BBQ in Phoenix AZ.