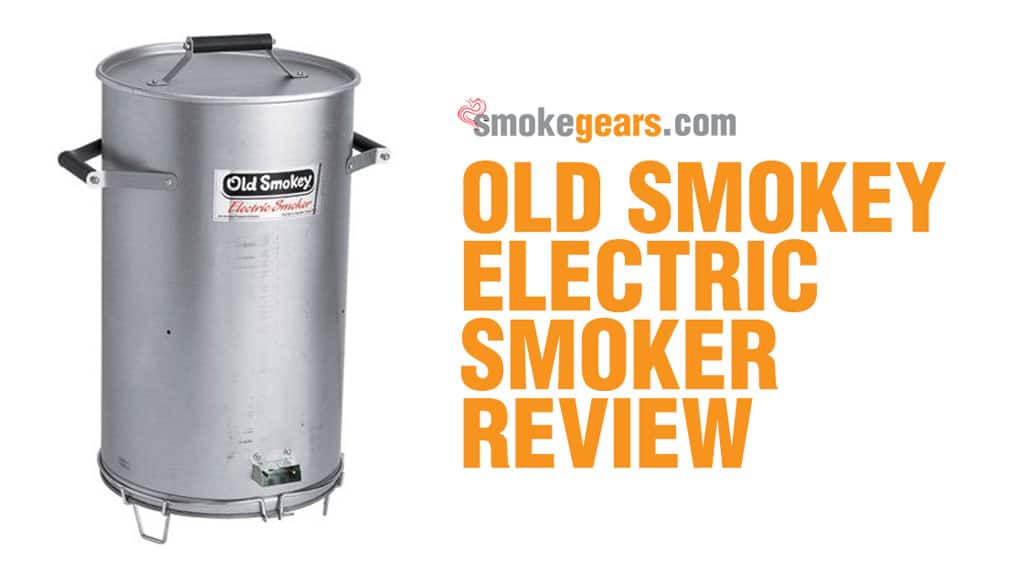 Old Smokey Electric Smoker Review
Old Smokey electric smoker basically features a tin-can shape with all basics of an electric smoker integrated. On our first encounter with this smoker, we were particularly amazed at the level of creativity employed in designing it.
We went ahead to experiment with this smoker and it became apparent that it is great for slow cooking and roasting. Using the smoker is neither complex nor a difficult task. 
More...
You simply need to load the wood chips on the heated plate to create a dense smoke. In this model, food is loaded above the drip pan and not a water smoker.
For additional i​​nformation about this smoker, we have details on different areas you may be interested in. Before you get to the features of this product, read on to find out why this product is worth your purchase.
Why Old Smokey Smoker is Worth Purchasing
If there is a brand that has been making smokers for quite a long time and it still hopes to do it forever, it is old Smokey. Since 1930s, the brand had realized the needs of consumers and started availing conventional appliances. Through gradual improvements, we now have this great electric smoker from Old Smokey.
Old Smoky electric smoker is versatile equipment with the ability to prepare 30 different types of food. It is good for smoking, grilling, cooking, roasting among other ways. This multipurpose nature of the equipment is an advantage because you will never be stranded once you buy this smoker.
In addition to versatility, Old Smokey offers most of its product at a cost-effective price that is convenient for most individuals. In return, what you get is a smoker that you don't have to doubt. Its outward construction and the manner in which the smoker functions balance beginners' needs and the need of seasoned users.
Therefore, whichever your level of experience, you will always feel good Old Smokey smoker.
Features and Benefits
This uniquely designed electric smoker from Old Smokey comes as a great relief to all your past hassles. If you are planning to purchase an electric smoker, we r​​ecommend Old Smokey for these reasons:
Lastly, the vertical, round and flat shape of the smoker makes it attractive, easy-to-to use. There are no sharp ends hence accidents are minimized and safety maximized. These, together with other features are all meant to give you everlasting joy. Your task is to set aside a few coins and budget for this great smoker.
Potential Customers of the Old Smokey Smoker
How to Know That Old Smokey Works
The age of Old Smokey directly correlates to our interaction with the brand. This is one of the oldest brands specializing in kitchen appliances among the companies we know first. By simply looking at the product, it is difficult to guess that indeed it works well.
For instance, the handles are removable, a feature that you have to test practically. When we first heard of this model, we figured out how it was and later learnt that it was indeed bigger than we thought. Its features such as the thermostat, cooking grates and the dripping pan had absolutely no defects.
We had initially tended to underestimate the heating element until we felt its real impact. It is indeed powerful and outdoes many other smokers we had known in the past. 
Ever since we experimented with this smoker, customers have consistently reviewed it positively. Which is still a confirmation of what we had observed at first.
Pros and Cons of the Old Smokey Smoker
At this point, it becomes apparent that very few smokers can actually defeat our ultimate choice Old Smokey smoker. Perhaps, it is because of the experience that this brand has in producing the best kitchen appliance. Certainly it takes the lead; others follow especially those smokers that sell at a relatively similar price as this.
Notable features of this equipment include easy-to-use nature, safety, versatility, capacity, quality of the design and many others. These are what you are obviously looking for. Now that you have found your ultimate choice, why not grab it today. Then the days to follow will be of no hassle at all.