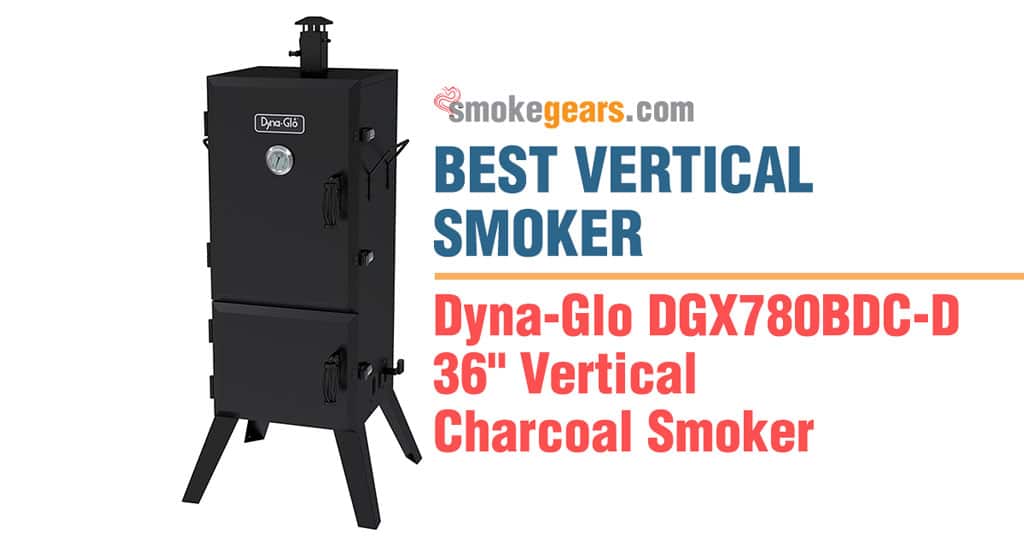 Dyna-Glo DGX780BDC-D 36″ Vertical BBQ Smoker Review
Dyna Glo Vertical Charcoal Smoker is a common, yet excellent type of smoker for both grilling and smoking. It differs substantially from other types of smokers, especially in terms of design. Nevertheless, best vertical smoker is preferred all over by a multitude of users.
​Dyna-Glo DGX780BDC-D 36" vertical c​​harcoal smoker is specially designed for multiple categories of users. It is worth of giving forth results. For the time it has existed on the market, it has gradually won the majority confidence. Currently it is owned and used by many barbecue lovers and more are yet to purchase and use it.
More...
If your decision is a vertical smoker, it is worth considering the exact model to go for. For us, our ultimate choice is the vertical smoker called Dyna-Glo DGX780BDC-D 36" Vertical Charcoal Smoker. We trust in this model so much, which is why we would also like to recommend it for your use.
Two-door smoker is a type of vertical cabinet smoker with two doors on one side. Loading is done on the front side rather than on the top side. This smoker lacks the top lid. For this reason, you cannot grill using two-door smoker.
The top door is for the cooking and has multiple layers of racks whereas the bottom section is for the fuel. This smoker comes fully equipped with charcoal, box or wood tray. This unit is good for temperature maintenance. However, with repeated access, the smoker easily looses heat.
Why is the Best Vertical Smoker Worth Purchasing?
From our analysis of what matters to the consumers, we found price, personal needs and convenience as the major priorities. These are the aspects you will be looking at before paying for your smoker. They are therefore the ultimate determinants of whether to purchase the best smoker.
Looking at the price at which this smoker is sold, there's no doubt it is quite inexpensive. If you pay for less for something that gives forth most, you are among the luckiest.
Regardless of what people may say about this grilling appliance, we are confident in its service. Your only investment apart from the little money you pay is your time. This is the case in almost all charcoal smokers, so it is not a major determinant.
There are four cooking grates in this Dyna Glo Vertical Charcoal Smoker, which comprises of 784 square inch cooking space. This surface area is more than enough for usual users. Once you pay for it, be sure all your needs are covered.
Specifications of the Dyna-Glo DGX780BDC-D 36" Charcoal Smoker
Features and Benefits of the Dyna Glo Charcoal Smoker
This Dyna-Glo DGX780BDC-D 36" best vertical smoker comes with a range of features right from the design to its complete functioning. The maximum cooking area of 784 square inch ensures preparation of enough food for whichever consumers. 
The general design of the smoker is indisputably awesome. Its steel construction ensures maximum and long-term service without breakdown issues. Upon purchasing this grilling appliance, do not be worried of any problems of failure to function.
User-friendliness is also optimized in this smoker, characterized by two side doors for loading. Sturdy and stable construction further enables your smoker to withstand possible accidents that may damage your smoker.
The best vertical smoker is also compatible with a custom-fit Dyna-Glo premium cover for maximum safety and protection. Although this cover is sold separately, it is readily available and is sold at a convenient price.
The top door is used for the cooking and has multiple layers of racks for holding food. On the other hand, the bottom section is for the fuel. Additionally, buying the smoker from trusted suppliers gives you access to free charcoal, box or wood tray.
Prospective Consumers of the Best Vertical Smokers
What Proves that this Dyna-Glo DGX780BDC-D 36" Smoker is Efficient?
Vertical smokers are available in a range of designs comprising different features. This Dyna-Glo DGX780BDC-D 36" Vertical Charcoal Smoker is the best rated and most positively reviewed. Of all the models of vertical charcoal smokers, this is on the top of the list. This implies that any advantage to with vertical smoker is to be found in this particular model.
We affirmed the authenticity of​​ this smoker through a simple exercise that involved conversation with the new consumers. Most of them expressed satisfaction and relief from their previous models. No concern among the consumers had been left unsettled.
Generally, consumer satisfaction revolved around features of convenience such as ease of use, heat loss and specifications like dimensions and weight. We received fewer questions regarding the safety and replacement of damaged parts. 
Although the smoker does not easily get damaged unless if carelessly handled, we nonetheless advised consumers to contact manufacturer in case any problem occurred.
Pros and Cons of this Vertical Charcoal Smoker
Wrapping up:
Having Dyna​​-Glo DGX780BDC-D 36" Vertical Charcoal Smoker is the ultimate gateway to successful smoking and grilling. As seen from the above Dyna Glo Vertical Charcoal Smoker reviews, it is evident that is an affordable and efficient device.
Several aspects of convenience are systematically integrated in this simple smoker making it usable by multiple users. Despite a range of positive elements, you have to take utmost caution while using the smoker to achieve the ultimate results.
In this regard, proper ventilation should be ensured to remain safe throughout the smoking process. Once you get your own, you can straightaway start to smoke or grill.