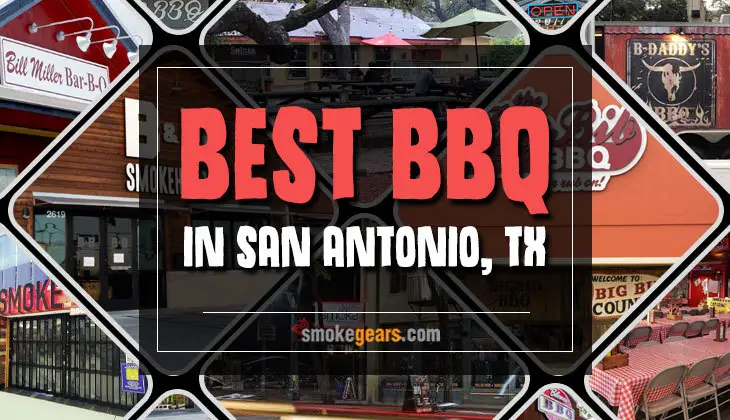 15 Best BBQ Restaurants in San Antonio, TX
Texas cities are well known for their delicious barbecue and smoked meats. And San Antonio is not an exception! Located in south-central Texas, San Antonio has some of the best BBQ joints in the state. While Austin, Houston, and Dallas get more attention in Texas for their barbecue, the reputation of San Antonio is rising rapidly.
So, what are some of the best BBQ joints that are making San Antonio climb higher in the ranks when it comes to barbecue! Bear with me as I take you through the 15 best BBQ in San Antonio TX right now!
More...
15 Best BBQ in San Antonio TX
Smoke Shack BBQ
Address: 3714 Broadway Street, San Antonio, TX 78209
Website: smokeshacksa.com
If you're looking for some great Texas BBQ in the middle of San Antonio, Smoke Shack is the place to go to! The joint is located in Alamo Heights, just across the street from Brackenridge Park and Witte Museum.
Although the location is new, Smoke Shack BBQ has existed for a while. It has a food trailer located at Nacogdoches and Loop 410 that has been around for more than 4 years now.
So, what inspired the owners to move to this brisk-&-mortar establishment? The idea of moving to a bigger location came to them after the 2013's BBQ victory at the Madness tourney competition!
One thing you'll love about their BBQ is that it's utterly tender and it's done to perfection. Not to forget that the joint has many options. So, whether you're in the mood for smoked turkey, ribs, chicken, sausage, or brisket, you're in for a treat! Their sides which include fried okra, potato salad, and mac n' cheese, are also amazing!
When the weather is favorable, you can even grab your smoked meats and go for a picnic at the park! And even if you're with a friend, their portions are generous enough for 2 to share.
Rudy's Country Store & BBQ
Address: 10623 Westover Hills Boulevard, San Antonio, TX 78251
Websites: leonspringsbbq.com
rudysbbq.com
The first Rudy's BBQ is located in Leon Springs, Rudy's BBQ was first established by 1989 by Rudolph Aue. Today, the joint has expanded to more than 40 locations including this Rudy's Country Store and BBQ in San Antonio.
This mid-scale joint specializes in Southern-style sides and Texas-style BBQ. While its pits are only fired using oak wood. The smoked meats are then rubbed with rubs and spices, creating a unique texture and flavor. Their menu offers; brisket, Texas smoked sausage, St. Louis ribs, chicken, and turkey. And some amazing fixin's like creamed corn, beans, and potato salad.
Initially perceived as a general store, Ruby's also sells beer and soda cases, packed sides, and bottled BBQ sauce. 
If you go to this joint at popular dinner and lunchtimes, expect to find a waiting line. But, don't worry as you'll get free samples as you wait and the line moves fast. You can also make your order online and avoid lining up!
2M Smokehouse & Catering
Address: 2731 S WW WHITE Road, San Antonio, TX 78222
Website: 2msmokehouse.com
Why travel out of San Antonio to look for some amazing BBQ when you can just get it in 2M Smokehouse. This restaurant is located on the east side, about 15 minutes from Downtown.
Started by 2 high school friends, Joe Melig and Esaul Ramos, in 2016, this joint Texas bbq that is nearly unmatched in the entire town. When you go to the restaurant, I suggest that you try their dry-rubbed brisket, and you'll understand why this place is the local's favorite!
This brisket is smoked for about 18 hours and rubbed with local ingredients and flavors. Thus resulting in an authentic BBQ menu you might not find anywhere else. However, you can also try other dishes like homemade sausage, sandwiches, and taco. Their sides include; Chicharoni Macaroni, Mexican street corn, and Borracho Beans.
The line usually starts from around 10 to 10.30 am. So, if you go to the restaurant be ready to wait in line.
Dignowity Meats
Address: 1701 E Houston Street, San Antonio, TX 78202
Website: dignowitymeats.com
Craving for some casual, barbecue-heavy sandwiches? Then go to Dignowity Meats which is located on the Eastside of San Antonio near Dignowity Hills. Stroll to their small ordering window, take a sandwich, and enjoy it at the outdoor tables! Although the joint's name may be a bit difficult to pronounce, once you taste their BBQ, you'll never forget.
Rather than serving traditional Texan barbecue, the joint focus on Midwest and East Coast delis BBQ. You heard that right; most of their smoked meats are done Kansas City style! Their menu offers pulled meat, KC brisket, St. Louis ribs, buttermilk fried chicken, and specialties like the Dignowity Pie.
The visionaries and owners of this joint, Shane Reed and Andrew Samia grew up in the Midwest and Northeast. They aimed to bring deli's authenticity and flavors to San Antonio and they've succeeded!
B-Daddy's BBQ
Address: 14436 Bandera Road, Helotes, TX 78023
Website: bdaddysbbq.com
Popular for its tasty meats, B-Daddy's BBQ is a family-friendly restaurant owned by B.R Anderson. It's located on Bandera Road in the suburb of Helotes, near the Hill Country.
The joint has been listed among the best BBQ joints by various publications for its exceptional ribs, sausage, brisket, and sides. While the outdoor seating and beautiful weather make it an ideal summer destination.
There are various parking options near the joint, helping you to save both money and time. The joint offers several different types of wood-smoked meats, all of which come at affordable prices!
Also, B-Daddy's has 1 food truck that serves its delicious meats across San Antonio. The truck offers catering service for companies, families as well as special events.
Be on the lookout for the food truck, go to the restaurant, or make your order online! And you'll get to taste great BBQ from B-Daddy's in San Antonio!
The Big Bib BBQ
Address: 104 Lanark Drive, San Antonio, TX 78218
Website: thebigbib.com
Initially started as a catering business, The Big Bib has extended its barbecue services to a BBQ restaurant over the last 10 years. It's owned by Stanley Shropshire, who founded it in 2000.
The restaurant uses authentic Texas-style techniques to slow cook their smoked meats for about 14 hours daily. And they only use aged oak and mesquite woods to smoke their meats!
Sometimes, you may find a line at this restaurant. But it moves fast and there's generous outdoor and indoor seating.
Big Bib serves meat by the pound which includes flavorful and tender ribs and brisket. However, you can also order smaller plates or family platters. Also, you can enjoy local favorites like turkey legs, turkey breasts, pulled meat, chicken wings, jalapeno sausage, and rib tips.
The restaurant still offers catering services that made it popular in the first place. And they've got a well-prepared, friendly and efficient catering team. So, if you any upcoming event, whether it's a wedding, birthday party, holiday gathering, etc., Big Bib is there for you!
Two Bros Barbecue Market
Address: 12656 West Avenue, San Antonio, TX 78216
Website: twobrosbbqmarket.com
When it comes to ambiance, there is no better BBQ joint in San Antonio than Two Bros BBQ. As it has outdoor oak-shaded tables and large dining rooms inside. In addition to being in a friendly atmosphere, the joint serves top-notch food.
Owned by 2 real-life brothers, the restaurant has received a lot of attention from the press since it was first launched in 2008. Yet, this has not distracted them from serving consistently tasty food.
One of the brothers, Jason Dady, is a chef and a creative pioneer of San Antonio's culinary culture. He has gathered quite a large following due to his commitment to excellence, professionalism, and quality! Recently, the 2 Dady brothers started a new barbecue venture known as Alamo BBQ Co.
The food that has made this joint popular include; solid sides, professionally smoked meats, and 3 distinct sauces. Make sure you try their House-made banana pudding and baby ribs.
The joint is opened every day. Therefore, you can enjoy their meat, sausage, chicken thighs, chopped beef, or brisket any day you want! And did I mention that Anthony Bourdain went to this BBQ restaurant when he was in town? That's how this popular this BBQ joint is!
Black Board BBQ
Address: 1123 Sisterdale Rd, Boerne, TX 78006
Occupying Sisterdale Smokehouse's for space, Black Board BBQ is run and owned by chefs Joanne Irizarry and Jake Gandolfo. Jake and Joanne bought this place in July 2017. The building looks and feels like an old farmhouse and it includes a music stage, water storage device, and outhouse bathrooms.
You go all over San Antonio and never come across another BBQ joint that has the same level of BBQ perfection as this restaurant. Black Board BBQ is popular for its elevated craft BBQ. They smoke their meats using oak wood obtained from live trees cut on the property. 
The best dish served at this restaurant is their succulent and tasty Texas dry-rubbed Wagyu brisket. Their menu also includes unique items as well as perfectly crafted desserts. You can also try Joanne Irizarry's milk and cookies.
Most roads in San Antonio will lead you to BBQ joints of almost every type and quality. But only Sisterdale Road will lead you to Black Board BBQ!
Blanco BBQ
Address: 13259 Blanco Road, San Antonio, TX 78216
Website: blancobbq.com
There are 2 things that San Antonio needs more of Tex-Mex and Barbecue. This is why Blanco BBQ has turned into a popular destination for neighboring workers and families since its establishment in 2013. Located next to Hardberger Park, the massive restaurant can serve all the BBQ enthusiasts flocking at the joint.
The parking lot at the joint is easy to navigate. However, you might not find a parking spot, especially on weekends.
Once you experience their wonderful atmosphere and delicious food, you'll keep you coming back for more. There are a kids' playground and a nice backyard with some picnic tables. And you can even enjoy your food at the outdoor seating, which is pet-friendly.
Blanco offers real Texas Barbecue, including pulled meat, chuckwagon beef stew & jalapeno cornbread, ribs, smoked brisket, and sausage. Additionally, you can order their chicken tenders, po'boys, and fried catfish.
The joint is open all day. If you don't want to wait until the afternoon to enjoy their meat platters, the restaurant has got you covered. Since there is an extensive taco menu for breakfast. Similarly, if you are in a hurry, there is a drive-thru where you can pass by and take your order!
Smoke BBQ Restaurant
Address: 1170 E-Commerce Street, San Antonio, TX 78205
Website: smokedowntown.com
Stone Oak is one of the most densely populated areas in the city. Since all these people have to eat, Smoke BBQ is an excellent addition to the area's dining scene.
So, If all you're craving for is some quality authentic Texas barbecue in Stone Oak, go to Smoke BBQ! They have some of the best ribs, and brisket in San Antonio. Moreover, their solid menu focuses on the classics and provides some unexpected options as well.
Despite having relocated to the downtown area recently, Smoke BBQ is among the best BBQ joints in SA. And its relocation has made most downtown visitors and residents very happy. Their Texas-style BBQ is both diverse and delicious.
The joint's also has an extensive menu that serves mouthwatering meals such as beer can chicken, bacon, sauce, traditional brisket, and Dr. Pepper among others. In addition to the more familiar BBQ menu, they serve sandwiches, burgers, entrees, and sides like creamed corn or mashed potatoes.
Smoke BBQ restaurant is unique in its way. For instance, it serves braised tongue and crispy pig ears. Something you may not find in other BBQ joints in San Antonio!
Jones Sausage & BBQ House
Address: 2827 Martin Luther King Drive #3139, San Antonio, TX 78220
Just by looking at the name, you can easily tell the specialty to expect at this restaurant-sausage! However, this doesn't mean that the joint doesn't pay attention to its other half. Instead, this restaurant offers some of the best-smoked brisket, chicken, and ribs. And southern-inspired foods like the traditional Texas BBQ.
This family-run Eastside restaurant was started by Floyd Jones and it's currently owned by her daughter, Liz Jones. Located on Martin Luther King Dr., the joint has become a popular destination for BBQ lovers and San Antonio residents. The cuisines served at the joint include; chicken, burgers, BBQ, ribs, and wings.
Car owners will also be glad to know that there's parking at the joint.
If you decide to try out this restaurant, make sure you carry local cash as it's the only mode of payment they accept. Another thing you might want to know about this joint is that you can't make your order online.
But they have some of the best BBQ in town! Visit the place and enjoy sausage and classic barbecue bits in a friendly atmosphere!
South BBQ and Kitchen
Address: 2011 Mission Road, San Antonio
Website: southbbqkitchen.com
South BBQ and Kitchen is one of the newest BBQ restaurants in San Antonio. It was established by Andrew Samia in 2018 and it's located off Mission Rd. Don't forget that Andrew Samia is one of the founders of Dignowity Meats, another great BBQ joints I had discussed earlier.
Before Andrew Samia opened this joint, it was just an old brick BBQ pit in a building along Mission Road.
The restaurant is open for dinner and lunch, with the family pack being their most popular item. The family pack includes ribs, Spanish rice, sliced brisket, and barracho beans. With all of their sides, sauces, pickles, and meats being prepared in-house every day!
While the sign of the restaurant is obscured by trees, it's hard to miss this place. Just drive down Mission Road and stop past the Mission Concepcion. Also, the joint does not have outdoor seating, although this is something the owner may look into in the future.
For now, go to South BBQ and Kitchen to check it out and try their menu. And you'll become a regular to this joint!
B&B Smokehouse
Address: 2619 Pleasanton Road, San Antonio, TX 78221
Website: bbsmokehouse.com
For more than 35 years now, B and B Smokehouse has been serving smoky cuisine to San Antonio residents and guests alike. The current owner, Bruce Finley, acquired the building from his father, Harold Finley, in 1984. Harold had been operating a burger business known as Hal's Drive-In at the same place since 1958.
The restaurant is open for dinner and lunch, with the most popular on their menu being the Ranch Hand BBQ Plate. This plate comes with an option of BBQ chicken, sausage, smoked turkey, or 2 meats-brisket. And an option of French fries, pinto beans, Spanish rice, potato salad, creamed corn, green peas, or 2 sides of coleslaw. 
When Bruce started the restaurant, it had 70 seats and occupied an area of about 1700 square feet. Today, the joint has expanded and fills up quickly.
In general, B and B Smokehouse is a great BBQ choice. Check the place out and enjoy their wonderful offerings!
Bill Miller BBQ
Address: 410 W Loop 1604 N, San Antonio, TX 78251
Website: billmillerbbq.com
With more than 50 locations within San Antonio alone, there's no way Bill Miller BBQ could not make it on this list. The chain was founded by Lla Faye and Bill Miller in 1958. Since then the joint has expanded and it's currently available in more than 70 locations spread across San Antonio, Austin, and Corpus Christi.
The restaurant offers various morning to night dining options, including a dessert menu and several breakfast taco options. But they focus on BBQ accompanied by baked goods and side dishes.
If you've been at more than one Bill Miller BBQ restaurant, you might have realized that their meals taste the same. How are they able to accomplish the same? All meals served at the 70+ BBQ joints are prepared in the facility located in downtown San Antonio. The foods are then transported to each location every day!
When Bill Miller was just starting, his mission was to provide better services and meals that most food service businesses. And 62 years later, these restaurants have been able to do that! The fact that Bill Miller BBQ has been able to stay in the BBQ for all those years indicates that they serve top-notch and quality food!
With 50 locations across San Antonio, there's a good chance you'll come across Bill Miller BBQ! Just get in there and taste their delicious barbecue. And as I said, the food is the same across all locations!
Dee Willie's BBQ Smokehouse
Address: 12130 O'Connor Road, San Antonio, TX 78233
The 1st Dee Willie's BBQ restaurant was opened in 2017 by Freddy Cruz and Derrick Willis. 3 years later, the joint is among the best BBQ joints in San Antonio, all thanks to its amazing barbecue!
Before this restaurant was opened, Willis had a BBQ truck that he operated in the area. After partnering with Cruz, the duo decided to turn the unused Country Night bar's dancehall space into a brick-&-mortar operation. Thus resulting in this awesome joint where residents and visitors can get some BBQ.
Moreover, one can get a beer from the neighboring bar and catch some live entertainment on Thursday and Friday nights.
The original location is right off O'Connor Road, while there is another location along 6506 S Zarzamora Street. One popular item on their menu is the D and D sandwich. This sandwich includes a brisket and mac n' cheese topped with BBQ sauce, pickles and marinated onions.
Conclusion:
There's a unique BBQ style emerging in San Antonio that doesn't depend on the dominant impact of Central Texas-style. And you'll realize that when you try any of the BBQ joints in San Antonio listed in this article!