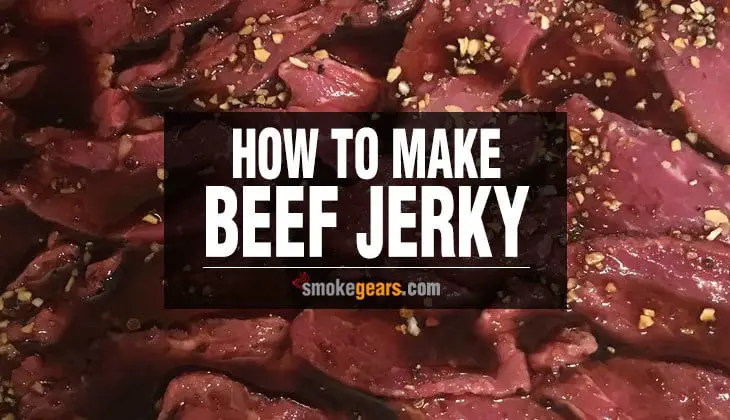 How To Make Beef Jerky – 3 Methods to Try Step By Step
Jerky is a finely chopped lean meat strip, which is dehydrated to prevent it from getting rotten so that it can be kept fresh for a longer time.
You'll find commercially produced jerky in shops all around, but many of them are filled with preservatives, added sugar, and even gluten! The lesser the presence of any of these ingredients, the higher the price becomes.
It is a lot safer for you and your family to eat homemade jerky. They are also cheaper to make rather than buying commercially produced ones.
Although jerky can be made out of almost any meat, here we will only be discussing how to make beef jerky.
More...
Ways of Making Homemade Beef Jerky
You may be wondering how to make jerky on your own in the home? It must be very tough. Actually no, the processes of making jerky are a lot easier than you might think.
You need to realize where the basic methodology of jerky derived from; it is almost a six hundred (although some say it's a thousand) years old technique invented by the Native Americans, later the European settlers adopted it.
So yes, it has to be a straightforward technique. By the way, the word jerky comes from the Native Incan's Quechuan word Ch'arki, which means Dried, Salted Meat.
Jerky is an excellent source of protein, and also the flavor can be diversified, depending on the spices and other ingredients being mixed with it.
You can prepare your homemade beef jerky any time in your oven, with your smoker, and even with the help of a dehydrator. All of these methods have a standard procedure of preparing the meat, marinating, and seasoning them.
This is why we are going to discuss them only once under the following "Meat Preparation," and "Meat Marinating and Seasoning" headings to save your valuable time. Let's continue.
Meat Preparation for Jerky
Here, I'm going to show you how to prepare the meat.
• Step 1
For making a jerky, choose a good chunk of three-pound weighed beef with less fat. Although jerky may be made out of almost any piece of flesh, fats make the jerky very chewy and also cause it to decay faster, which is why it is better to choose meats with less fat.
Flank Steak, Eye of Round, Bottom or Top Round, Sirloin Tip, etc. are some excellent choices for making jerky.
• Step 2
Now, with the help of a sharp paring knife, trim the visible fats or tendons off the selected meat as much as possible. Fats hamper the longevity of the freshness of jerky, so show some skill and trim them off in most exquisite detail.
In the process, try your best not to cut off any part of the steak as well. This jerky will now stay fresh for a more extended period.
• Step 3
Wrap the meat with cellophane in a tray and place it in a freeze. Keep it there for an hour or two. It will make the meat a bit harder and easier to slice it off into pieces. It will be tough to cut if it becomes too cold and hard, so be careful about that part.
• Step 4
Take the meat out of the freeze, place it on a chopping board and cut it into thin pieces with a sharp steak knife. You can cut it with or against the grain.
For having a chewier jerky, cut it with the grain and for a lesser chewy jerky, slice it against the grain. Each piece should be 1/8 to ¼ inch thick, and 4 to 6 inches long.
Note: By the way, if you want to avoid the cutting hassle, you can use a Jerky Slicer. Yes, Jerky Slicer! This thing exists! A jerky slicer is a useful tool for the regular jerky eaters; you can cut a lot of meat in a short time, the slices will also be even in shape, and they will also dry evenly.
Meat Marinating and Seasoning
Now, let's prepare the marinade. If you avoid marinating, it will take lesser time for you to dry the jerky. But it is crucial to enhance the taste of the meat by mixing it with a marinade.
There are varieties of jerky recipes available online and in recipe books, one can choose from any of them, depending on his perception.
Some natural ingredients which are used for marinating jerky are Soy sauce, Whisk Worcestershire sauce, Sesame oil, Olive oil, Brown sugar, Salt, Lime, Garlic powder, Onion powder, Paprika, Vinegar, Black pepper, Red pepper, etc.
By following or creating a recipe of your own, you prepare the marinade, make sure the ingredients of the marinade and seasoning are well incorporated and then mix the slices of meat with it. Let me show you the step-by-step guide. 
• Step 1
You will need 1 to 1 ½ cup of marinade, which you can prepare in a bowl, and also mix the meat in it. There is also another easy way of doing it: take a large sealable plastic bag, put the meats inside and pour down 1 to 1 ½ cup of the marinade on it.
• Step 2
Now sprinkle some seasoning in the plastic bag or bowl based on your perception or the recipe you are following.
• Step 3
You can add salt, cinnamon, honey, sesame seed, clove, ginger, pepper, nutmeg, clove, coriander, etc. But be careful; don't exceed the total amount of four tablespoons of seasoning. Otherwise, the jerky might lose its desired taste.
• Step 4
After marinating and mixing all the seasoning, keep the plastic bag or the bowl containing the jerky inside a freezer. Seal the container or bag properly before putting it in the fridge.
Keep it there for six to twenty-four hours. The more you keep the mixture inside; the more the flavor will insert into the meat strips.
• Step 5
Take the marinated strips of meat out of the freezer, dab them with fresh paper towels for getting rid of the extra marinades. Make them as much waterless as possible. It will help to dry the jerkies faster. To warm up the meat to room temperature, keep the meat out for an hour or so.
How to Make Beef Jerky in Oven 
Let's show you how to make beef jerky in an oven.
• Step 1
To make the beef jerky in an oven, first and foremost, wrap the upper part of the bottom rack of the oven with aluminum foil. It is imperative. Otherwise, the drippings that fall out of the marinated meat strips will make the inner depths of the oven all messy; it will be very tough to clean.
• Step 2
Now, you can lay down meat strips on the metal rack of the oven, or you can hang them using small sticks like toothpicks.
By the way, you can avoid all these if you wrapped the upper part of a cooking sheet with aluminum foil and lay down the meat on it. Whichever way you do, never overlap the strips; or else they will not be cooked equally.
• Step 3
Empty the inside of the oven; take the rack or racks out of it. Preheat the oven to 150-200 degrees Fahrenheit. If your oven doesn't have the option of reaching that low, set the lowest possible temperature available in it.
• Step 4
After preheating for 20-30 minutes, put the meat inside of the oven and let it be cooked for 3-8 hours. Don't change the temperature.
Check them after three hours, if they reach the desired hardness and fry, take them out. Otherwise, let them be cooked until they reach the desired texture. But don't exceed eight hours.
• Step 5
You can put the freshly cooked jerkies on open air to cool them down, after reaching room temperature, you can put them in zip-lock bags or mason jars to preserve them.
How To Make Beef Jerky In A Smoker 
Using a smoker for making jerky is a better choice; it gives the jerky a yummy, smoky flavor. The natives also used a similar technique to make jerky by burning wet pieces of wood to dry the meat strips. Only they are a bit old fashioned compared to the smokers we use nowadays.
• Step 1
First, keep in mind that when you are smoking jerky, you need a low temperature, something in between 160 to 200 degrees Fahrenheit. It shouldn't exceed that. Otherwise, the meat will not be meat anymore, and it will turn into coal!
Check here to know the proper times and temperatures chart.
• Step 2
Before smoking, drench some wood chips for an hour or so. For easy cleanup, line the drip pan and water pan of the smoker with aluminum foil. Place the tray containing the meat on the highest slot of the smoker. You can also use the Toothpick method here. Leave some air space between the meat strips. 
• Step 3
Open the vent completely and dry it at 160 degrees Fahrenheit for one and a half hours. If the meats are dry, i.e., you never marinated them with any watery object; you can put a little water or vinegar on the water pan during this time. Don't put water there if the meats are already wet due to marinating.
• Step 4
After the first one and a half hour, increase the temperature a bit, but never exceed 200 degrees. Now if necessary, add some more wet chips of wood. Smoke at this temperature until the wood chips stop smoking. You will see a cloud of blue smoke coming out of the smoker. 
It's a sign that the wood is burning at the perfect temperature. On the other hand, while burning the woods, be careful of the white smoke, it ruins the taste of the meat. If you notice it, immediately increase the heat until you see the blue smoke.
• Step 5
After another one and a half hours lower the temperature to 160 degrees Fahrenheit. Don't add any more wood. After all the woods are burned completely, open the wood door fifty percent to release the extra smokes.
At 160 degrees, keep smoking the meat until they reach the desired texture and hardness. It approximately takes six to fifteen hours, depending on the thickness, marinade, and performance of the smoker machine.
• Step 6
Take the jerky out of the smoker when you are sure that they are ready.
• Step 7
After getting the desired jerky, let it cool down for another one or two hours. Then preserve it in a mason jar or a zipped bag. In-room temperature, the jerky will stay fresh for up to fifteen days. If you keep it in a freezer, you can extend that period up to almost six months.
How To Make Beef Jerky With A Dehydrator
The dehydrator is another excellent and easy option for making jerky.
One thing you should keep in mind before putting the jerky inside, your dehydrator must have a fan and the capability to reach the temperature of 160 degrees Fahrenheit. If it doesn't have any of these features, it cannot be used to make jerky. It's a big NO.
• Step 1
After soaking the marinade out of the meat strips as much as possible using paper towels, place the meat strips on the dehydrator tray. Make sure they do not overlap or even touch one another.
• Step 2
Dehydrate the jerky for at least four to six hours. After two to three hours, upside down the strips so that they are dried evenly.
• Step 3
If you find any of the jerky to reach the desired dryness, immediately pull it out of the dehydrator. Until all the jerkies are evenly dried, continue dehydrating. 
The drying time depends on your dehydrator, marinade, and most importantly, the thickness of the meat. According to our experience, the total time shouldn't exceed six hours.
• Step 4
Before storing or eating the jerky, let it get cooled down and adapt to the room temperature. Now leave it open for an hour or two. Now preserve them in a jar or put them in a sealed bag and keep it in a freezer.
Conclusion: Beef jerky is a nutritious, low-calorie product. It is also low in cholesterol and fat, yet high in protein and energy. This is the reason it is so popular nowadays amongst those who want to maintain a healthy lifestyle. Also, it is a great snack to keep with you while you are on a journey.
As we have stated earlier, the commercially made jerkies are full of harmful preservatives and some other ingredients. Those that don't have these ingredients are expensive. If you really care about your health and also want to save some money, you better should make beef jerky on your own.
We hope this article helped you to give some basic ideas on how to prepare homemade beef jerky. Now go, try to make some jerky for real!