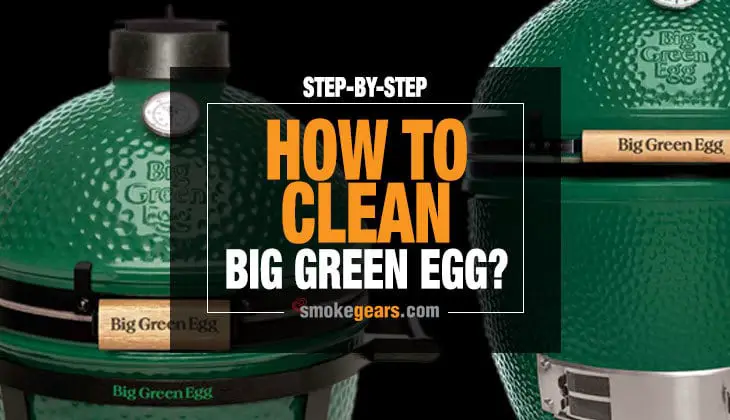 How to Clean Big Green Egg Step-by-Step?
An ingenious grilling device can last a lifetime if it gets the proper maintenance by its user. And such an innovative grilling device is the big green egg that should be cleaned if we want its service to last for a long time.
Now, the tricky part is the process of cleaning it. For newbies, the procedure can seem complicated, and you might mess things up in the kitchen if you're not prepared.
Therefore, we need to know the correct way of cleaning big green egg appliance. If you follow the procedure appropriately, you can keep the product working swiftly, along with maintaining the aesthetics.
More...
In reality, the cleaning process is simple, and if you can keep your head in the game, it should not take you too long! Now, as we have repeated the word "easy" a couple of times, let's dive in and see how effortless it is as we break it down to you.
Step-by-Step Methods: How to Clean Big Green Egg? 
Remember, to make your work seamless, a primary mindset should be to follow instructions. It gives us a level of satisfaction that the outcome will be fruitful. So, here are all the necessary steps you should take sequentially for the best result.
• Cleaning the Ashes
Apparently, when we grill in this appliance, a lot of ashes get produced. This causes a hurdle in the regulation and consistency of the temperature that it should, in turn, maintain.
So, our first motive is to clear all those ashes from it. And to do that, we need to use a specific tool, which is known as the ash tool. In the off chance, if we don't have that, the alternative is an ash pan for ash removal.
We must eliminate all ashes and make sure that they are separated from the charcoal when we are using it in the big green egg.
After you've completed this step of cleaning, go and double-check to make sure that no ashes are remaining to cause any disturbance. What we need to keep in mind is that the existence of ashes can hamper the temperature of the kit and the overall quality for that matter.
• Removing the Charcoal
After we are done with getting rid of the ashes, the second thing we need to do is to remove all the unused charcoal.
We can't predict the amount of charcoal that we might need while cooking food. And because of that, sometimes some charcoal stays as an unnecessary remnant at the bottom of the device.
We need to fish out all of them so that they don't get wasted in the process of our cleaning. Also, we need to clean those charcoals with the help of a brush or rug, so they don't have ashes remaining within them.
A friendly reminder: the existence of ashes, in any degree or form, will dramatically decrease the ability of the charcoal to produce desired heat and temperature.
• Removing Left-over Food from the Grill
When we use the big green egg, sometimes a little bit of food gets stuck in the grill. And that causes additional trouble for us when we cook again later.
That's why, in this step, you need to make sure removing all the remaining food bites from the green egg. And to do that, you can use a device named grid cleaner so that our work becomes comfortable.
However, if you don't have access to that tool, you can try other plans to perform this step; one process is mentioned below:
For this process, when we are done getting all the meals out of the appliance, we need to increase the temperature of the big green egg up-to 300°C and burn all the leftover food.
If that also seems inaccessible, you can also use other tools like dual brush grid scrubber, grid scrubber, or spiral grid cleaner to clean the big green egg.
We must execute this step; otherwise, this can damage the taste and texture of our food that we are going to grill later in it.
• Be Careful with the Fragile Equipment
While cleaning the device, we must keep this in mind that the equipment used in this part is a bit tricky to handle. That's why we must execute the process of cleaning here cautiously.
We can notice three things inside a big green egg. These are a fire ring, grate, and firebox. At the time of removing the fire ring, we need to be extra careful as the space is very little there, so it's a bit difficult to hold it and take it out.
Another thing that we need to be mindful of is that all three of them are made of ceramic, and that's why we need to keep them aside carefully and avoid dropping them. Otherwise, your sloppiness may cause irreparable damage to the device.
• leaning the Holes to Ensure Smooth Airflow
The firebox and grate are essential components of this appliance. They have some small holes in them. By these holes, airflow takes place in the egg.
We can't use a rag to clean these holes. A brush and delicate hands are necessary to clean this particular component.
Also, keep this in mind that it's very crucial to keep the way of airflow fresh. Otherwise, our food will not get the proper heat circulation.
• Removing the Protein and Oil
In this step, what we need the most is warm water. We know that water can quickly dissolve many substances except for oil. For that reason, we need to use warm water so that it can help us dissolve the protein and some oil.
Along with water, another thing we need is a clean rag. The rag should be spotless so that we don't need to worry about the dirt that it might carry.
To clean the device, at first, we need to start from the exterior and also the tools that are being used in the big green egg. After it's cooled down to an accessible temperature, we can start to clean the interior.
While cleaning the inside part of the appliance, we need to be cautious about the heat. If it's not cooled down to a minimum temperature, we might hurt ourselves while working.
It must be kept in our mind that when this device cooks any meal, it reaches a very high temperature. Also, when we conduct the third step of the cleaning procedure, we turn the heat up for effortless cleaning.
And that's why we can use a pair of heat resistant gloves. These gloves can resist the heat and save us from getting hurt. 
So, it will be an intelligent decision to use these while working with this appliance.
• Drying the Device
We can notice the fact that most of the time, the steel used in the grid of the big green egg is stainless. And that's why iron rust can't form on the grid. However, still drying the device after cleaning it with the help of water is not recommended.
Many germs, dirt, and small insects fly in the air. When we choose not to dry our equipment after using or cleaning, they might get stuck in the appliance because of the dampness.
That might cause some severe hygienic problems for users. Also, if we use them again, it will be a tiresome work to clean the stuff appropriately.
To dry the appliance after cleaning it, we can use a clean and dry rug. However, instead of a dry rug, you can also use kitchen napkin tissue in this process.
This napkin absorbs the excess water faster than a piece of rug. Also, it's readily available and affordable. And with the help of napkins, we can complete our work in a faster and better way.
• Storing the Equipment
As a cooking appliance, the big green egg is a long-time investment. That's why we need to store them securely after cleaning them properly.
Instead of keeping the used grill in an open surface, we should keep it covered with a grill cover. And as for the other types of equipment, we can store them in a shed or storage container.
Along with cleaning, storing is also very important. If we don't maintain precaution here, any curious but not careful person, especially kids, might cause harm to them unintentionally.
Why Does the Big Green Egg Need Cleaning?
Firstly, cleaning is essential for the standard maintenance of hygiene. A clean environment is not just healthy; it also gives us an inherent satisfaction. More so, if your device is tidy, it will be of service for a long time, and you can eliminate any and all health-related problems.
The reasons are plenty as to why does a big green egg needs to be cleaned.
1. Hygiene
Our health is our asset. We need to have food made in a hygienic process. If we keep the appliance dirty, it will also have an adverse effect on our well-being.
The process via which we clean the big green egg is a bit difficult. But still, we must keep it clean for the sake of our better health.
2. The Texture of the Food
We can't avoid the fact that clean vessel provides fresh, healthy, and tasty food. It maintains an appropriate texture of the food. If we are looking for tasty and well-cooked food, then cleaning the appliance we are cooking in is essential.
3. Durability
When we clean an appliance, it stays stable for a long time. Moreover, while cleaning, you'll break the device apart and get to know it from up close.
When we get to know every detail of the product, we can use that appropriately. The big green egg is a considerable investment, so knowing the device top to bottom is a significant concern.
That's why we should be cautious about its durability because after we clean it correctly, the features of this appliance work in a beautiful manner, providing us incredible service over time.
4. Appearance
An appliance that looks clean is more appealing than something that looks dirty. If we keep our big green egg neat, then we will feel more comfortable while using it.
We know that there is a saying, "Appearance doesn't matter quality does." But in this case, appearance does matter, as it ensures quality.
If we don't feel satisfied that the appliance in which we are cooking food, then we will feel uncomfortable and uneasy after consuming the food that is cooked in it.
Difficulties of Cleaning the Big Green Egg
Though it's essential to clean our big green egg regularly, still most people tend to avoid it because of the difficulties one faces while cleaning.
1. Time Consumption
We are living in an era where every second of our time matters to us. And when we decide to clean our big green egg, we must know that this will take a lot of our time.
The features of this appliance a bit complicated; thus, cleaning them becomes a considerable investment of time. If we don't follow the process slowly with calm and composure, we might break it.
2. Tiring
The means by following which we clean this appliance can be a bit boring and tiring. We need to remove all the equipment of it one by one and also clean them accordingly in the same order.
Cleaning all the tools one at a time can become a bit exhausting and tedious at the same time.
3. Difficult to Understand
The mechanism of this product is a bit tricky and confusing. If you are using it for the first time, go through its working process and manual for better comprehension.
You need to also keep in mind the delicacy of the tools that are being used in the device. If you don't take careful measures, the tools might break or not function properly.
Final Words: Ultimately it is up to the user to take care of his/ her device. I guess if you're reading this article, you're a responsible cook trying to maintain the equipment.
A big green egg is a considerable investment, and the functions are nothing less than complicated. Therefore, make sure you're on your feet, following the instructions carefully while cleaning.
Despite the process being tedious, we hope you enjoy it in every way possible!