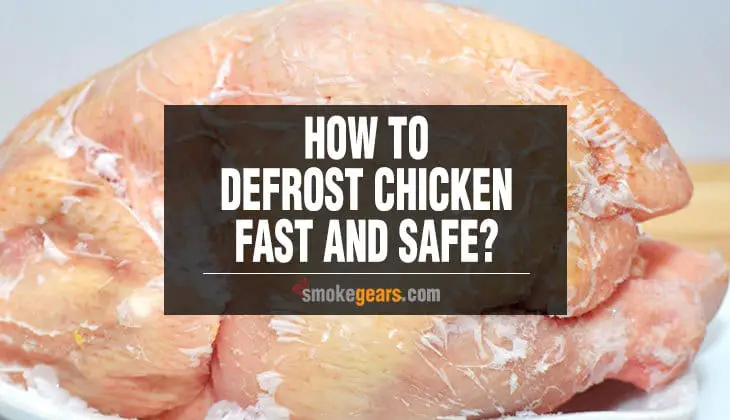 How to Defrost Chicken Fast and Safe?
While cooking a chicken is not that hard of a job, getting it defrosted is probably an annoying thing to wait for. And why would it not be? You cook the chicken within 30 minutes or so, and yet you wait for the chicken to defrost for probably hours. 
So naturally, waiting on your chicken to defrost might be an issue if you are short on time. And in this age, we all want to do things much faster, don't we?
Well, we are about to bring you a solution to all that. In today's article, we will be talking about how you can save yourself from waiting on the chicken to defrost and some other options to consider.
So without any further delay, let us start with some simple tips on how to defrost chicken fast!
More...
Simple Ways to Defrost Chicken Fast
While there are a lot of reasons to leave your chicken to defrost for hours, you might not always have that time. At times you might have to cook for sudden guests and other times you might be starving.
And sometimes you might want to finish the cooking well. Whatever the reason is, there are pretty exciting ways to defrost your chicken faster.
That is why we are going to be listing some specific ways how you can defrost the chicken very easily and super-fast. This will also give you an idea of how you can prevent exposing the chicken skin to too much bacteria. So without any further delay, let us start this thing!
1. Use a Microwave
Although this specific method is rapid, it is not the most convenient or recommended. This is because when you are using a moving way to thaw the chicken, you will notice that some sections of it will get cooked although some of it is still frozen. So you will need to be very careful and attentive with this specific method. 
Because there are some apparent inconsistencies with the microwaving method, it is probably the best decision if you do not use bone-in chickens.
If you microwave in sections, it will be much easier, and you can also not have some parts of it get cooked. Also, if the chicken gets cooked without defrosting completely, the chicken can get more elastic and tighter. So, here's the proper way to do it.
2. Try Out a Cold Water Bath 
This is a reasonably time-consuming method out of all the ways you can defrost a chicken fast. However, this is a method that will harm the meat the least. So that is why many professionals use this method to defrost a chicken.
If you have a two-pound chicken, then it will take you around 20 minutes to half an hour. And it is not that hard to do either.
This is the temperature when bacteria get the chance to thrive the most. So remember to make sure your chicken does not reach this temperature at any cost. Also, make sure every section is evenly defrosted so that the chicken is not cooked unevenly either.
Here is our thermometers review to check temperature accurately. 
3. Use Hot Water 
You can also use hot water to get the chicken to defrost fast. Although it might seem like a pretty obvious thing to do, it is not as common as one might think.
And since there is a difference in the temperature you might be exposing the chicken skin to harmful bacteria. You also need to make sure that you cook the chicken at a minimum of 165 degrees Fahrenheit right after defrosting is done.
4. Start Cooking Immediately
If you cannot afford to waste any time at all, then you should consider not thawing or trying out any of these techniques to defrost your chicken. Instead, cook it. Yes, you heard it right.
While many people will say this might harm the skin of the chicken or make it lose its taste, it is an only half-truth. Cooking without defrosting is only an issue when you do not do it right.
The first thing is you need to do make up your mind. Do not leave the chicken out in the open and do something else. Remember, it is quite deadly to let your chicken go below 40 degrees Fahrenheit.
So if you are not going to defrost it before cooking, immediately start cooking the chicken. This is the perfect method if you are doing any curry or stew-like dishes.
When you do not thaw before cooking, the chicken usually ends up being full of moisture and might seem watery.
While this might not be great when you are serving it as a main dish or not serving it in curry or liquid preparation, it is perfect for stews and soups with chicken in it. But remember that this increases your overall cooking time by at least 50 percent.
One thing that we feel is best is to defrost in pieces and not all together. Because a bigger portion will take much longer to defrost than a small one, we think it is best to separate the chicken into small pieces and later to work on defrosting it. This will not only save you some time but also prevent uneven defrosting overall.
In conclusion, these are some of the best and safest ways you can defrost a chicken super fast. If you ever run out of time or do not have more than an hour or two on your hand to cook chicken, you can try out these methods to thaw your chicken faster.
However, if you ever do have time, then you can try another option that is considered to be the best and safest, although it is a little time-consuming.
5. Another Option: Defrosting the Chicken in the Fridge 
Although this article is primarily focusing on thawing your chicken as fast as possible, there are times when you can defrost your chicken overnight. That is when your fridge might come in handy.
You can use your fridge to thaw the chicken properly. Though it takes much longer than the mentioned methods, it is the safest as you do not have to worry about the chicken getting close to the 40 degrees Farenheit mark or even have to pay close attention to it.
Besides, you can just let it defrost on its own. Thus, if you have enough time to pull it off, we would suggest you go through with it.
So how do you do it?
General Tips to Keep in Mind 
There are some general things that you should remember while thawing your chicken, no matter which method you use. We have added this section to recap them for you. Take a look!
Other than that, these are pretty much the general tips you need to keep in mind so you can thaw your chicken safely and without exposing it to bacteria.
Final Verdict :
Through this article, you not only know how to defrost chicken fast but also got some idea about thawing and staying safe while working your way through the process.
All in all, we think you know more than enough to try out these new ways of defrosting your chicken and doing it the right way for once.
So why wait? Try these hacks out now!